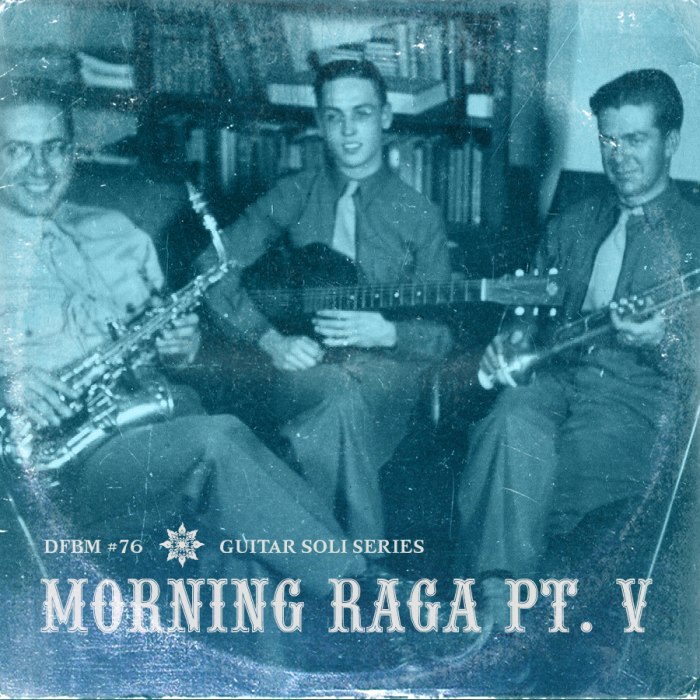 dfbm #76
Morning Raga Pt. V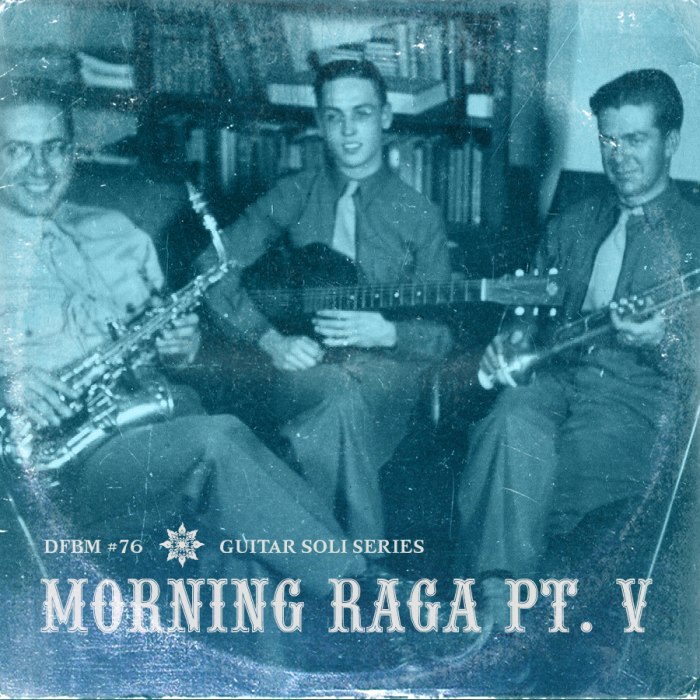 Welcome to this new Morning Jam. Expect some guitar magic embedded in full band settings, but also good old solo explorations.
Slowly the fall is creeping in here in the mountains. I think this mix is a nice soundtrack to this time of year. I would probably say the same in spring or in the winter, but no, there are traces of the summer in here - listen yourself.
This mix opens with James Elkington & Nathan Salsburg from their 2011 release Avos. There is something new coming up on Paradise of Bachelors and you already know that you need this, right?
Originally I planned to put some field recordings by Matthew Mullane on here, but they were all pretty harsh and kind of out of context, so it's just his beautiful guitar work on his latest VDQS release.
M.Mucci has a new release coming up as well, Tyler Higgins is new on Scissor Tails Recordings and Jon Collins has build new wooden boxes for his new releases. Much more on here that I don't need to describe.
Enjoy this Morning Jam.
Playlist
James Elkington & Nathan Salsburg

Hospitality

Matthew Mullane

Knife, Hut and Thatch

M. Mucci

Basta Cornuto!

Jon Collin

Wrong Moves 1

Chris Rainier

Astaragaza

Yadayn

Raam

Voice Of The Seven Woods

Valley Of The Rocks

Nesta Kerin Crain

Gongs in the Rain

Scott Witte

Summer Storm

Peter Walker

Camel Ride

Scott William Urquhart

Rosie's Smile

Currituck Co.

Medley: John Hurt Shiva Shankarah

Magnus Dewi

The city is quiet at night but my head's still twirling

Tyler Higgins

Parking Lot

Happy Depression

When the German and the Turk get going

William Tyler

Oashpe

Brian John McBrearty

Second Story Tune

Peter Wright

Lavender Buzz

Jerry Hionis

Cinema Show

Charles Rumback/Ryley Walker

Jam

Daniel Bachman, Ian McColm

PANET

Toby Hay

The Last Train From Rhayader

Chris Rainier

Fast Fourier Transform

Andy Robbins

Spirit Drift With Me
PS: I just noticed the lazy kerning in the artwork. Sorry about that.