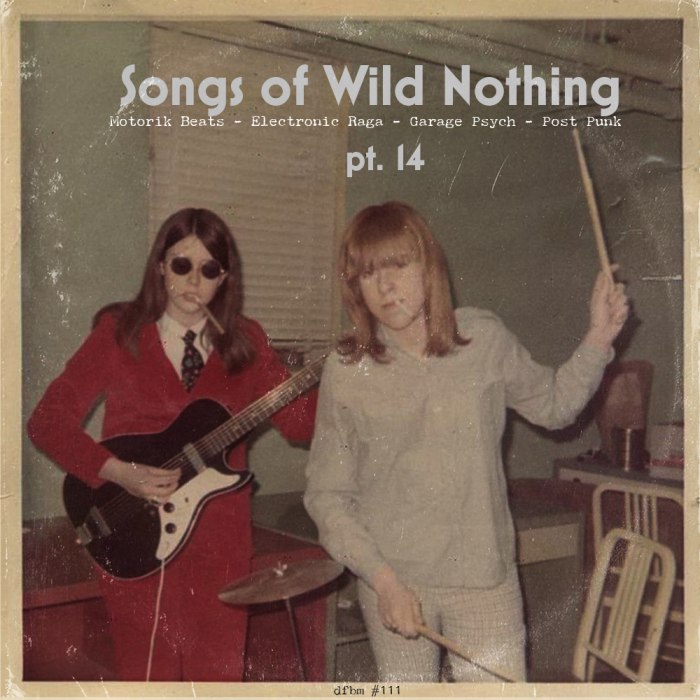 Mixtape
dfbm #111 - Songs of Wild Nothing Pt. 14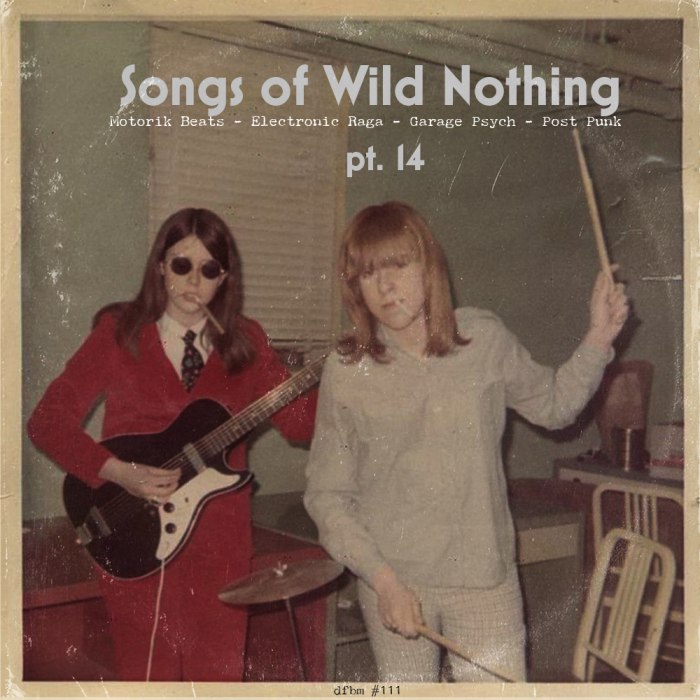 So many playlists so little time. Obviously making these playlists and the cover artwork and then the posting takes longer than using something like Spotify. Of course, it shouldn't take 6 months.
Anyways, this is more rock music-oriented (in the broadest sense) with many tracks that never really fit on any other of my mixes that are more acoustic in nature.
Hopefully, you will enjoy spending two hours with these motorik beats, garage psych, a real electronic raga, some post-punk and whatnot.
Starting off with a famous Polish rock band Czerwone Gitary or Red Guitars or Die Roten Gitarren. They were quite famous in East Germany, and with that not very interesting to the music nerds there. Some day a friend made a mixtape for me with the song Coda and I was surprised by this really groovy drum'n'synth garage sound. To this day I have no idea where this was released but I'm happy to have this tape rip. At some point, I found another version of the piece without synth, but it's just half a cool. There are quite a few compilations out with East Bloc groove, beat, and surf music on.
William Tyler and Zachary Cale, two of my favorite singer-songwriters/guitarists, went full band at some point in their career and both gave a nod to one of the most influential bands in music history: NEU!. William Tyler just covered Michael Rother's hit Karusell and Cale adapted the motorik beat for his song Careening, on his last record.
One of the weirdest CDs I've ever ordered blindly from a mailorder in the mid 90s was Academy 23 Kämpfbereit. It was punk, it was political, it was super weird and psychedelic, it was folk and even bits of jazz. Some tracks I liked a lot other I ignored. I listened to it a lot, trying to make sense out of it, and moved on. I gave away the CD along with my other punk records at some point and thought that's it. Later I rediscovered the band, how unique their music was and for the first time learned the history of the band, thanks to the internet. Academy 23 came out of the UK anarcho/queer punk scene as The Apostles and are still somewhat active as Unit.
Steve Palmer's surprised me on his debut Unblinking Sun here on DFBM with Cassini, the 7 minutes motorik beat piece that was nothing like what I expected when I asked him to record an album for my label. With Useful Histories he got his tunes released on vinyl by Sunrise Ocean Bender and Statesboro Day is to Cassini what Für Immer to Hallogallo is. The refinement and enhancement of a great formula.
Around 2010 when Ten Ragas to a Disco Beat by Charanjit Singh was discovered, it was praised as the first acid house album or suspected as one of the hoaxes like Jan Jelinik and others pulled, to release their own music as some rediscovered real people's music. But Charanjit Singh couldn't care less about the music theories of Western techno fans, he was just playing traditional Indian ragas on a Roland TB-303 bass synthesizer with the beats coming from a Roland TR-808. The machines that drove the acid house and techno music revolution in the early nineties.
Chrome another band from my teenage years of buying records just by the short reviews in xeroxed mail-order catalogs. Their first record The Visitation isn't as bad as I thought it was when I was a teenage music nerd. Their second album Alien Soundtrack is much better and just wild. This music is as old as I am now and I think one can call it old-timey space punk now?
Woods and Skygreen Leopards was the soundtrack of my early 2010 and as Painted Shrines they just merged their psychedelic superpowers and released the album Heaven and Holy. Somehow it sounds more dated than the Chrome record. Maybe music needs some more patina to make people realize "Yeah, I am old now".
Ok, that's some highlights. Hope you'll enjoy, most of the stuff you'll find on bandcamp, linked in the playlist below.
As always, you can support DFBM by buying a t-shirt and share the mixes. Thank you for listening.

---
Tracklist
Czerwone Gitary

Coda

Damaged Bug

Mega Structure

King Gizzard & The Lizard Wizard

Superposition

Zachary Cale

Careening

William Tyler

Karussell

Classic Muscle

Until We

Academy 23

5.975MHz

The Reds, Pinks & Purples

Dead End Days

Steve Palmer

Statesboro Day

Harmonia

Tiki-Taka At Harmonia Studio In Forst

Charanjit Singh

Raga: Yaman

The Haiduks

Hihue

Raymond Scott Woolson

Scattered On A Day Of Clouds

Jacco Gardner

Hypnophobia

Moonwood

Trans Lunar Express 1

Chrome

Return To Zanzibar

Painted Shrines

Painted Shrines

Land of Blood and Sunshine

The Fifth Field

Yussuf Jerusalem

You Broke My Heart In Two

J.R. Bohannon

The Sorcerer's Hand

The Embarrassment

Celebrity Art Party

Crystalline Roses Band

Looking For Guidance (outtake track)

I4A

Peace on the Penna

Утро

Лечу