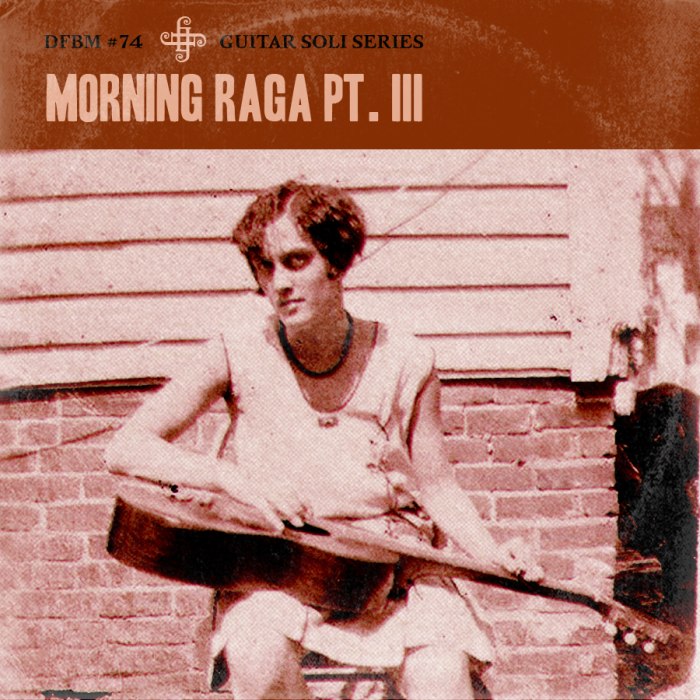 dfbm #74
Morning Raga Pt. III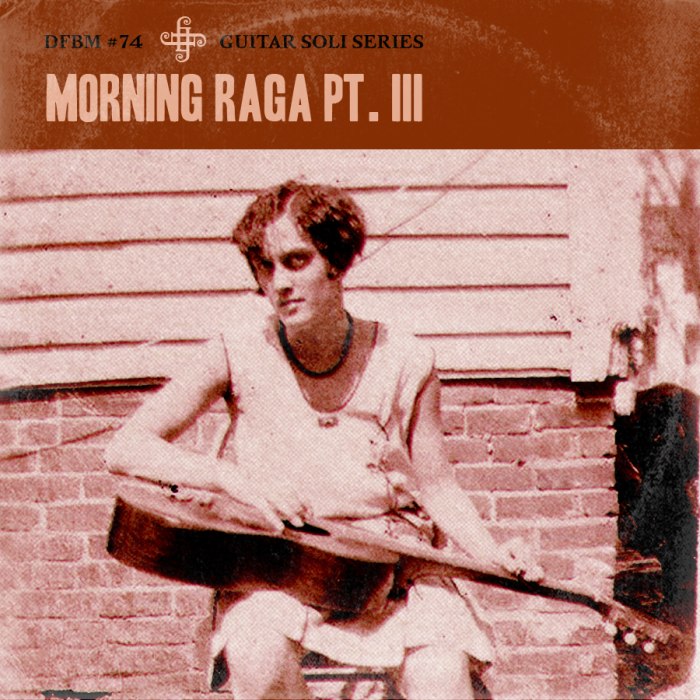 Here is the third part of my series of guitar soli compilations, mixes, program... you name it. Instead of trying to find a new title for each mix I am going to stick with "Morning Raga", so the listener know what to expect – up to two hours of fingerstyle wizardry. I know it can be kind of tedious to listen to similar sounding patterns and tuning for two hours, so I'll try to make it as less monotonous as possible, but maybe, like me, you can't get enough of alternating bass patterns, lap steel/slideguitar explorations and fretboard magic.
It starts off with a strong piece by Dan Bridgewood-Hill from the U.K. who plays a nylon-string guitar and adds some electronica every now and then. 
I am a bit late with discovering Max Ochs, the cousin of folksinger Phil Ochs and who introduced Robbie Basho to Folk Music. It was the Tompkins Square label that rediscovered Ochs and made him rerecord his old pieces. This label does a great job in unearthing forgotten music and expose new artists (William Tyler, Ryley Walker, Daniel Bachman, Frank Fairfield). TS jump started a few carriers.
Yuichi Ushioda's album is pretty nice folk music for all Nick Drake lovers. It's sung in Japanese and that's were I feel a bit disconnected with my western/english trained listening preferences. Shame on me. He is really good and the only instrumental is smooth as silk.
Another fellow guitar slinger from japan is TOMO, maybe known as saxophone and hurdy gurdy player in the Japanese psych collective Tetragrammaton, who lived in a small town in Missouri for eight years and where he soaked in American folk music. Very James Blackshaw like, intense and epic guitar pieces.
The Gene Estribou and Jean-Paul Pickens split album from 1965 was a great discovery for me! It was already rereleased around ten years ago, so I am late with this too. Sorry if I don't tell you any news here. While there is not much to find out about Gene Estribou there is much more to read about J.P. Pickens who seemed to be a wonderful human being who made some wrong decisions and died in his 30ies. More about this in the next part.
The father of American Primitivism, John Fahey is featured with a field recording and if you listen closer to Alex Archibalds piece, you can hear environmental sounds as well.
Don McGreevy is one of the founding members of Seattle's Master Musicians of Bukkake, and bassist for Drone-Doom pioneers Earth. He released an album with solo guitar/folk work on bandcamp. 
Playlist
I am really enjoying the output of Folkway Records lately and so I am going to study (rip off) their designs. I know the photoshopped wear on the fake record sleeve is a bit lame, but don't you like to look at those old record covers on ebay or in real? Isn't that a sign that the record was loved and pulled out alot instead of sitting in a shelf, protected by a plastic sleeve? Grade A++
More to come!