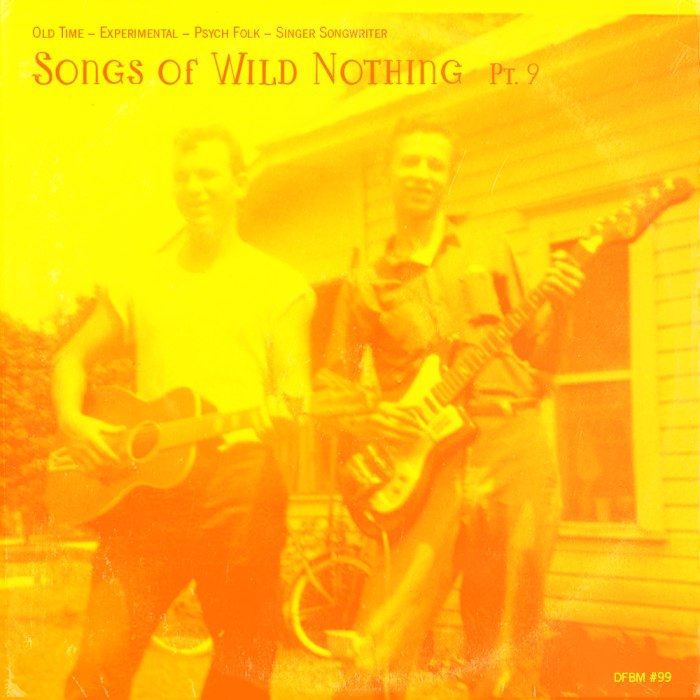 dfbm #99
Songs of Wild Nothing Pt. 9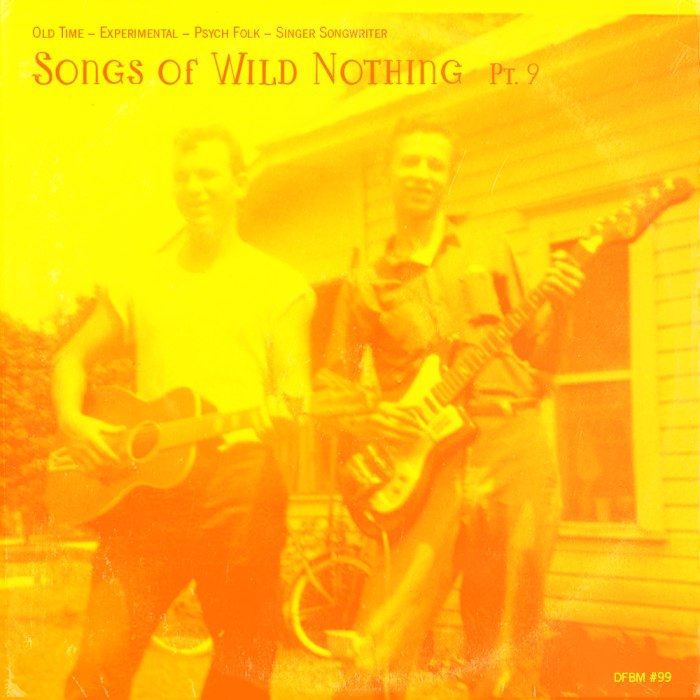 Filled to the brim with sweet and weird tunes, I finally finished up a new installment of Songs of Wild Nothing. It's been a while and I can't delay this longer. This mix contains all the gems and classics and newly discovered wonders from the world of fringe folk, private press, home recording and DIY scene. I know it can be a turn off, looking at a 2 hour playlist and not recognize a name. Is it worth my time? Does it suck? I don't know. I like every single song on this mixes. You have to trust me.
It's starting off with an obscure project, called Rosine, which is composer Mark Lerner. There is an album on bandcamp, described as a mix of dub and country music. The yet to be released album L is even wilder. You hear hints of chamber music, dub, post rock and singer-songwriter folk. Strangely it all fits quite well.
I have to admit, I'm not the biggest Nick Drake fan. I know his work, the tragedy and how influencal his music is, but I rarely choose to listen to him. The Cello Song is the choice if I decide to listen to him. That song sums it up. That's all I need or want to know. And when there is a Peel Session, even better.
J.P. Sunshine is a bristish poet/song-writer who recorded a psych pop album in the sixties that was never released until 1995. It's a fascinating story abround a music collective, drugs, relationships and whatever else the sixties had to offer. Nice lofi psych pop vibes and free to download on their prehistroic website. When was the last time you saw a beauty like this:
Also from the U.K., Ian A. Anderson, not of Jethro Tull, but a comapanion of british folk and blues guitarist Mike Cooper. He recorded a handful of records, worked for the BBC and hosts a radio show. There is a strange appeal for nerdy looking guys from the sixties, with a twelve string guitar.
Fit & Limo is one of the few known psychedelic groups from Germany, beside the cosmic krautrockers. Magical in the best sense.
First piece I've ever heard by the legendary guitarist Peter Walker was Me and my Lady from the album Has Anybody Seen Our Freedoms?. I didn't know Rainy Day Raga or his Timothy Leary connection. Me and my Lady was the strangest and most beautiful folk song I've ever heard. His performances are often a showcase of his work ranging from flamenco guitar over steel string ragas to piano performances. The piano piece Tuning Round In Circles from a live performance at Third-man records is almost like an extension to the song Me and my Lady.
What are doing solo guitarists after they exercised every Fahey or Jansch picking pattern, up and down the fretboard and don't want to repeat themselves? They start to sing (I'm looking at you Cian Nuget or Steve Gunn). Lately, young British guitarist Jim Ghedi opens his new album A Hymn for Ancient Land with anything but a guitar. Instead you hear strings, a piano and Ghedi singing. I'm truely impressed how fast he evolved from just another guitar guy playing 15 minutes steel string improvs to such an accomplished composer and song-writer.
A friend on twitter pointed me to a private press record by Marc Emory. This album could have fit easily on Tompkins Square's last Imaginational Anthem vol. 8 compilation, that dug out never heard before solo guitar gems from the 70s to the 90s. Emory plays Kottke like 12-string guitar and some nice pastoral folk. The Scissor Tails records label did good to get a hold of Marc Emory and work with him to reissue this album.
Toward the end of the mix it's getting a bit folksy with all the banjo pieces. I'm really enjoying Laura Baird's latest album and Anthony Pasquarosa is just killing it with his live version of Little Sachel.
If you made it till the end of the mix you are getting treated with a fuzzed out Acid Raga by Sunn Cycle from the Warfaring Stranger Series by Numero Group.
And that's it for this mix. I hope you enjoyed it. Share it with some of your music nerd friends and stay tuned!
You can support DFBM by buying a t-shirt and share the mixes. Thank you for listening.

If you love traveling and if you are into American primitive guitar music, I need your help! Please help with the creation of an online map and map all the places mentioned in the biography or discography of your favorite guitar slinger!
---
Tracklist
Rosine

Believing Is Seeing

Doug Tuttle

Bait the Sun

Nick Drake

Cello Song

J.P. Sunshine

Dark Star

Keith Noble

Ashes And Silver

Ian A. Anderson

Hero

Meic Stevens

Yorric

Ed Cooke

Hundreds More

Fit & Limo

Will You

Peter Walker

Tuning Round In Circles

A. Savage

Indian Style

Vince Stephen

The Ice House (excerpt)

Skygreen Leopards

Selling T-Shirts (demo)

Kohier

First Blood

Jim Ghedi

Banks Of Mulroy Bay

Marc Emory

Nice Day

Casper Shiki & His Guitar

Umtandaso

Chris Rainier

Who Put Bella In The Wych Elm?

Johnny Bell

A Visitor's Anthem

Michael Kleniec

Ramdhun

Nathan Bowles

Gadarene Fugue

John Fizer

Coal Tattoo

Billy Faier

Pay Day At Coal Creek

Christian Strøm

Red Rose

Laura Baird

Hay in the Wagon

Anthony Pasquarosa

Littel Satchel

House and Land

Wandering Boy

Robert Millis/Wica Intina

Old Dirty Skin - Robert Millis

Opossum Sun Trail

Humic Romance

Sunn Cycle

Acid Raga
---