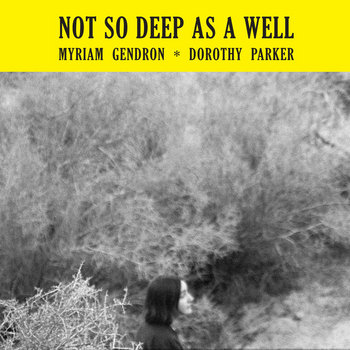 © & ℗ 2014 Mama Bird Recording Co. under license from Myriam Gendron

© 2014 Myriam Gendron, SOCAN

Lyrics by Dorothy Parker. The composer wishes to thank the National Association for the Advancement of Colored People for authorizing the use of Dorothy Parker's works.
Limited vinyl release from Feeding Tube Records: feedingtuberecords.com

Bonus tracks on CD:
10. Bric-á-brac
11. The Small Hours
  powered by bandcamp
Myriam Gendron ~ Not So Deep As A Well

Myriam Gendron is a Singer-Songwriter from Canada and even if the record cover with the black and white photo and the bold yellow stripe on top stayed in my mind since weeks, I never got too much into her music. Reason number one is, there was and is just one track officially available. I am spoiled to, at least stream more than two songs from an album to consider to get more into it. But one day, I found the vinyl record version from Feeding Tube Records on the doorstep of my temporary residence in the US.
I was spellbound from the first tune. This record is beautiful and melancholic and poetic. Myriam Gendron doesn't try hard to show off meandering singing skills or too sweet arrangements. Melodies falling out of her guitar like glass pearls. Simple fingerpicking miniatures to the poetry of Dorothy Parker (who was a very interesting person as I found out some hours ago)
So if you like what you hear, then be assured, the whole album is like this and more. And now the unavoidable comparisson to Sibylle Baier who shares the same minimalism with Gendron. Conni Converse comes to my mind too, but then it's more the morbid bleakness of Mirel Wagner.
Myriam Gendron ~ Song of Perfect Propriety
Buy the limited vinyl record from Feeding Tube Records or get the files from Mama Bird Recording Co. who are responsible for the digital distribution (and that there is just one song out there).
Album of the year, btw.
Myriam sent me a link to one more song, that got released today (read more here)
More poems by Dorothy Parker and an article about copyright.

Myriam Gendron​
Threnody
Lilacs blossom just as sweet
Now my heart is shattered.
If I bowled it down the street,
Who's to say it mattered?
If there's one that rode away
What would I be missing?
Lips that taste of tears, they say,
Are the best for kissing.

Eyes that watch the morning star
Seem a little brighter;
Arms held out to darkness are
Usually whiter.
Shall I bar the strolling guest,
Bind my brow with willow,
When, they say, the empty breast
Is the softer pillow?

That a heart falls tinkling down,
Never think it ceases.
Every likely lad in town
Gathers up the pieces.
If there's one gone whistling by
Would I let it grieve me?
Let him wonder if I lie;
Let him half believe me. 
-- Dorothy Parker

Dorothy Parker
Solace
There was a rose that faded young;
I saw its shattered beauty hung
Upon a broken stem.
I heard them say, "What need to care
With roses budding everywhere?"
I did not answer them.

There was a bird, brought down to die;
They said, "A hundred fill the sky-
What reason to be sad?"
There was a girl, whose lover fled;
I did not wait, the while they said,
"There's many another lad." 
-- Dorothy Parker

Myriam Gendron
Song of Perfect Propriety
Oh, I should like to ride the seas,
A roaring buccaneer;
A cutlass banging at my knees,
A dirk behind my ear.
And when my captives' chains would clank
I'd howl with glee and drink,
And then fling out the quivering plank
And watch the beggars sink.

I'd like to straddle gory decks,
And dig in laden sands,
And know the feel of throbbing necks
Between my knotted hands.
Oh, I should like to strut and curse
Among my blackguard crew....
But I am writing little verse,
As little ladies do.

Oh, I should like to dance and laugh
And pose and preen and sway,
And rip the hearts of men in half,
And toss the bits away.
I'd like to view the reeling years
Through unastonished eyes,
And dip my finger-tips in tears,
And give my smiles for sighs.

I'd stroll beyond the ancient bounds,
And tap at fastened gates,
And hear the prettiest of sound-
The clink of shattered fates.
My slaves I'd like to bind with thongs
That cut and burn and chill....
But I am writing little songs,
As little ladies will. 
-- Dorothy Parker