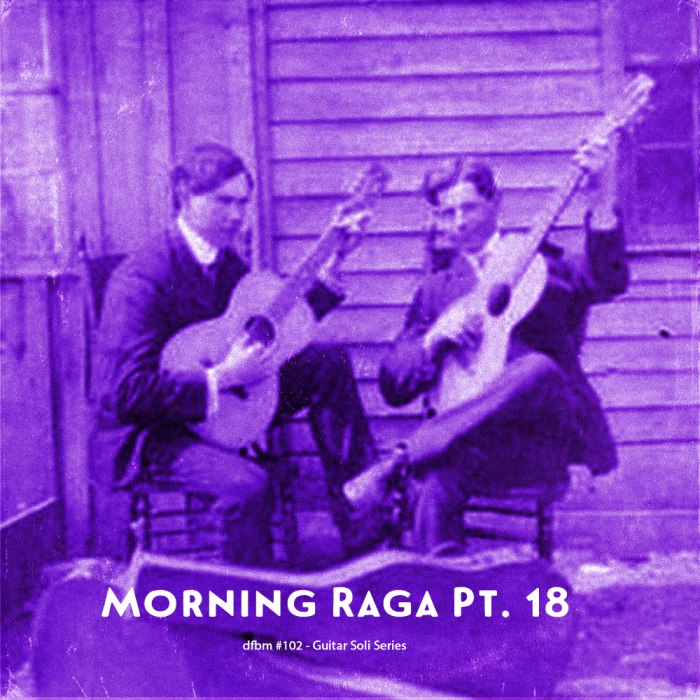 Mixtape
dfbm #102 - Morning Raga Pt. 18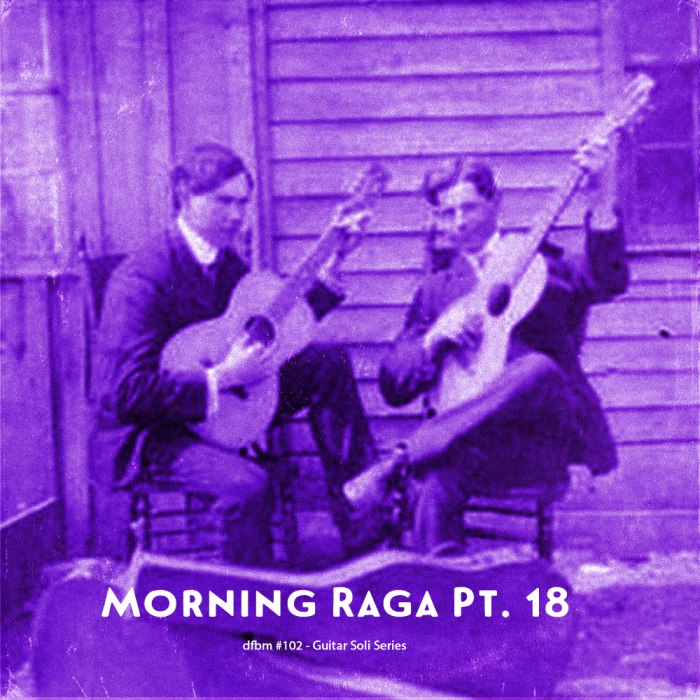 A new Morning Raga mix is available and I am so exited to start off with two exclusive pieces from soon to be released guitar records by Italian fingerstyle guitarist Alessadro Denti aka Waswas and Czech guitar duo Šimanský/Niesner.
Waswas already released two digital albums via his bandcamp (a short run of tapes were published by Scissor Tails Records) and now he has a new album called Debugging from Impossible Worlds and Stuck Thoughts in the pipes that puts a spell on you with its super melodic picking patterns. Watch out for that.
With Tance neznámé (Unknown Dances) by Czech guitarists Jakub Šimanský and Thomas Niesner, I already found my album of the year 2019. Šimanský might be already known from his release Face To Face Against American Primitivism In Eastern Europe Vol. 1 - a proper Daniel Bachman/Jack Rose homage. On Tance neznámé (Unknown Dances) you can still hear those influences. I would describe the whole album as an amalgamtion of Daniel Bachman/Ryley Walkers tour tape Of Deathly Premonitions from 2011 and Vincent le Masne & Bertrand Porquet - Guitares derive from 1976. Multi dimensional picking patterns that make your head spin. Tance neznámé (Unknown Dances) will be released around April 2019.
I think it's fair to say, that a lot of great solo acoustic guitar records are coming out of Europe right now. Especially Italy has some really excellent artists. One of them, Maurizio Abate, is maybe known for his sometimes quite harsh and dark guitar pieces. On Standing Waters he incorporates field recordings, strings and some light effects and it's such an enjoyable and touching album. One of my favorites for 2018. Same goes for Simone Romei's album Like Freshly Mown Grass - the most gentle and sweetest folk music you should not miss.
And I stay in Europe, Belgium to be accurate. Jonas Meersma's Monnift II is more on the classical side of the guitar spectrum. It's almost like chamber music, with strings and French Horns accompanying Meersma's nimble fingerpicking. General Konrad is an unbelievable sweet and jaunty tune, almost comical. (I hope this is connected to another General than WWII General Rudolf Konrad).
Ben Kunin is an all time fave of mine. The best nylon strin I don't know if he ever recorded another solo guitar album, but there are some sort of raga rock recordings where he's playing the electric sarod. That appears to be his main instrument.
Another Eastern influenced piece is from the Rob Noyes & Ryan Lee Crosby cassette Modal Improvisations on 34 Strings and the same label Cabin Floor Esoterica, also released a raw lofi collaboration of Lake Mary & Talk West.
This mix includes a lot of guitar duets including my all time fave, the afromentioned Daniel Bachman/Ryley Walker tour tape Of Deathly Premonitions with the dense and driving Devil In The Old Dominion.
I'm ready when you are, doggy
Studie Number Three is from a super rare private press by Russell Powelle who appeared on the Imaginational Anthem Vol. 8 compilation. Thanks to my friend Ralph E. who sent me a digital copy. It's quite interesting, since the album lists a Fahey cover version Dance of the Inhabitants of the Palace of King Philip XIV of Spain which sounds more like a late Fahey shredding an electric guitar than anything else. I believe it's more a joke, given that Russell named his label "Fony Tone", but we don't know.
And sadly, the community lost Mark Fosson, who just released a new album last year and who played on the "The 1000 Incarnations of the Rose" guitar fest in Takoma Park, MD this spring. You will be missed. Thank you for the music!
You can support DFBM by buying a t-shirt and share the mixes. Thank you for listening.

---
Tracklist
Waswas

Branford, the Best Bee in the World

Šimanský Niesner

Ženy a heřmánek

Lorna Rowe

Barlow Knife

Maurizio Abate

Shaping the mud

Jonas Meersmans

General Konrad

Ben Kunin

Pastoral Suite {iii}

Mitch Wittenberg & Philip Rampi

The Disco Pony

Andy McLeod

A Heron Takes Flight

Gwenifer Raymond

Dance of the Everlasting Faint

Kerem Atalay

IV

Rob Noyes & Ryan Lee Crosby

Improvisation 2

Desmoines

Like Freshly Mown Grass

Salgado Do Carmo & Eugenio Cibelli

Fado Popular

Scott William Urquhart

Rd Sqrl

Ryley Walker & Daniel Bachman

Devil In The Old Dominion

E. Dresch

Mountains

Chris Rainier

Palmyra Pacifica

Russell Potter

Studie Number Three

Mark Fosson

The Creeper

Lake Mary & Talk West

Autumn Trestles, PA

Nathan Golub

One For Lu

Buck Curran

Summer Street

Anthony Pasquarosa

What Makes A Man?

Bill MacKay & Ryley Walker

I Heard Them Singing

Jonas Meersmans

Konrad Reprise

Slow Clarity

Six Dollar Sunglasses