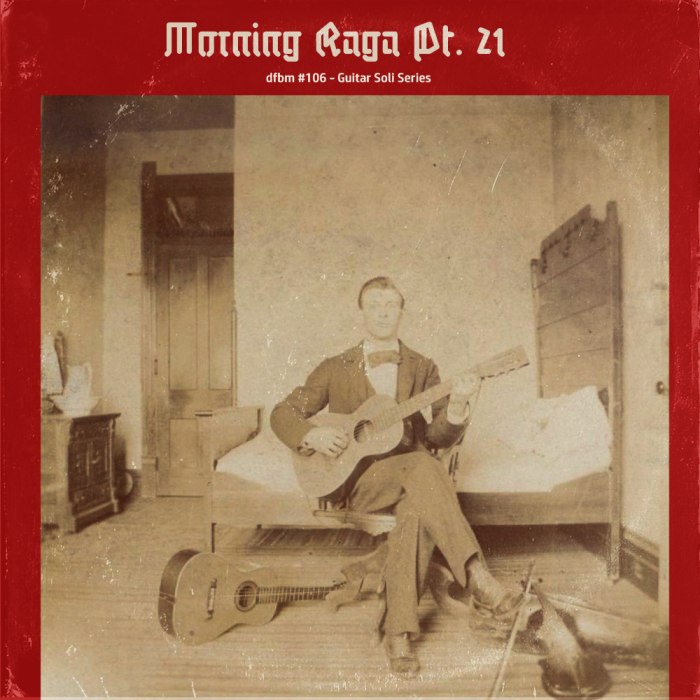 Mixtape
dfbm #106 - Morning Raga Pt. 21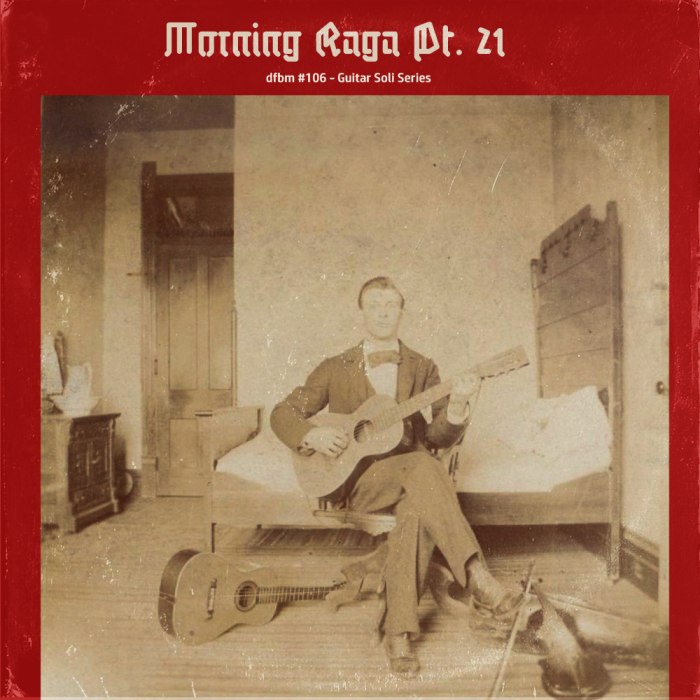 Let's start 2020 with a round-up of another two hours of American primitive/solo acoustic guitar gems that I accumulated over the last months.
I couldn't help but start with Jakub Šimanský and a track from his second installment of Face to Face Against American Primitivism in Eastern Europe vol. 2. He's just getting better and better and a follow up to Tance neznámé with Tomáš Niesner is already in the making - If you want to find out some more about these two Czech guitar masters, check out this interview at skug.at.
Trevor Healy is a guitar maker and I remember his name from the Tompkins Square anniversary guitar that Healy built. On his first(?) solo release, Healy comes up with some sweet American fingerstyle guitar, but he's not limiting himself to just guitar and so you find some drums, harmonica and violin, played by Sam Moss, an artist, that I follow since he released his first album in 2011.
Mariano Rodriguez from Argentinia has a new album out, it's called Huesos Secos (Dry Bones) and it's really interesting, as always. There is always something slightly odd about Rodriguez's style.
Then a track from Waswas new album, that was supposed to come out on DFBM, but I was so consumed by other work, I missed my opportunity. Debugging from Impossible Worlds and Stuck Thoughts is such a beautiful album and it is highly recommended to check it out and maybe buy one of those 15 or so cds that were made.
What else... the 1978 private press by William Eaton is getting reissued in April, by Morning Trip records from Canada. Eaton came to my attention with his appearance on the Wayfaring Strangers: Guitars Soli compilation. He's a guitar builder and he created the weirdest stringed instruments.
Then new and "not so new anymore" music by Hayden Pedigo, who also recommended Dos Burbujas to me.
Great to hear new tunes from always prolific Anthony Pasquarosa and Zachary Hay (aka Bronze Horse and other).
Another new favorite of mine is Marc Verdin from Minneapolis and Andrew DR Abbott from UK.
And then there is Murat Keyder, a guitar and oud teacher with Turkish roots, playing some of the most beautiful music.
Anyways. I hope you enjoy this mix and I hope you still like the format (zip, mixcloud stream), because I'm not going to deal with that one big streaming service that is sucking up all the air. If that's your only source of music consumption, I'm sorry for you, or for myself, in case I won't reach you with my old school mp3 format.
I hope you'll enjoy! Check out the music on bandcamp, buy a t-shirt and be nice to your neighbors.
As always, you can support DFBM by buying a t-shirt and share the mixes. Thank you for listening.

---
Tracklist
Jakub Šimanský

The Black Rose The White Masks

J.R. Bohannon

Reflections Of An American Dream

Trevor Healy

Jesus is a Dying Bedmaker

Moon Bros.

Ballad of Joe Buck

Mariano Rodriguez

Lirio en las pampas, tumba en Chimpay

Son of Buzzi

Recessional And Vortex

Joseph Allred

No-Heller Rag

Waswas

Reasonable Hopes, Non-Existent Realities

Andrew DR Abbott

Heaton Wild Woods

Šimanský Niesner

Ghawar

Marc Verdin

The Song of the Blind Owl

Toby Hay

The Falconers Knot

Zachary Hay

5

Paolo Boschi

7.30

Dos Burbujas

Fast

Murat Keyder

Rüya

Anthony Pasquarosa

Track

William Eaton

Untitled [#2]

Mouss

Elle danse sur la falaise

Hayden Pedigo

Brother

Lake Mary & the Ranch Family Band

Watermelon

Rowland Taylor

Parthian Shot

Talk West

Gladys (Acoustic)

Xhilëf Saint-Januam

The III-Legged Cat

Jim Kennedy

Over And Done

Magic Tuber Stringband

Lightning Bug's Lament

Post Moves

Cerulean

Regular Expression

Susa

Regular Expression

Susa Valley Ramble

Regular Expression

Tuning
---