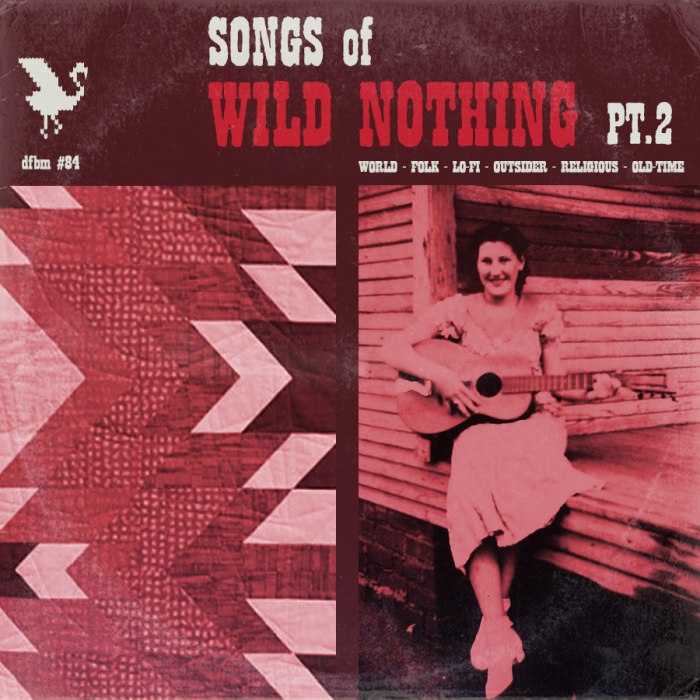 dfbm #84
Songs of Wild Nothing Pt. 2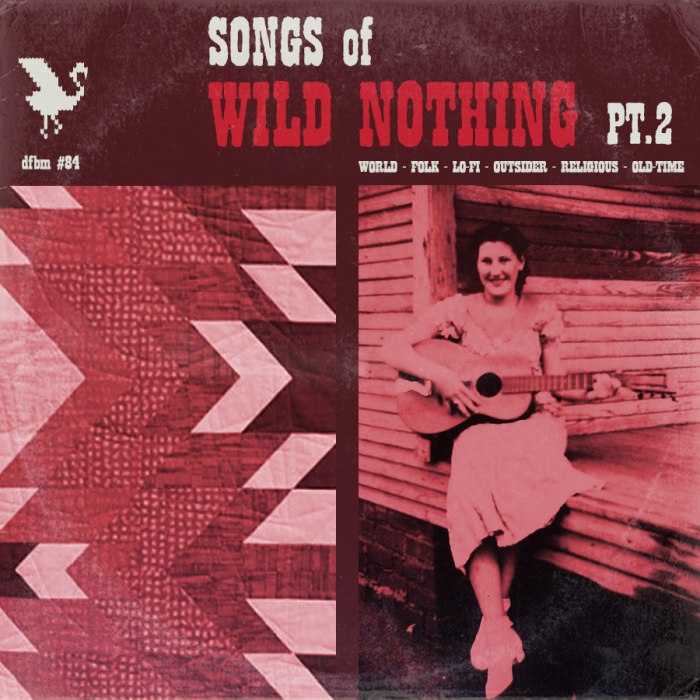 For this new installment of Songs of Wild Nothing, I dug through the internets attic, dusted off some mp3 and polished some gems.
You might know that electronic-music composer Laurie Spiegel has her roots in folk music. She learned how to play the guitar and banjo by ear and later she went into the appalchian mountains to do field recordings. Yet I wasn't able to find anything else of her, beside the electronic music she is known for. Only a short piece called "Remembering Home" for electric banjo with digital signal processing from her youtube channel came close to what I was looking for. So I think that's a nice opener. Read an extensive feature and interview with her.
Mabel Cawthorn is a musician from Georgia. She got in trouble when she sold weed to an undercover agent and went to jail. Art Rosenbaum featured her in his documentary "Sing my troubles by". Very few songs of her appeared on some compilation, but there is not much floating around. Her raw energy is fascinating and refreshing.
Selda is a famous singer from Turkey. I learned about her because Australian multicultural hip-hop group Curse Ov Dialect used a sample of hers in the song Take me to the Arab World. Both artists are totally worth to discover. Curse Ov Dialect produce fantastic psychedelic hip-hop with all sort of samples from classical muisc to world music and folk.
I consider the Sarah Louise song on this mix now kind of a rarity since this version includes vocals that didn't make it on her official release Field Guilde on Scissor Tails. She has a new release coming out in May. You should be psyched about this.
Hippie folk singer Caroline Wolf's record Wayside is a rare one. Rare in every sense. It was released with a generic cover artwork on the Century Records label. As far as I understand, musicians were able to send in tapes and the label pressed it on wax with a generic cover artwork. I saw this album, sealed, for 450 USD on some auction site. Crazy!
Joan O'Bryant is another "song-bird" and favorite of mine (given that the previous songs title was The Gull and I selected The Cuckoo from Joan). I scored a copy of her Folkways release, which is in a pretty bad shape, but the artwork got me into Ronald Clyne's design work for Moe Asch's label, so I have to get it. Her songs are so sweet and simple. Very similar to the wonderful Myriam Gendron and the mysteriously disappeared Connie Converse.
Janet Smith released an album on Takoma Records, she's still around playing ancient music on a lyra.
Spacelady and The Shaggs are well known musicians from the outsider spectrum and they are still active, which is pretty amazing. The Spacelady is just coming to Europe again.
Sister Irene O'Connor is another great record of religion infused oddball music. I probably heard about her on the now defunct WFMU blog, 8 years ago.
In a more esoteric field operated Monolith & Mary Young. Again it's some obscure private press album, that may or may not be worth the high price some collectors pay for it. Luckily an mp3 rip is floating around. If you wonder what Xintilia means, read here.
Allysen Callery is going to release her 6th full length album "The Song The Songbird Sings" on Jelly-Fant Records very soon. I took an instrumental demo or sketch off her soundcloud.
I hope you'll enjoy this collection of tunes that nicely bridges the gap between folk, electronic music and everything in between and around those genres. Thanks to everyone who shares music and knowledge. There is so much to discover from the past, while great music is produced every day.
Share if you agree.
Playlist
Laurie Spiegel

Remembering Home

Dyllan Hersey

Never Going Back To SunFlower River

Mabel Cawthorn

Tom Watson Tune

Nguyen Van Thong

Bong-Co Lan

Sarah Louise

The Day is Past and Gone (Variations)

Fatou Seidi Ghali & Alamnou Akrouni

Achibaba

Haruko

Goodbye my Love,Goodbye...

Selda

Çemberimde Gül Oya

Caroline Wolf

The Gull

Joan O'Bryant

The Cuckoo

Doreen Kostynuik

Justice Has No Voice

Connie Converse

Down This Road

Beulah Kershaw

A Woman In Love

Cathy Viger

Have Faith

The Fates

Sheila/She Beats In My Heart

Diane Cluck

Perigee Moon

Karen Dalton

Katie Cruel

The Fleetwoods

Raindrops, Teardrops

Myriam Gendron

Threnody

Mr. & Mrs. Smith

Down Another Year

Marisa Anderson

For the Love 07

The Kossoy Sisters With Erik Darling

Willie Moore

Monolith & Mary Young

Xentilia

Sister Irene O'Connor

Mass: Emmanuel (Text: I.C.E.L.)

Janet Smith

If You Will Weave Me

Allysen Callery

When You Are Awaking

The Space Lady

Ghost Riders In The Sky

Judi Resnick

900 Miles

Sjofn

Whiskey

Hladowski & Joynes

The Pretty Ploughboy

Nancy Rhoades

The Coo-Coo

Lena Hughes

Cedar Brook Waltz

The Shaggs

Things I Wonder

Laurie Spiegel with banjo, 1962 (source)

Laurie Spiegel with lute,1991 (source)