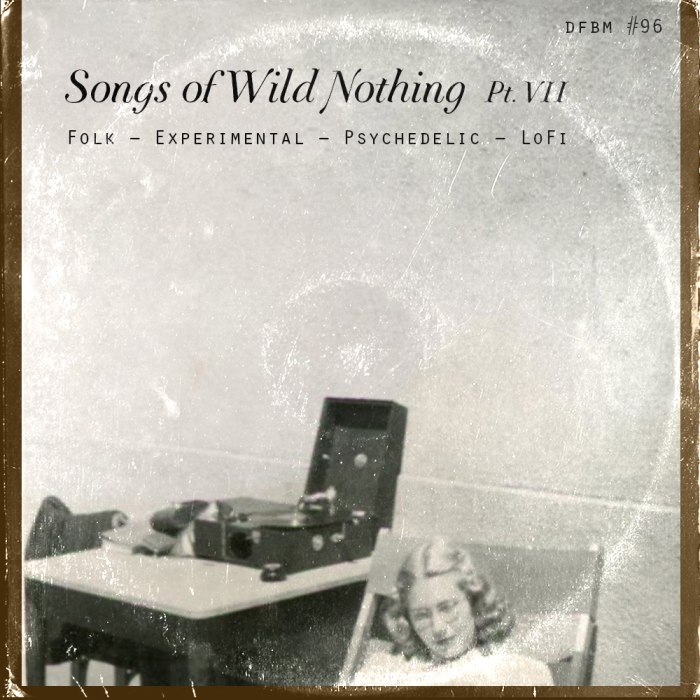 dfbm #96
Songs of Wild Nothing Pt. VII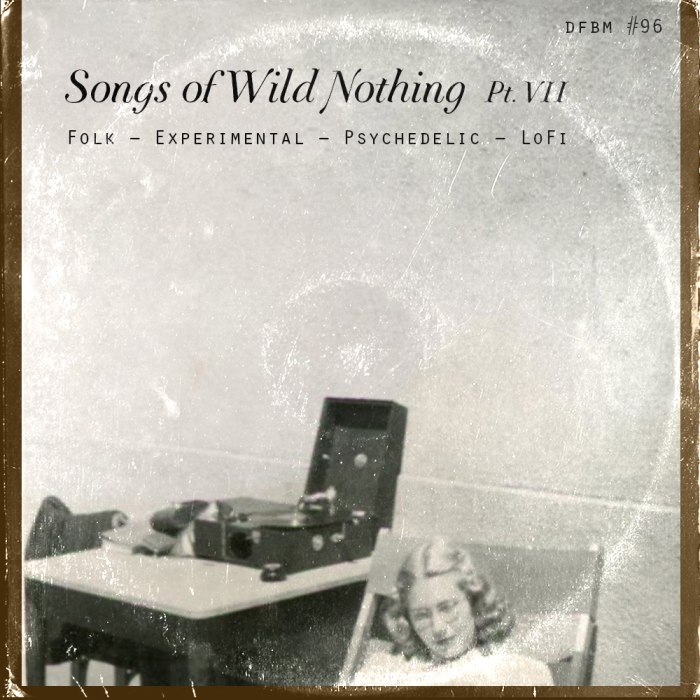 After some silence I worked through my stacks of music to compile a new edition of Songs of Wild Nothing.
Starting off with an exclusive song by Simone Romei aka Desmoines. He recorded a beautiful folk album that should be of interest for everyone who likes a well picked acoustic guitar and bittersweet words. And nobody else than Egle Sommacal helped to produce this album. That sounds like I expect you to know both artists, but I fear you don't. Unless you are from Italy. I already wrote about the beautiful guitar work Sommacal's and Romei contributed an in-depth interview with the Italian John Fahey. There is no release date yet, but you should check out Desmoine's bandcamp (linked in the playlist).
I downloaded the Will Phipps album earlier this year, but unfortunately there is no trace anymore. It was quite good.
The Lost Chord cover version of Sound of Silence is super haunting. I think it's a school band and it was released on a custom label as you can tell by the stock album cover. If someone has the whole lp as mp3 I want to hear the whole thing, even if I think this might be the best track from that record.
Anthony Pasquarosa recorded with Abbandonato Da Dio Nazione the soundtrack to an imaginary spaghetti western. Great work as always and vinyl only (and downloads only from the dark side of music biz).
Earlier this year I stumbled upon a trailer by filmmaker Matthew Salton1 that promised to tell the story of the album called and by Richard Twice. Recorded in the late 60s by Richard Atkins with the famose Wrecking Crew2 the album was a baroque, beautiful piece of psychedelic folk. Due to unfortuante circumstances, Richard Atkins quit playing music and the selftitled album became a rare collectors item. With the rise of music blogs it got rediscovered again and a CD reissue was made.
The short documentary tells in mindblowing, psychedelic animations the story of Richard Atkins and what drove him away from making music for decades3. The New York Times published the short documentary for free.
The Doc Holiday album is a rare private press record out of Justen O'Brien's studio. There is not much know about it. The Justen O'Brien story can be found on the Yoga Records website and the internet you are browsing.
Tompkins Square made itself a name for reissuing long forgotten music. So with William C. Beeley they reissued another folk and country rock gem that only a few people had heard about before. I knew nothing about it, but I dug the coverversion of Buffy Sainte Marie - _Little Wheel Spin and Spin_4
C.C is a mysterious musician named Chris Cologne who appeared on a 3 LP box with some other mysterious musicians (Terry, Jim Collins, Compoundcollective, whatever). All I can say, this is a more interesting release than the other ones. Dark acid folk.
Since the Fletcher Tucker album was all around, I checked it out, but somehow felt nothing when hearing those dark, symphonic pieces. Maybe I lost connection to nature. I guess that's why I left the last two Mount Eerie records untouched. Maybe another time I will catch on.
Stag Hare released a final album with crispy, vintage new age electro tracks. They are around for quite some years and released healing music on their Inner Island label. It was/is a collective of friendly people in tie-dye shirts. I loved their work.
I found the Matthew De Gennaro record from 2003 on the Mutant Sound blog and it stayed with me. It was my entry way to the magical psych folk world of The Skygreen Leopards, The North Sea and so on.
That's it for now. A new Morning Raga mix is in the making. You can support DFBM by buying a t-shirt and share the music. Also support the artists and labels who make all of this possible.

Tracklist
Desmoines

Happy Smiles

endless mtns. region

spirit guide

Erik Kramer

Ghost Of The Harvest

Will Phipps

Fly Away, Crazy Days

Halasan Bazar

Burns My Mind

The Lost Chords

Sound of Silence

Youngkvist

Rub' al Khali

power mystery

Pausa

Anthony Pasquarosa

Run For Life, Death Is Near (Sequence 3)

Joost Dijkema

Woodpecker

Richard Twice

If I Knew You Were The One

John Wilson

The Road Is Hard

Lebo Jenkins

Sweet Pine Sap

Doc Holiday

(I Dreamed I Went) Sailing Last Night

Jake Holmes

Lonely

Blaine Todd

Waking Up and Can't Be Touched

William C. Beeley

Little Wheel Spin & Spin/Codine

Steve & Ed

Four Seasons

C.C

Where There Is One

Perry Leopold

Sunday Afternoon in the Garden of Delights

Fletcher Tucker

I Became Smoke

Mark McGuire

Eleven Sevens

Stag Hare

Stormy Heart

Hayden Pedigo

Dark Heaven

Saguache

Double Eagle II

Chuck Johnson

Labradorite

Matthew De Gennaro

Temptation Breaks On

Greg Ashley

Bullshit Society

Donovan Quinn

Whitman Is Not Afraid to Die