Roberto Menabò - Transatlantic Guitar
John Fahey and his American Primitive guitar style had a big impact on the folk scene in the 70s and the early 80s. Not only in America, but also in Europe, young people with acoustic guitars started to figure out how to play those crazy picking patterns they heard on Fahey's, Leo Kottke's or Robbie Basho's records. These artists, along with a huge interest in Delta Blues, had a profound influence on today's pop culture.
Roberto Menabò was one of those young men who fell in love with the guitar, blues music and John Fahey's Takoma Label. Although his life ultimately took another path, Menabò's forays into performing, recording, and researching this music have continued to be part of his life during the past 30 years. Menabò has degrees in both Italian literature and musicology, and has authored two books: one about John Fahey and another featuring semi-fictional stories about rural blues singers.
The interview with Menabò that follows was conducted and translated by Italian singer-songwriter Simone Romei. The included playlist features Menabò performing - exclusively for Romei - two songs from his 1985 debut album, as well as a few studio cuts, and some footage of Menabò playing slide guitar at the Blues A Balues Festival in Bologna 2009.
Enjoy! ~dfbm
Roberto Menabò is an Italian fingerpicker from Ivrea, a small town in the Piemonte region.
Piemonte is a region of northern Italy whose name - both meaning and sound - sounds like the word "piedmont", that identifies a certain kind of music, the so-called "piedmont blues". Piedmont blues is halfway between the folk and the rural blues played by American people in Appalachia, a wide cultural region at the foot of the Appalachian Mountains, during the years of the Great Depression. This music, along with muddy Delta Blues belongs to one of the greatest, more influential and epic musical scenes of - not just American – history, adding to the Folk Revival during the 60s.
I am very proud of my first record. I felt ashamed for many years, but now I'm really proud of it!
That kind of music is Roberto's favorite, his passion, and that music is the main and primitive influence that comes out of the music of his first album "A Bordo del Conte Biancamano", issued in 1985.
The album, an American Primitive guitar's authentic gem, was released by a small label, the Milano based 'Coco Dischi', limited to 1,000 copies on vinyl.
In 1978, before the album release, during the years of punk and social protest, Roberto graduated with an degree [sic] in Italian literature and musicology, presenting his thesis about the rural blues of the United States.
Today he lives in Bologna and he's a high school professor, as well as a respected guitarist in the Italian blues scene.
Speaking of his first album - literally the title means "On Board the Count Whitehand" - Roberto refers to his guitar-style as the "transatlantic guitar", because Conte Biancamano was a passenger liner, launched in 1925, which was considered the first Italian "floating city".
Why do you use the definition "transatlantic guitar", speaking of your guitar-style?
Because, ideally, my guitar travels from Italy towards America, on board the Conte Biancamano, to reach the places where rural blues was, at the end of the 20s. Rural blues is the most inspiring music to me. I think there are a lot of amazing artists in that peculiar "scene" who took life in the South of the States. Nevertheless I think the braggart electric blues that took place some years after was actually boring. I don't like that technique- and speed- and rudeness-based music. Especially now, it seems to me that if you want to play the blues you have to be rude. I don't care about this stuff, what I care is the "race records" music.
Like everybody who approach the so-called "Guitar Soli", in your music we can hear and feel the influence of John Fahey and the other Takoma Records artists. How did you come to Fahey?
In the late 70s I was a record collector. I collected especially the amazing Yazoo and Nick Perls' Blue Goose records. And I studied the guitar of Mississippi John Hurt. At that time I read about Fahey somewhere, I don't remember. I had this name in my mind, even though I never listened to his music. I used to go to this record shop in Torino and some day I saw "Blind Joe Death" by John Fahey, the 1967's edition, with its wonderful blue cover. So I bought it and I went into his world and I started to buy all of his albums. My passion was so intense that after a few years I decided to write a book about him. (N.B. Menabò's "John Fahey" is the only Italian book about the musician.) I am a Takoma enthusiast and I'm proud to have a remarkable collection of the original mono records. Not just Fahey's but also, for example, Robbie Basho's and Leo Kottke's and Peter Lang's.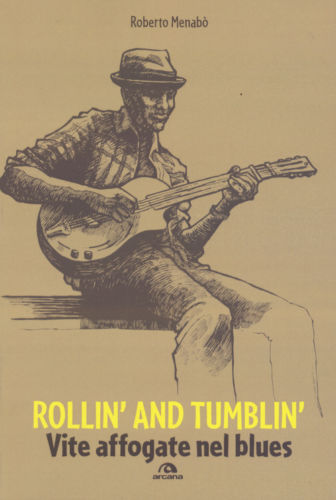 What is the striking thing or things in his music?
The melody. I loved it and I still love Fahey's attitude towards melody, in fact, he wrote wonderful melodies. And the rhythm. There's no good fingerpicking without rhythm. Finally, the sound of his guitar, a guitar that sounds like an orchestra.
In your record liner notes you write something about the sound you asked for to the engineer during the recording session, "a guitar sound as if it was recorded under the wide arches of a church".
Exactly! I love the round sound of the guitar, a full sound, not necessarily clean, but wide, airy and powerful. And precise. There's no need to be braggart and fast just to show off the skill, however you have to give to your style the right tone, the right shade to color of your sound, both in playing and recording the guitar. I don't like some smooth sounds you can hear in some records today, I compare them to the soft and perfumed toilet paper (laughing).
As well as the Fahey's fingerpicking was influenced by several listenings, even your music is characterized by other influences, what are yours?
In fact, I'm not only focused on 'black' rural blues. I never believed that there's a difference between black and white music. And I never considered the blues the only music, you know what I mean? I always loved the "white" tradition, too. People like Sam McGee, Woody Guthrie and Pete Seeger are a sort of never-ending inspiration and pleasure. Outside the USA, I love the Irish and British folk, I really appreciate artists such as Bert Jansch and John Renbourn.
Despite all of my love for acoustic music, my first true passion was rock music. Rock music from the 60s and 70s, before they started to call it Progressive. In fact, I decided to play the guitar the very moment I listened to Jimi Hendrix for the first time. Hendrix and other guitar players like him, with their wonderful and sharp and rough guitar sound. I'd like to say another important thing about music. Blues or not, what is important is how you approach music; it should be genuine and true. I mean, I can't pretend to be a black blues singer who plays his guitar on the banks of the Mississippi River. I'd be phony. It is sure that my blues, or my style, is something that I studied. Of course, driven by feelings, but intellectually measured.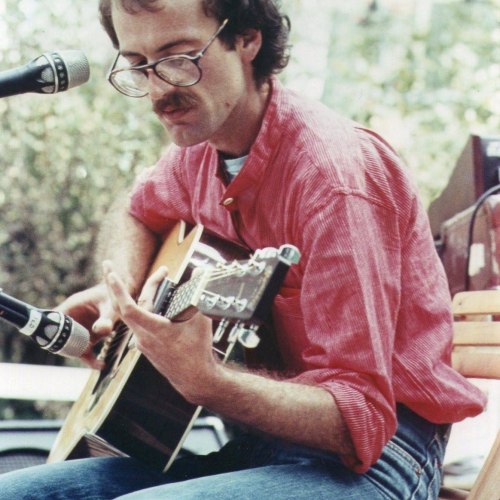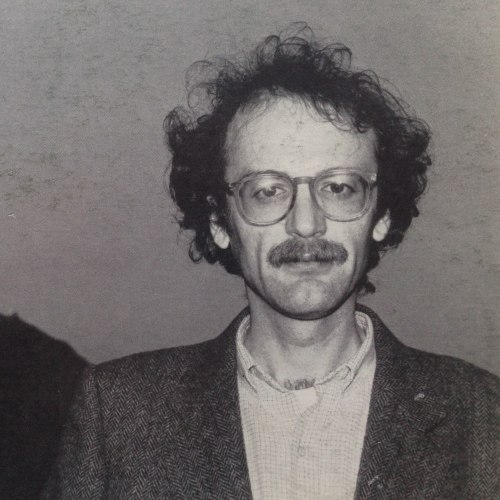 Apart from the Anglo-Saxon musical world, what are other influences in your music?
Atahualpa Yupanqui is an Argentine milonga guitar player. His fingerstyle is awesome and his music and lyrics are pure magic, full of emotions and feelings for the place where he lived, the Pampa.
By the way, speaking of Italy, I really like popular tunes and chants. I like singer songwriters such as Fabrizio De André and Lucio Battisti, but I like especially artists such as Giovanna Marini and Giovanna Daffini and their way to carry the tradition on. Nevertheless, I never liked the political transfiguration Italian people used to do with traditionals. What I care about is the importance these tunes have for me, I mean the importance they have in my own history or, at least, their historical significance. Concerning the importance of music's authenticity, I really care about what some tune means to me. I've never been a politico or a dissident or stuff like that. I am a Italian literature teacher who likes a certain kind of music. What I play comes from within, it's a part of me, a part of my own story and it means something for me. I am not a blues singer born on the Mississippi River. Actually, I speak of the Viona River and Olobbia River instead of the Mississippi River, because those are the rivers of my childhood. I quote Sunflower River to mention Charley Patton, because he was great and I like his music a lot. I speak of the Aar River in Bern, because it has a special meaning in my own history. Soul and heart are essential but they're nothing with no knowledge and authenticity. Furthermore, I don't believe in claims like "the blues to the people" or "the blues is revolutionary music" and stuff like that. The blues is a kind of music, like all others, that can wake some emotions up. You have to study it and respect it and play it right, in a serious way. I think everybody could do it but there's no need to pretend.
Did you ever meet Fahey, maybe when he played in Italy?
Sadly, no, when he came to Italy, I never went to one of his gigs, for some personal reasons. But I was lucky to get in touch with one of the few guitarists who played with him. Woody Mann. That guy played in one of my favorite Fahey record, "Old Fashioned Love", and he was just 17 years old! Woody Mann told me that Fahey was definitely not an easy person, temperamentally speaking. But he was a real genius, no doubt about it, as well as – at least at that time – a heavy drinker (laughing).
Another artist linked to Fahey's label Takoma Records is Robbie Basho. In the early 80s he did a small tour in Italy. Did you ever meet him or go to one of his gigs?
I can say that it was almost impossible to know him, to reach him. First of all, because I was very shy at the time and then, Basho was a very peculiar man. An enigma. He was absolutely not obliging with people, even with his own fans and audience. I remember he got on the stage, sat down very calm and then he started to play and sing. And when his strong voice join his guitar, together they created a very unique atmosphere, a sort of place where you could lose your way, a very intense emotional whirlwind. But, you know, he was a loner, a very original man.
Concerning your record. Many artists are not proud of their first work. After 30 years, why did you reissue your first album?
Because I am very proud of my first record (laughing). I felt ashamed for many years, but now I'm really proud of it! I'm not so proud of my next two albums, but I think my first one still sounds good. Especially when you consider that it was a one afternoon recording session. One Sunday afternoon, with the loving help of my wife in the studio. Just one take for each song, sometimes two, and that's it. I kept even the little mistakes. I'd say because of an "artistic choice", that is quite true, but it was also because I got no money and, at that time, if you wanted to record something good and professional in a studio you should have a lot of money.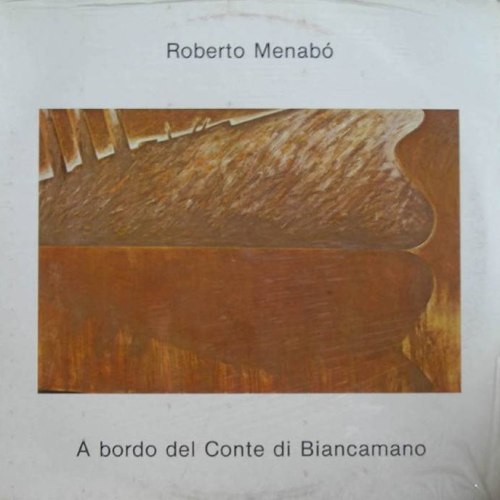 Did a tour follow the record? Thinking about the 80s Italian music scene I'm sure your music was pretty strange. How did its promotion come?
At that time I went around with my music, making some gigs, you know, promoting my album. And it was quite good, I mean, some good reviews and people who liked it, but those were the years of guitar heroes and the secret of success was to be a guitar athlete, you have to be fast and show off all of your skills. I always liked to teach at school and I've never been a super-active man, furthermore I was shy and a little insecure. For all of these reasons I decided to give up. You see, that was also the time for me to decide if I wanted to keep going around and play my guitar or settle down and build up a family. And so I became a husband and then a faher. During the following years I kept on playing the blues around, here in Italy, getting good approval. Then one day, I listened to my first record again and I thought it was well played and well recorded, too. And the songs were good, they aged in a good way, like good wine. So I decided to reissue the album on CD complete with a booklet with liner notes and pictures and bonus tracks.
Your songs still sound fresh and contemporary, because they're timeless and they come from the tradition, you know, like folk tunes, like the ancient Greek.
Exactly!
So, today you'd like to keep on carry what once you interrupted on, right?
Sure. And I'm trying to carry it on with great passion, especially because - I wanna tell you a secret - I still really have fun playing around, a lot of fun (laughing)! I'm like one of those old blues singers who had their glory when they were 60 rather than 20 (laughing). Furthermore, I'm thinking about a new album but it doesn't have the right structure. Not yet. I need to lay the songs down, deep inside of me and it takes time. And I'm a patient man (laughing).
If Roberto is like one of those amazing old blues singers, we'd like to think about ourselves a bit like John Fahey, Henry Vestine and Bill Barth. Those guys, during a mid-60s summer, travel through the deep South in the U.S.A. and they found Skip James. And they brought him back to life. Unfortunately, Skip James was, in Fahey's opinion, a real obnoxious old man, full of regrets. Roberto Menabò, a very gregarious man, is exactly the opposite kind of man and in our minds, with his gentle manners and his great willingness, we compare him to a gentleman like Mississippi John Hurt was.
Appendix
You can order "A Bordo del Conte Biancamano" on cd on Roberto Menabò's website. Copies of the original vinyl record can be found, with some luck, on ebay.it for little money.
Simone Romei is a singer-songwriter and some of his music is on bandcamp.
Thanks to Simone Romei for introducing Roberto Menabò to me and doing this feature. Thanks to Patty Poulter for assistance. And thank you for reading. Spread the word!
Check out the short feature about Maurizio Angeletti another fine picker from Italy and friend of Basho's and Fahey's.
Edit: On the quest of finding more obscure fingerstyle guitar records, a user on twitter pointed me to Enrico Marcandalli from Italy. There is not much information about him on the internet, but he released at least one album in 1983.