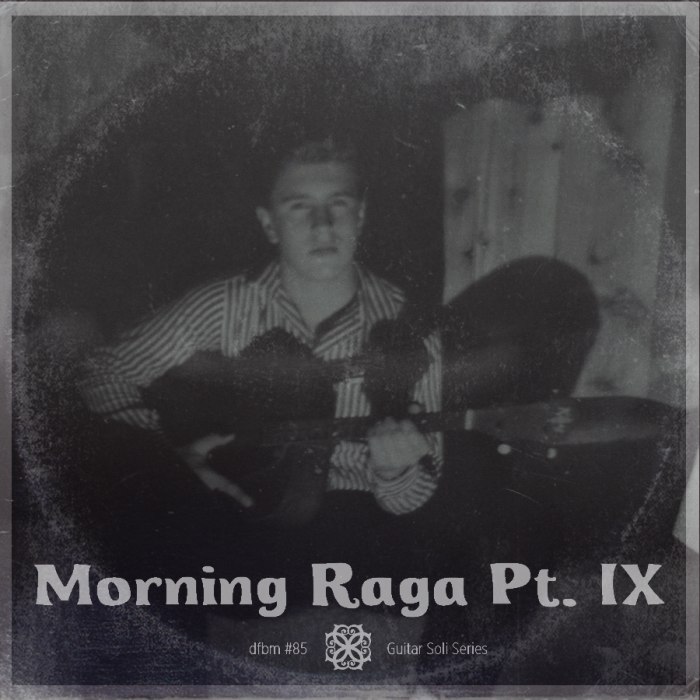 dfbm #85
Morning Raga Pt. IX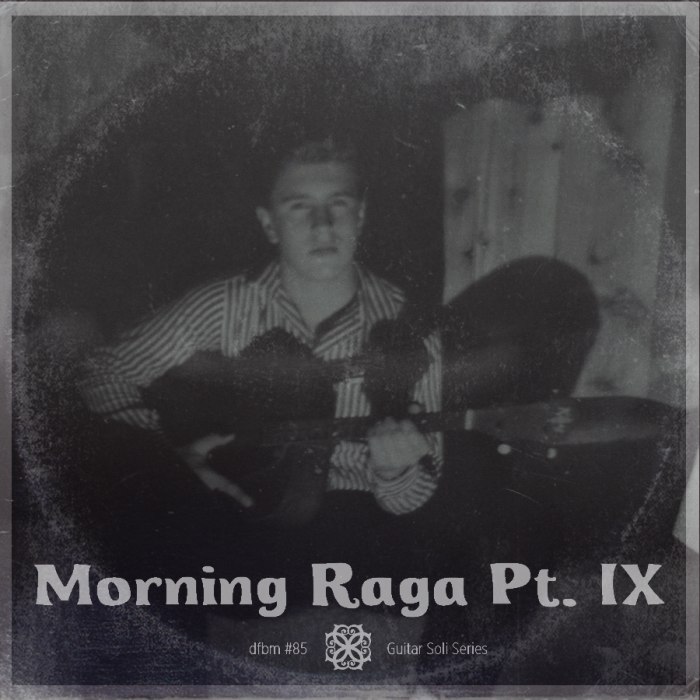 Welcome back to a new two hour mix of solo acoustic guitar and everything on the verge of it. For this edition I try to fulfill the expectations that comes with the term "Raga" in the title. As you can tell, it's not about Hindustani or classical Indian music in the first place, but about the influence of this music on Western music and for me it also describes a state of mind where I would just listen to this music without doing anything else.
This compilation includes new material by contemporary artists and maybe unheard material by artists who were part of the solo acoustic guitar/folk craze in the 70s.
Ben Kunin's album "Acoustic Adventures" is a great example of Eastern influenced solo guitar music. It's highly recommended if you find a copy (tip: Spotify)! He's now better known as a Sarod player and performs classical Indian music as well as in the raga/psych rock group Electric Bardo.
Another interesting musician is Arvid Smith. He released an album called "Contemporary Slide Guitar" which complemented an instruction book to learn how to play slide guitar. The back of the 1976 album stated 
The pieces on this album represent the fruits of a two vear project on the technique of slide guitar. They are grouped into two catagories: traditional blues and gospel songs arranged for bottleneck style; and original pieces of mine that present the basic folk guitar picking stvles coupled with"non-folk'' forms and chord progressions. This latter style has been dubbed "american primitive" by guitar enthusiasts and is rapidly gaining popularity I belive that you'll find the uses of the slide style in these original pieces an ear-grabbing experience.
Smith appeared with some outstanding pieces on the Fahey Tribute album on Kicking Mule Records and then started to play in some local art/post-punk/rock bands like The Great Invisible. 
In early 2000, Smith started to study the Sitar and other Indian instruments and since then he is oscillating between all kinds of stringed instruments and music styles. This year he released the album "The Journal Of Sir Tarry Boy" and to the song I've chosen for this set he wrote:
This piece began many years ago as  12 String American Primitive solo. Perhaps a slow motion western ragtime against the romance of the sea. For John Fahey.
And this leads to another lesser know guitarist from the mid 70s, Michael Kleniec from Canada. Today he's more associated with jazz guitar, but his debut album "Sending" is described as a "private-press acid folk, raga guitar album like Fahey, Basho or Sandy Bull" and collectors pay high prieces for a copy of this album. I heard of Kleniec the first time on the Tompkins Square "The Record Store of the Mind" CD that came with the book of the same name. Kleniec was on this cd as a teaser for the coming Imaginational Anthem Vol. 8 compilation which, according to Josh Rosenthal, consists of exclusive and rare private press finger style guitar records. And that sounds so exciting if you ever came across stuff like Perry Leopold.
As mentioned before, Kleniec work is more associated with jazz, but I believe sometime in the eighties he published an album "Raga for Guitar" with came with a songbook that teaches how to play those ragas on guitar or any other instrument. If you are interested in learning how to play ragas, this might be a good starting point. "Raga for Guitar" as well as the songbook is still available (see link in playlist).
From his debut album "Sending", I included an adaption of the Hindu folk song "Ramdhun" (here is another version on Slide Indian Guitar). It's a really rough rendition and the whole album is a mixed bag of raga guitar, jazz and latin american tunes, a Beatles cover version and some spaced out electric guitar explorations.
Robbie Basho might be one of the most iconic guitarist who is directly associated with Western Style or American Ragas (Richard Osborn and Peter Walker are two other protagonists in this field and of course Max Ochs) and the label Grass-Tops Recordings cranked out a massive amount of rare Basho media, starting with the Bouquet cassette and the lately with demos from 1975 and 1978. That's were the Basho piece comes from in this mix.
In the same lofi fashion like Basho's demo appears Kevin Aprill's Yawain. With the mystical aura of a rare, because just one known copy exists, private press release is Aprill a perfect candidate for the Imaginational Anthem Vol. 8 compilation. I don't know if he's going to be on there, but as I said - this is going to be exciting!
Andy McLeod debuted on Dying For Bad Music with his "Forge the Valley" album and I also borrowed the name for this series from one of his pieces. Right now he is recording new material and it's going to be an exciting mix of banjo and guitar. Have a a sneak peek here on this mix!
Anybody remembers Idyll Swords? Yes, it's the group that Chuck Johnson was part of, so these are his roots.
VDSQ is going to release a new batch of records including new material by Michael Chapman, Sarah Louise and Tashi Dorji who also released a new album with his friend Shane Parish.
Much more is going on, but I guess I already lost you.
Hope you'll enjoy! Spread the word
This mix was broadcasted first on the NTS Radio show "Death is not the End" Saturday night at 10pm GMT.
Playlist
Dibson T. Hoffweiler

Walking from MacArthur

Ben Kunin

Brindavan

Gregory Rago

They Will Seek to Poison You

Michael Chapman

Homage to Ehud Banai

Gavin Prior

Moroccolin

Andrew Morse

Enter the Grove

Michael Kleniec

Yeman Kalyan

Glenn Jones

Gone Before

Danny Paul Grody

Mineral Springs

Luke Hirst

Ode To Fahey In G

Axxxx Sxxxxx

xxxxxxxx

Robbie Basho

American Sunday

Kevin Aprill

Ywain

Andy McLeod

There is No Time for That Now

Michael Kleniec

Ramdhun

Arvid Burman Smith, Jr.

Carnival In Costa Rica

Tashi Dorji & Shane Parish

Ihintza

Sarah Louise

Scarab

Ben Kunin

The Crossing

Woody Harris

American Medley

Charles Kellog

Bird Chorus

Jakub Šimanský

In The Sacred Vales Of Barbaricum

Christoph Bruhn

Unforetold

Sean Proper

General Honesty

Idyll Swords

Morning In Miniature

Arvid Smith

The Song Of The Summer Squall

Sean Smith

The Augur of Deviation

Jan Mörgenson

Animus Kali

Debashish Bhattacharya And Friends

Indospaniola

Dana Westover

Beginning