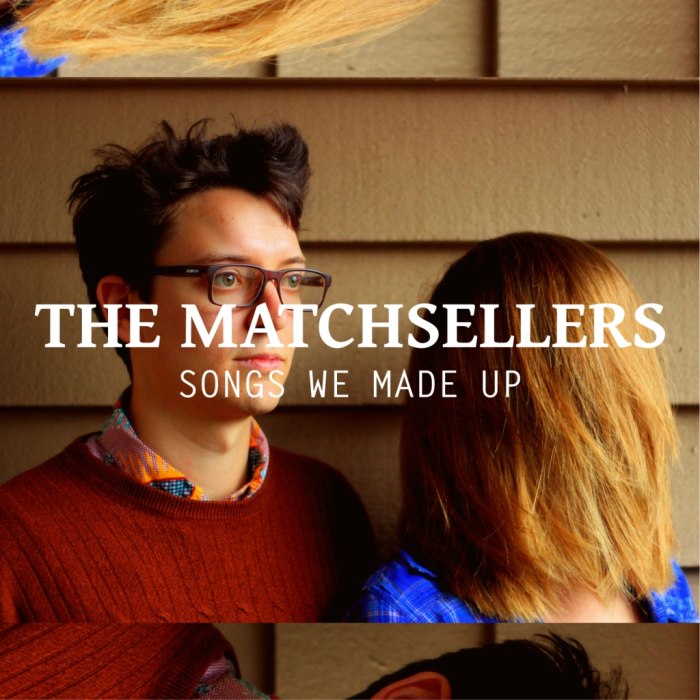 Julie Bates - Fiddle, Vocals
Chris DeVictor - Bass
Matthew Hawkins - Banjo
Andrew Morris - Guitar, Vocals

All tracks by Andrew Morris except track 3 by Julie Bates and track 12 by Bates/Morris.
Engineered by Andrew Morris
Mastered by Johnny Kenepaske in Independence, Missouri
Printed by Nuvidea in Overland Park, Kansas
Cover photos by Mathias Kang in San Antonio, Texas
"The Matchsellers" sign made by Casey Jones in Silver Lake, Indiana
Album Art by Julie Bates
This album was recorded live on a single microphone in Julie's living room in Kansas City, Missouri, in October 2015. Andrew Morris and Julie Bates wrote and performed on all tracks, Julie on her Czech-made Dvorák violin and Andrew on his 1975 Mossman Tennessee Flat Top guitar. We were joined by Matthew Hawkins on 5-string banjo and Chris DeVictor on upright bass on tracks 1, 5, 6, 9, 10 and 11.
  powered by bandcamp
The Matchsellers
Songs We Made Up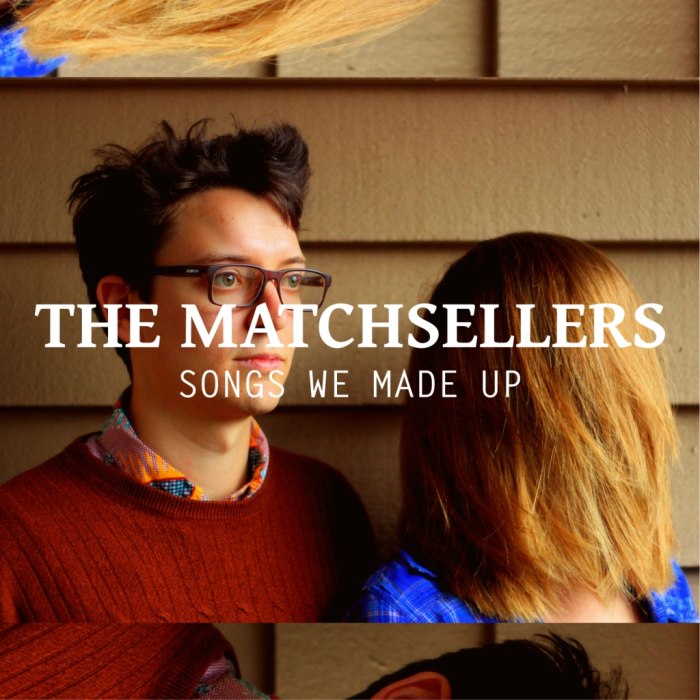 This bluegrass duo, consisting of Julie Bates and Andrew Morris, met a few years ago in Leipzig. While many young Americans want to go to Berlin and maybe stay there either to get away from their student debt or because it's supposed to be a very cool city - Bates and Morris ended up in Leipzig to help anglicize the kids in Germany's East. It's some sort of history reversed. Emigrants from the United States come to Europe to work and make some money, but kept playing their hillbilly music and had rodeos and BBQ on Leipzig's roofs. Since they got back to the US, Bates and Morris are constantly touring their homeland. Their live program is pretty funny and a mix of their appreciation of the classic bluegrass music and influences they brought from their time in Europe - like a cover version of a song by the German indie band Tocotronic (Du bin ganz schön bedient), a classical violin pieces (Fleur de Lis) and many own songs they made up.
Songs We Made Up is The Matchseller's new album and it's pretty amazing how they grew over the past two years. So here is a part of the album as an exclusive stream and some background information about the songs, written by Morris. Enjoy! The album is out on February 12th.
The Matchsellers began playing music together in Germany. But they're not German. They're two Americans (from Kansas City and Indiana) who met in Leipzig and began playing music together. Their new album "Songs We Made Up" showcases the duo's intent on preserving the humor and intensity of classic string band music, while crafting new songs. 
For this album it was really important for us to record everything into a single microphone. There is something about the music and instruments mixing in the air before they hit the mic that creates a certain kind of intensity. Too often bluegrass groups and stringbands try to get a recording as clean and polished as possible, by single micing, mixing and EQing each track separately. I think sometimes this can be done well, but more often than not it leaves the recordings without the fire that draws one into the old Bill Monroe, Jimmy Martin, Foghorn Stringband and The Wilders records. So we did everything into a single mic and I hope people will be able to hear the intensity it creates.

​​Caption: Playing at the Rural Grit Happy Hour in Kansas City with Betse Ellis (of the Wilders, Betse & Clarke), Brett Hodges, Chris DeVictor and Clarke Wyatt. Photo by Val Hodges-Tankard
We had two of Kansas City's hottest players join us for 6 songs on "Songs We Made Up". Matt Hawkins has a very Don Reno influenced banjo style that is aggressive, driving and more exciting than any other banjo player we've worked with. His playing really helped craft the sound of this record and we're so glad he played with us. On Bass we had Chris DeVictor who is a top gun around western Missouri/eastern Kansas. DeVictor has played bass with nearly every person in the greater Kansas City folk scene. His playing and personality are both so inviting that you can't help but like the guy and his bass stylings.
I'll say a few words about the songs we're letting Dying For Bad Music premiere. "Doktor Seltsam" is named after a bar in Leipzig, Germany where Julie and I used to hang out at. It was a bike shop by day and a smoky dive bar at night. When I wrote this instrumental, I envisioned the A-part to have the sound of bike gears clinking together in a syncopated rhythm, with the B-part transforming into darker chords mirroring the transformation of the bike shop into a bar. I don't really think it sounds like that now, but it's still pretty fun to play.

Caption: Women vying for the title of the "Mentone Egg Queen". Photo from the Kosciusko County Historical Society
"Mentone Egg Queen" is an absurd homage to the beauty pageant/competition that happens every year in Mentone, Indiana where the winner is dubbed the "Mentone Egg Queen". Julie wrote "Dirt and Beard Hair" after we were at the festival in Winfield, Kansas and Matt Hawkins passed a handle of whiskey saying "it smells like dirt and beard hair". "The Lights I Wanted" is a tune I wrote down in San Antonio, while feeling kind of lonesome. And "The Gohlis Waltz" is named after a neighborhood in Leipzig where our buddy Allen used to live.
We hope the album is equally funny and exciting. Thanks a lot for premiering some of it! You can pre-order it via our bandcamp or download it there on February 12, 2016.
Andrew Morris, The Matchsellers, 2016
​