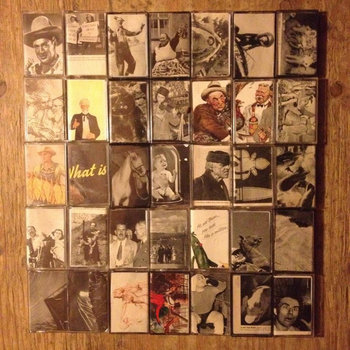 Ben Collier - guitar, bass, fiddle, drums
Limpin Roosevelt barnes - guitar on 'Crowley Waltz'
Haney Washburn - Madolin on 'Crowley Waltz'
Here comes a great new record, folks. From the very jowls of America, Ben Collier's new release Rags, Reels and Relics is sure to be a Certified Number One Hit across the country.

Traditional music is a poor moniker for the modern revival of Appalachian, country, gospel, and delta blues music. It truly is a combination of all these many traditions and those who have continued their practice. The fiddles of the Bayou, the hymns of the Blue Ridge Mountains, and the sad stomp of the Mississippi can all be found here in the music of Ben Collier.

Mr. Collier candidly captures the haunting front porch melodies of all these traditions without the the air of imitation or puppetry often found in modern recordings of the genre.

Recorded in a one room cabin in the hills of Northwest Pennsylvania where the Allegheny Plateau raises it's head for the last time bowing to the plains of Middle America, these songs are warm, impressive tracks that immerse the listener in the very soul of the land.

Indeed, there are few artists who are capable of such an expression of the yeoman like Mr. Collier. Through the familiar rhythms and canticles of that which we call traditional music, the album does not meander, but is stricken with a sense of urgency and liveliness that is both expressive and enveloping.

Rags, Reels and Relics jumps between balladic yarns, pleading hymnals, instrumental stomps, and folksy jaunts with earnest pop sensibilities. The first track, Out in the Cold Blues is a howling original number in which Mr. Collier's voice bewitches as it rises like a hound dog calling out for his missus. Take a Trip With Me and Candyman are jangly, hopping tunes that rely on Mr. Collier's signature soaring tenor and borrows from the likes of the great Reverend Gary Davis and Dave Van Ronk. Poor Boy Coming Home is a hushed rags in which Mr. Collier showcases his guitar picking talent. Perhaps the entire record's most memorable and moving track is the last of Side 1 in Tell old Bill, a loving and catchy plea that lulls the listener before emphatically reaching its pinnacle.

The album's second side begins with a number of traditional fiddle and guitar instrumental pieces--or reels--including Crowley Waltz and Putneyville strut. Mr. Collier's fiddling is raw, tingling and squealing, and would sound very much at home at a barn dance, campfire or front porch. Other tracks like Egg baskets, Doing Fine Rag play upon traditional refrains that is steeped in sadness and panicked jubilation all at once. Truly, the voice of the Alleghenies seems to find its way into the music through whistling echoes and ragged, scraping notes.

A live rendition of On The Floor of the Belknap Auction House is especially hypnotic; Mr. Collier's picking is reminiscent of the ringing sound of the tea kettle, the dinner bell, dishes clanging, drinks poured: the beautiful cacophony of home. Yet there is a danger within it--a certain survivalism that is both profound and terrifying. This tempest continues in Ohio Line where warring drums and reverbed harmonies that gasp and bellow like a church organ rage with psychedelic guitar. Not only does the song showcase Mr. Collier's musical versatility, but is reminiscent of the haunting loneliness of the great wilderness of both America and man himself. If Rain On Me is the emotional apex of the album then Little Burr is the morning after: a refreshing and bouncing rag in which the artist seems as awoken as the listener to close out the narrative of the album.

Guys and gals, this is a record not to be missed. Throughout his career as a musician (whether it be in the guitar group Ursa Major or in side projects such as Kid Brother), Ben Collier has consistently delivered extraordinarily powerful traditional music that beckons to an era not as bygone as many think. The stories Mr. Collier tells in Rags, Reels and Relics are very much eternal and authentic.

Perhaps, though, what Ben Collier does best in his recordings is invite the listener to hear what is not on the track. The rustic cabin, the untouched hills, and the ghostly sounds of stretching idyllic pastures are all there if you are willing to look for them.

Please enjoy this album and I hope you find great wonder in its melodies for many years to come.

Sincerely,

Steven Wayne Whisler
VP of Marketing
Sugartop Industries
  powered by bandcamp
Ben Collier
Reels, Rags, & Relics
​What a great, entertaining tape Ben Collier has put together here. It's that "lazy afternoon on the back porch" kind of songs. Well known tunes like Candyman (the only one I recognized) and own songs, recorded in a very lofi one-man-band manner and in different styles.
He's opening with "Crowley Waltz", a piece that could come straight from Dust to Digital's latest release "Arkansas at 78 RPM" and then he moves on to a fine fingerstyle piece called "Putneyville Strut", that rural americana kind of stuff. With Egg Basket he suddenly turns to the more contemporary lofi folk style that reminded me a lot on early Simon Joyner (or all those other guys and gals who recorded songs in their bedrooms on a 4-track)
Ben Collier grows veggies over the summer on a farm in Pennsylvenia and everything here is hand made. Not the cassette tape, though but the cover artwork and of course his music.
Download it for free or write him a mail to get a tape. Thanks to my friend Lukas Read who was recommending this to me!
His studio:

(via When Woman are Scarce - True West Historical Society)
Photos are taken from The Past Is A Grotesque Animal tumblr blog