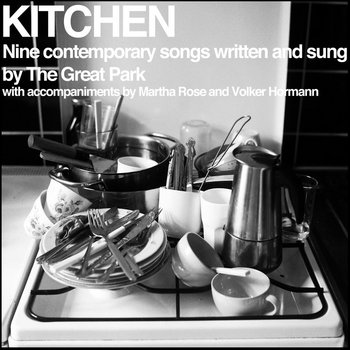 'Kitchen' is a collection of nine new songs written and recorded in Nürnberg and Berlin in march 2014. Vocals and guitar were recorded together in my kitchen at home and then Volker Hormann and Martha Rose played some cello and violin at their kitchens in Berlin.

The digital download includes a PDF of the lyrics / guitar chords sheet, a short teaser video, a copy of the cover photo and all the songs in full quality audio, or various lossy formats.

http://www.thegreatpark.co.uk
http://www.instagram.com/thegreatpark

https://twitter.com/thegreatpark

http://www.woodlandrecordings.com
  powered by bandcamp
The Great Park ~ Kitchen

Originially hailing from Ireland, now based in Germany, Stephen Burch aka. The Great Park just released his first vinyl album on his very own Woodland Recordings label and it's already sold out! Yes, this didn't last long. Ok, you might say, an edition of 100 should be easy to sell, but it's not easy if there is no known label behind and if the "Indie" press isn't writing about. But Burch is truly DIY and always on the road to play for the people in little bars and clubs and homes in and around Germany, so that's for sure a guarantee to sell records.
There isn't anything more to write about Kitchen, than I already wrote about The Great Park' We love to get lost... some months ago.
He's like a mixture between Edgar Allen Poe and Simon and Garfunkel where the main theme is "Hello darkness my old friend...". His songs are like an overnight stay in a haunted motel where all the ghosts of former guests come and tell you their story. It's not scary just sad and sometimes weird and maybe even comforting.
This stuff is intense and as black and white as an german expressionist movie.
Here is the album teaser for Leipzig where he used footage from former GDR times which fits quite right and looks kinda familiar to me. The next video is a performance in Leipzig. And the next time he's playing in Leipzig is in November and unfortunately I won't be around to see him live...