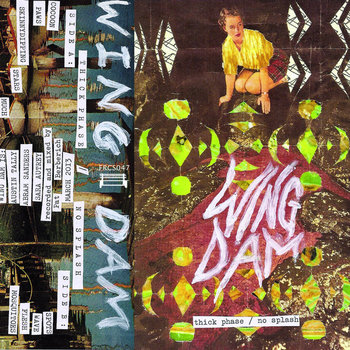 Recorded and mixed by Pat Berberich. Instruments recorded live to 1/2" tape in the frigid depths of the Annex building in Baltimore.

This is the first official release by Wing Dam as a 3-piece band.

Wing Dam is:

Abram Sanders: drums
Austin Tally: guitar / vocals
Sara Autrey: bass guitar / vocals

We would like to thank our parents, our friends, our friends' bands, Friends Records, Baltimore, weird stuff, beer.

Listen to it loud.
  powered by bandcamp
Wing Dam
Thick Phase / No Splash
Wing Dam from Baltimore present some nice fuzzy indie pop for the long awaited spring time. You will find them somewhere between The Bee Gee's and Woods.
I posted two tracks on a mixtape some moons ago but unfortunately, the first EP is not available anymore. Those tracks had that nice homerecording-one-man-band feeling. Wing Dam is now a trio and they doing good, but the solo stuff was more charming.
At least, with Mosquitoes they saved a track from these days.
[mp3] Wing Dam - Mosquitoes (2011)
So download the album or try to see them live or buy a tape.