Interview: Jim Ghedi - Home Is Where I Exist, Now To Live And Die
The new album by young British guitar virtuoso Jim Ghedi is a great acoustic journey, not only through Belgium, his home for six months by choice, but also through the hills and meadows of the British Isles and where else his feet or imagination brought him. Read the following interview with Jim while listening to the premiering of  "Home Is Where I Exist, Now To Live And Die" out on Cambrian Records on November 4th.
How are you doing Jim? How is your tour so far?
All good this way Marcus, the tour has been a lot of fun and we've met some really amazing people on our journey so far. 23 days in now so feeling the burn a little but rolling on in high spirits.
Any new favorite place you discovered on your tour?
At the start of the tour we did roughly a week in Scotland which was beautiful, travelling between gigs we got to see incredible landscapes, mountains and miles of open road. We did a gig on the Isle of Arran which is an Island away from Scotland and that was a favourite, also we played in a place called Aboyne in Aberdeenshire, Scotland which was beautiful surrounded in mountains, forests and lakes. Newcastle and Gateshead really surprised me as well, i fell in love with the city and heritage still remaining in that place and the people were so friendly.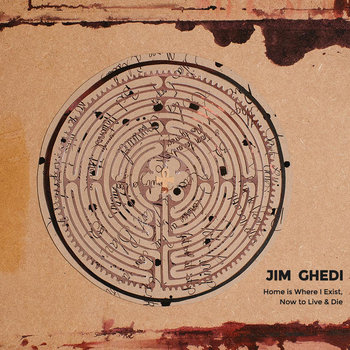 All music by Jim Ghedi
Produced by Jim Ghedi and Toby Hay
Engineered and mixed by Tim Hay and Jim Ghedi
Mastered by Christopher Leary at Melograf Mastering
Artwork by Liz von Graevenitz
Layout and Photography by James Beattie
  powered by bandcamp
The title of your new record deals with the image of a chosen home (to live) and the final home (to die). That sounds bold, since you are so young? What does the title means to you? And what brought you to Belgium?
The album title was something i came up with on a train returning back to the UK, the concept of 'Home' was something i was thinking about a lot living away in Belgium for 6 months, i liked the idea of 'Home' being subjective and from a personal perspective not necessarily an actual place or thing. I found music was as much the concept of 'Home' for me as anything else and finding that resting place within what you do in life and letting all things happen from that point. To exist in what it is you love to do and enjoying that ride wherever it takes you.
The long descriptive title reminds me on John Fahey, Jack Rose or Daniel Bachman and it's easy and probably lazy to compare your music to theirs. Where else to do draw inspiration from to play this style of solo acoustic guitar?
There are so many musicians which i respect and draw influence from within the circle of guitar music and wouldn't want to ignore that fact but its often reliant on my environmental factors too. So in Belgium i was surrounded by a lot of different styles of music and cultures including a big live gypsy jazz scene, African music was big and i started to listen to more classical based stuff there as well. Often songs started to creep out after i had some sort of experience, wether a night out drinking and eating with people or travelling around new places etc.
What are the obstacles of a musician today who has to book gigs, organize and promote the record all by himself (I assume Cambrian Records who puts out your record operates on a similar DIY level)? Is it possible for you to make a living on the road or do you have to work and safe money first in order to afford touring?
So me and Cambrian records made a decision with this Tour to aim at places who normally don't put music like this on very often and in places which doesn't really get live music on a regular basis. Focusing on more rural areas and smaller communities outside of city's, from this we have been able to meet some amazing people who really care when presenting music live and who have been incredibly hospitable and supportive in all ways. We've been dipping in city's too and thats been a lot of fun as well, but we haven't limited ourselves just to play a short circuit which we are familiar of. I've found the more you play, tour and actively try to keep moving things start fitting into place - if i can get to and from gigs i need to be at and still pick up a burger on the way or something i'm happy with playing music for wherever and whoever is there.
Any place you want to visit one day or you want to play at?
Again similar moto really give me a gig man! any gig at all! I've started to love the notion of discovering places without much thought or planning into it (maybe from touring recently) but there's a real beauty in turning up in places which you've never been and meeting the people, the area and getting the best out of everywhere you are in that moment.
How is a typical day on tour. The good thing about solo guitar is that it's easy to set up so you might have more time to explore the place instead of sound check with a band?
I've been riding with Toby Hay another instrumental guitarist from the Cambrian Records label so we've been having a lot of fun on the road, listening to a lot of music, talking about a lot of stuff and keeping the moral up as much as we can together. Normally we check out the place as much as possible, get some food down us and enjoy the night.
According to your album you are a "sinful man". Tell me about your sins, I am curious.
The song you are mentioning, was a night i had in Brussels where a friend who lived over there took me to an apartment block which was took over from a variety of 15 different artists who lived, worked and put on exhibitions and live music events there. He was good friends with the collective and introduced me to the space, that night was an electronic / noise night with projections - we all drank a lot, had a long long night of fun till early hours of the morning and then i walked home. The day after (not in the best state) i wrote that track inspired from the night.
Where do you see your music moving to over the next years? What is your vision of a signature Jim Ghedi sound? What do you want to accomplish on guitar or maybe any other instrument?
I have a few ideas actually but one thing i'm really aiming for next year is more collaboration with a handful of people i've been in touch with for a while, really keen on working on a few things i have but collaboratively with other musicians. In regards to a signature sound, generally just letting things happen naturally and honestly is an approach i am trying to maintain now with music, trying not to force things into existence.
Any recommendation in written word, moving pictures or recorded sound?
I've been carrying a small book with me on tour from T.S Eliot and it has within it a poem titled 'East Coker' which is a personal favourite and really describes how i feel at the moment. In terms of moving pictures i recently recorded a short soundtrack for my friends show 'The travelling theatre company' where she tours various shadow puppetry shows for schools, festivals and live performance i would definitely recommend her amazing work. On tour me and Toby discovered an album which is an absolute masterpiece from a 1970s Nigerian funk / dance producer called 'who is William Onyeabor' HIGHLY RECOMMENDED.
Thanks Jim for taking the time and thanks to Cambrian Records for premiering the album here. Order "Home Is Where I Exist, Now To Live And Die" as CD or as download on Jim Ghedi's bandcamp or on the Cambrian Records merch page.