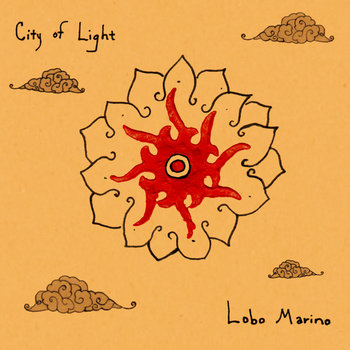 The full length "CITY OF LIGHT" album has MOVED!

PURCHASE FULL ALBUM HERE:

https://bhadrakaliassociation.bandcamp.com/

We moved our one and only Kirtan album in an effort to bring more transparency to how the money from it's sales are used.
We have always sent 100% of our Bandcamp proceeds to a music school in Varinasi, India, where our friend Raavi has a musical training program for children living in the city's most economically challenging areas.
This new bandcamp page is linked directly to Raavi's paypal account and features his and the children's music.
Lobo Marino has intentionally chosen to donate their music to this children's music program in India.

We were introduced to kirtan while living on a Krishna community in Argentina (eco yoga park), first learning and encouraged daily to sing the maha mantra.
Once back in the States, we spent some months at an Ashram in Virginia called Yogaville which was founded by the Guru Sri Swami Satchidananda from Tamil Nadu, India. Satchidananda came to the United States in 1966 to teach interfaith yogic philosophy and chants to those who were called to learn.

We hope that by separating this album from our discography we can clearly indicate how the album's download sales are being used while also connecting our western (and non-western) audience directly with the music and sounds from Raavi's school in Varanasi, India.


May all be blessed
_______________________________________________________

Lobo Marino is:
Laney Sullivan
Jameson Price

Violin by Jessika Blanks

Recorded, mixed and master by Dave Watkins
@ Yogaville Satchidananda Ashram
  powered by bandcamp
Lobo Marino ~ City of Light

I stumbled upon this album a few days ago and since then it's spinning on my hard disc at 7200 rpm, because it sends out such good vibes; good spiritual vibes.
As a music lover I already traveled ten times around the world and through certain regions of the world, sonically. The musical tradition of the "Far East" is still playing a big role in modern Western music. Not only in an academic, compositional way. If you are into psychedelic music, then a lengthy sitar jam (combined with a bong) will open one or more chakras.
I never got too much into traditional music from India, but I jammed the godfathers and godmothers of Hindi music, Mohammed Rafi and Asha Bosle a lot and I loved the Qawwali music by the great Nusrat Fateh Ali Khan & Party (or his cousin Badar). The constant harmonium drones, the tablas and the call and respond chanting, of the Sufi devotional music, opened up my crude, noise music loving heart. Lobo Marino got me with right that. 
The duo from Richmond, VA basically lives an american dream, similar to Frank Hurricane the spritual gangsta, minus the the weed and the liquor and all the weirdness. They are constantly on the road, touring through the US and the world, are playing together with other people, doing field recordings and are releasing different kinds of their blend of freak folk and world music (see their promo video below).
Their sound is centered around chants, drumming and harmonium and if possible they engage the audience into singing and hand clapping.
City of Light stands out from their previous releases, because it's almost entirely influenced by music from India as well as the Hindu religion and/or Yoga. I assume that because I recognized the names of some Hindu Gods like, Kali, Hanuman, Lakshmi, Vishnu and well, their websites states that too.
The album was recorded in an ashram in Virginia and so they got backed by the ashram choir and some additional percussions. They also used field recordings from their trip to India, which works like a bridge to the music they adapt.
I think approaching this kind of music from their Indie Folk roots makes it more accessible than jumping right into river ganga. It also comes without pretentious and cheesy world music clichés. You don't need to light up a bunch of Nag-Champa, but it's ok if you find yourself humming "Hare Krishna, Hare Rama".
Edit: After discussing this release with my personal music professor I want to add what she noted. Lobo Marino open the album with field recordings of music from their trip to India, but Holy River is different from the rest of the album and kinda works as a mediator between the raw music recording from India and their own adaption of that style of music. They give you a glimpse of what to expect, but don't break completely with your listening habits. 
It's also very positive from my point of view that they don't use any Hindu symbolism, sanskrit or colorful images of yogis and gods on their artwork. That makes the release more like something that grow with them and out of them instead of imitate some foreign culture.