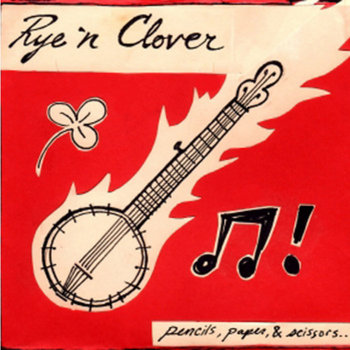 Songs and Banjo written and performed by Ryan Clover-Owens in Ithaca, NY (Finger Lakes Region)

Recording Support: Joe Fisher, Shira Golding, Bob Schwenkler, Asa Fox, & Rye 'n Clover
Visit www.ryenclover.com for tour schedules, show dates, pictures, videos, and mailing list info.

Sign-up On my Mailing List:
http://eepurl.com/d08Uf

This album was first released in Winter 2009 and recorded in my friends' living room by Joe Fisher and an audience of cats. This is a re-released version, with a few songs updated and with support from Bicycle Records. This album is the result of a supportive music community in Ithaca, sharing time and equipment, and good friends and good conversations. Thanks everybody!
  powered by bandcamp
Rye 'n Clover
Pencils, Paper & Scissors
So here is the next banjoist. Pretty straight and direct, but versatile played songs. It's inspired by clawhammer technique and folk-punk movement. It's also special, because he plays a nylonstring banjo, which sounds very unique.
[mp3] Rye'n Clover - Under This Bridge
My favorite song on this record is Under This Bridge - it's basically divided in two parts - the straight forward first one about being together with a girl and the inspiration it gives. Then the song stops and you can hear the sounds of birds and crickets, make you feel like sitting with Ryan on the front porch and he plays for you.
Ryan recently released a CD on Bicycle Records which contains tracks from this free release.
Visit his website for livedates and everything else you need to know about him. And I am not wondering that he is part of the cllct community.

Buell Kazee

Dock Boggs

Roscoe Holcomb

Abner Jay
pics by M.O. at psychedelicfolk.tumblr.com