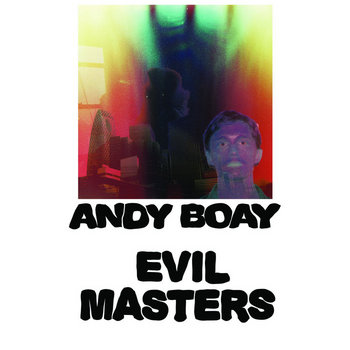 Recorded in Orlando and Montreal, mostly in early 2011 but parts of some songs from anywhere between 2006 and 2011.

Thanks to Riley Fleck for use of his drums on "Jethro Hell".
*** Cassette orders temporarily unavailable until October 2016, on tour ***

Re-released by Movie Star/Arbutus 2 April 2013
Edition of 100

Order physical copies here:
http://arbutusrecords.com/

Originally released by Does Are (#DooM) on 19 November 2011
Edition of 100 (out of print)

www.doesare.com
myspace.com/doesare
twitter.com/doesare
twitter.com/andyboay

"Evil Masters" music video crafted by Corbin Ordel and Spencer Gilley
http://www.youtube.com/watch?v=ReJ6SVUM9L8
http://vimeo.com/32425147
  powered by bandcamp
Andy Boay
Evil Masters
Genre: Avant PopLabel: Does Are
Pretty fucked up and weird experimental-, avantgarde pop. It's not really pop, it's multidimensional cut-up bedroom hi-fi pop. It's a radio broadcast of ghosts. Deconstructed indie chart music.
8,5/10
(via
Arbutus Records
)