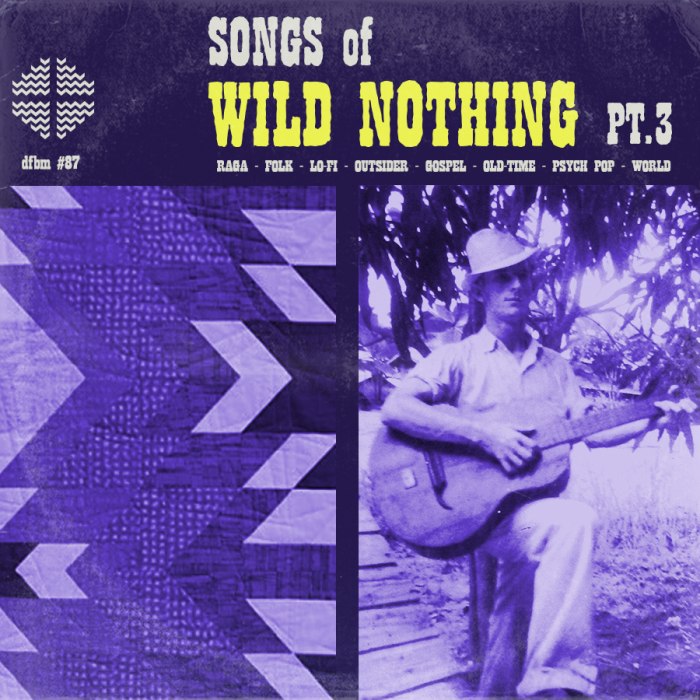 dfbm #87
Songs of Wild Nothing Pt. III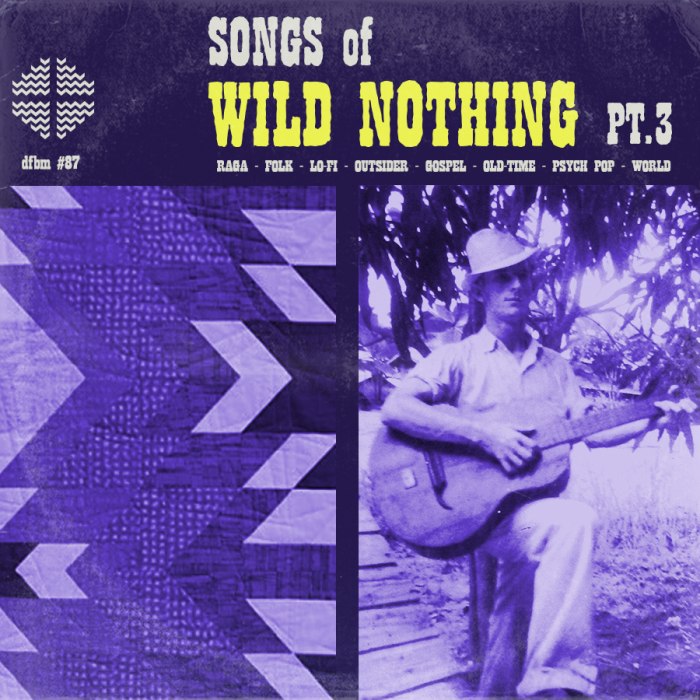 Songs of Wild Nothing is the series for all the weird and wonderful, old and new tunes I come across. Be it old-timey gospel or hillbilly tunes, bedroom pop, psych rock - I'll find a way to stitch them together.
It's starts with an short accapella piece from some jesus folk band. Nothing essential, but a good opener to set the stage for Electric Bardo, a raga rock trio with Ben Kunin on electric sarod. Ben Kunin released in 2002 a wonderful album with solo acoustic guitar pieces, called Acoustic Adventures, which is very much influenced by his interest in Eastern music traditions. Highly recommended.
Ted Lucas is a well known guitarist and player of every stringed instrument, from Detroit. He worked as studio musicians for some famous bands and did his own solo stuff. The psych pop outfit The Spike Drivers, later on this compilation, was his first band.
And more sitar jams by Tom Settle & Friends from his new album "Old Wakes" out on Golden Lab Records. Tom Settle is more or less unknown, but is he's connected to the network Jon Collin is part of. usually more on the folky, sing-along side, United Stringdom is a heady sitar jam.
Joan O'Bryant's Folkways Records releases are one of my faves. She was a researcher and musician and died in her 30s in an car accident. On the Missouri State University website, I found some very lofi live recordings from the Max Hunter Collection.
Nicely along goes Anthony Pasquarosa / Crystalline Roses rendition of A.P. Carter's "No Depression in Heaven". More old-time oddness from Blind Alfred Reed, out on Dust-To-Digital. I feel weird with all the christian notation in those songs, but I love this music. Maybe this is how I come to Jesus. The music of Reed, Washington Phillips or E.C. Ball.
Virgil Caine is some obscuro private press and Richard Twice a forgotten baroque pop gem from 1970. At least one third of this record is really really good. The other two thirds are meh.
Another track from the super rare Michael Kleniec solo guitar record from 1975. Zoned out solo electric guitar head swirls.
From the coming C.Strøm Anthology an early piece of his in semi professional studio quality. Strøm also sent me an ultra short demo of an Norwegian artist called Joelle Premo. She's living in the US as far as I know.
With "The Drain", I finally found my way into Ignatz's desolated urban blues.
Lukas Read is a phantastic story teller and songwriter. With or without words. On DFBM there is a solo acoustic guitar album planned, for the moment, enjoy his previously released lp and ep.
Steve & Ed was a private press album, with the obligatory stock photo cover, that I was looking for since quite some time. I think it's almost impossible to score a vinyl copy, but finding an mp3 rip was equally exciting. Beautiful dream pop from 1975.
From Atlanta based Lebo Jenkins I lifted a track from a new yet to be released album. Sorry Dylan, I was so excited to compile this mixtape. really love the new direction.
Kusudo & Worth is another super rare private press album. Both artists are still alive and maybe they can score an ok deal to reissue this folk master piece. I Would Like To Hear Your Story is just a phenomenal, blissful folk freak out. Intense and on the edge to be annoying. 
The mix closes with a Robbie Basho track from an album I always ignored and some unknown gospel recording from 1927 out of Joe Bussards collection.
I hope you'll enjoy these two hours of weird folk and share it if you like what you hear.
Tracklist
Hallam Street Band

Spirit Of The Lord Come Down

Electric Bardo

Jhor/Jhalla

Ted Lucas

Love And Peace Raga

Tom Settle & Friends

United Stringdom

Joan O'Bryant

Mountain Meadows Massacre

Crystalline Roses with The Yankee Entertainer

No Depession in Heaven

Blind Alfred Reed

You Must Unload

Virgil Caine

There's An X In The Middle Of Nixon

Richard Twice

Your Love Like Heaven Be

Sarah Louise

Bright Light

Michael Kleniec

Miserloo

Peter Walker

Johnny Cuckoo

C.Strøm

Sail Away

Joelle Premo

The Banks of the Ohio

Konrad

People

Jakob Peck

Semblances

Mxxxx Mxxxx

Hxxxx

(Removed)
Ignatz

My Children

Paul Bergmann and the Fair Moans

Always Be Behind

Bob Patterson

I Am Abandoned

Tymon Dogg

I Caught You Dancing

Danny Kroha

The Road Is Rough And Rocky

Oscar Tengo

Day Drunk

Lukas Read

The Ballad of Poor Sam Creacher

Steve & Ed

Where You Belong

Lebo Jenkins

Gold Teeth In Mind

Kusudo & Worth

I Would Like To Hear Your Story

Dyckman-James

Our Autumn

The Spike-Drivers

Often I Wonder

Robbie Basho

Basket Full Of Dragons

Unknown Artist 1927 ?

We Shall Rise