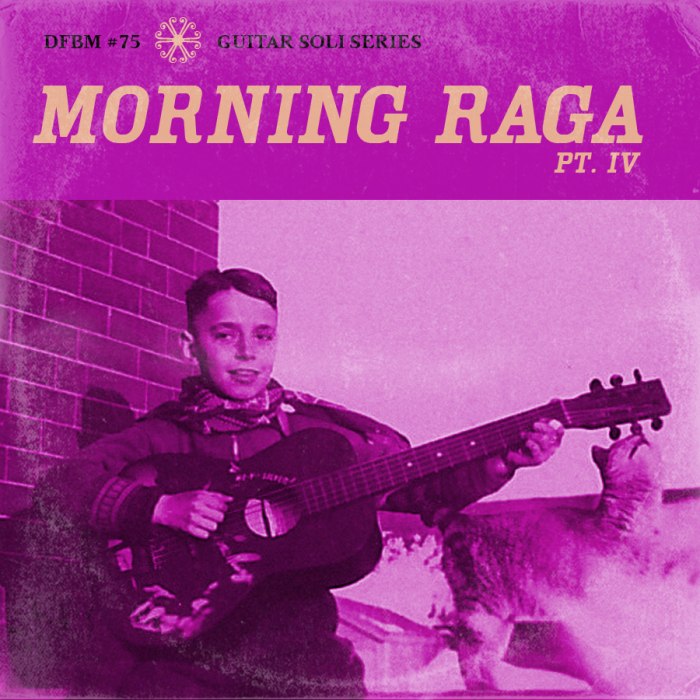 dfbm #75
Morning Raga Pt. IV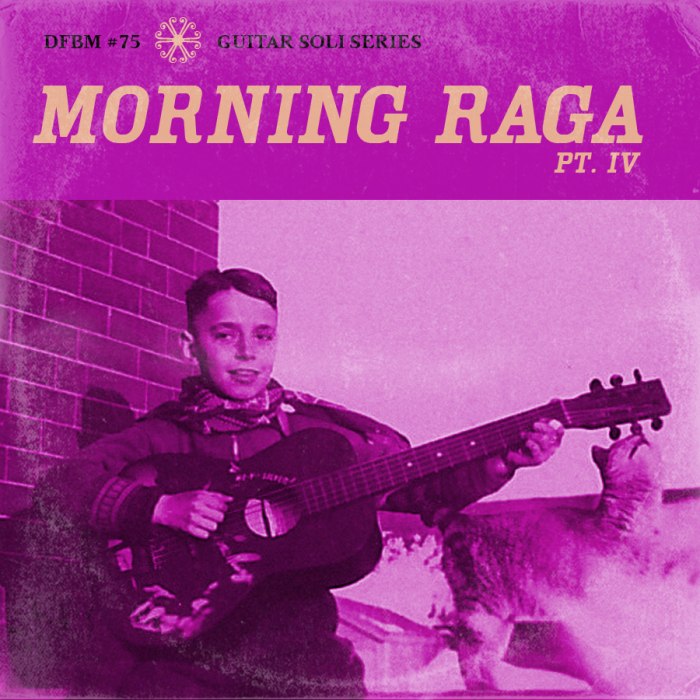 Guitars, banjos, birds, cats and guitars. Lots of. Perfect for listening late at night or in the early morning or maybe not at all, just imagine how good it sounds. 
This mix features my favorite track from Chuck Johnson's latest, high praised record "Blood Moon Boulder". He just finished a tour through the States. I guess you've been on one of his gigs- else, here is a recording from Brooklyn. He played there with Anthony Pasquarosa who is going to release a second album on VDSQ. It's called "Morning Meditations" and it's going to be wonderful. This one track here is kind of an exclusive preview, because I got the initial release as cassette. I am pretty excited about how it will sound when it's mastered. There is an extensive feature about Pasquarosa in the pipes, here on DFBM, so keep coming back.
J.P. Pickens was a banjo player who contributed to The Serpent Power's psych masterpiece "The Endless Tunnel". Unfortunately he died in his late 30ies when he jumped out of a window to escape the police. There is a website with Pickens whole story, written by one of his daughters. With Gene Estribou he released the split album Intensification, in the mid sixties (you can still buy the reissue on CD for low money). One side solo acoustic guitar the other side Pickens picking the banjo lightning fast. I read somewhere they speed up the tape to make it even faster.
I threw in some electronica by my favorite artists from years ago. Taylor Deupree was once the chairman of the Qwartz Electronic Music Award, in Paris. It was a pretty big deal for my tiny fieldmuzick label in 2009 when one of the releases was nominated and I was invited to attend to the award show. It was also my first time in an air plane. The release didn't win the award, but hey a release on my tiny CDr label was considered to be part of this whole thing. 
Greg Davis should be well known, he released a split album full of beautiful digital noise, with my friend Sebastien Roux. I just rediscovered it. It's a paquet full of surprises.
Stein Urheim is a guitarist from Norway who oscillates between Fahey like guitar primitivism, jazz and electronica. Pretty interesting and wild stuff.
There is much more to discover or just to enjoy and even more to come. Feel free to share, comment or keep it to yourself. 
Playlist
Samuel Gray Edmondson

With Great Spirit

Mariano Rodriguez & Lucas Totino Tedesco

Lao Tzu and the Koi Revolt

Paul Schutz

Traveling Over

Jean-Paul Pickens

Coo Coo Bird

Sam Moss

Interiors

Anthony Pasquarosa

On Verity

Brad Wood

Black Lodge

TOMO

Raga En Japanesque

Seabuckthorn

Slowly, Slowly Thunder

Greg Davis and Sebastien Roux

Sea Grasses And Blue Sea

Chuck Johnson

Medicine Map

Daniel Emmanuel

Arabian Fantasy

Ted Lucas

Love And Peace Raga

Joseph Allred

A Ring of Bells

Harry Taussig

The Red Cat Dances

Taylor Deupree

Weather

Ryley Walker

Cuttin Loose (Feat. Daniel Bachman-Forrest Marquisse)

Black Eagle Child

The Magic Book

George Stavis

Finland Station

Andy McLeod

Song for Basho

Stein Urheim

Watch The View

Magnus Dewi

Point of view

Mount Elephant

Mount Elephant II - 04

Kyle Fosburgh

Oceans of Grace

Johnny Young

Boonesburough Trail

James Tweeddale

Ballaghisheen Pass

Gennett Sound Effects

Mocking Bird
J.P. Pickens
Junk Feast Invite
J.P. believed stuff should circulate and he redistributed much of his stash at the 'JunkFeast', an event the S.F. Diggers helped him put on in early 1969. A handbill invitation was mimeographed up and passed out all over the Bay Area and beyond. Huge tie dye banners proclaiming our location were hung up throughout Lagunitas. Hundreds of people came to J.P.'s Lagunitas house, and watched a Digger 'NewsReal' 8mm film in the living room. here