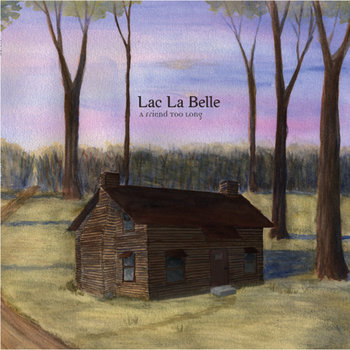 Nick Schillace: vocals, resonator, acoustic, 12 string and Nashville strung guitars, banjo, bells, percussion

Jennie Knaggs: vocals, accordion, acoustic guitar, pump organ, ukulele

Serge van der Voo: upright bass

Abby Alwin; cello, violin

Rob Avsharian: drums, percussion

Clem Fortuna: 1860 Heywood Piano

Childrens Chorus Claire Abbasse, Ashley Clendennin, Lily Nicks, Lilly Snyder

All songs by Lac La Belle, 2014

String arrangements by Abby Alwin and Lac La Belle

Recorded by Eric Carbonara at Double Lot, Detroit, Michigan, during the great winter of 2014.
Produced by Lac La Belle and Eric Carbonara.
Mixed by Eric Carbonara at Nada Sound Studio, Philadelphia, PA. Mastered by John Baldwin
Watercolor art by Isabel Schillace
Lac La Belle's third release, "A Friend Too Long" elaborates upon their cohesive duo of resonator guitar, banjo, accordion and ukulele, with the addition of upright bass, pump organ, piano, percussion and strings. Written in a secluded cabin in Michigan's upper peninsula, and recorded in their Detroit home during the snowiest winter on record, "A Friend Too Long" provides beautiful soundscapes and a journey of characters that sound at once both new, and reminiscent of days long past.
  powered by bandcamp
Lac La Belle
A Friend Too Long
Every time I get back from the United States into my cozy little German town, I realize how big America is, how much music is going on there, and how many amazing musicians collaborate, compete and dream the American dream of making a living doing what they love to do: Music. 
Lac La Belle is an acoustic duo from Detroit, a city that is dying and at the same time full of life and possibilities. It makes sense that Detroit is the home of an undead musical genius in Jim Jarmusch's latest movie "Only Lovers Left Alive." Yet it is hard to imagine that Jenny Knaggs's and Nick Schillace's rural American folk comes out of Motor City.
With their third album, "A Friend Too Long," additional musicians joined the duo and together they created kind of a cinematic sound that accompanies their stories perfectly. Droning cellos and violins, ethereal voices and quiet moments complement faster paced train ride-like songs.
I love every single album they've made so far and they are special to me, even if there are thousands of people who play American roots music out there. Nick Schillace' signature guitar picking stnds out in the same way as does E.C. Ball's picking style. And talking about Estil and Orna Ball, Lac La Belle is quite similar to the old West Virginia couple. Just listen to "Home Sweet Home" and then "New Memories of Oklahoma". Do you hear what I mean? To explore that further, listen to an old tune called "Grandfather's Clock" in a rendition by Lac La Belle, E.C. Ball and then John Fahey. That's where the circle closes. Lac La Belle playing traditional American folk with "Fahey's approach to assimilating influences into an original style".
You can buy Lac La Belle's album "A Friend Too Long" in several formats right on their bandcamp. If you want them in Europe, contact their agent immediately! They are a great live act!
Here is actually a lo fi video of "Rusted Bolt" that I shot last year in Chicago: