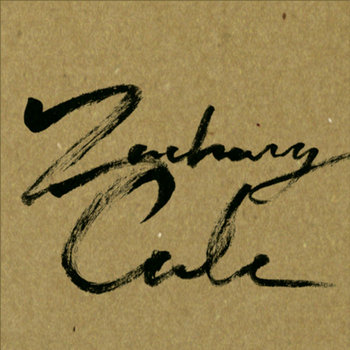 Two song 7" single featuring the songs "Love Everlasting" and "Hallelujah Kid". Released by Dull Knife, June 2012.

Part of the ongoing limited edition 7" songwriter series curated by Dull Knife. Limited edition of 300 numbered copies with one of three photographs adhered to the back.

All songs by Zachary Cale.
Recorded by Ryan Johnson and Jonathan Byerley at The All Hands House January 2012. Mixed by Matt Boynton at Vacation Island. Mastered by Carl Saff.

Uriah Theriault - electric guitar
Phil Glauberzon - rhoads
Michael Flis - bass
Ryan Johnson - drums and percussion

"Zachary Cale is one of the only alt-country/Americana artists I bother to follow, and he hasn't let me down yet. Don't even get me started on that Illuminations LP; the guy has done his homework. "Love" sounds like it could have been recorded during Lennon's lost weekend, but that's almost giving it short shrift. This is a powerful, slow shuffle toward the sun as death stalks from the shade, constructed of layered acoustic guitar, distant electric-guitar flourishes and backup vocals, bass that propels the ship forward, and drums simpler than a game of tic-tac-toe. Cale has done it before, and he's doing it again; don't let the sun go down on this heavy-ass 7-inch before you get a copy.
-Gumshoe (Tiny Mix Tapes)

"…he is certainly a talent as a composer and lyricist, his reedy, hangdog style supported by songs that are pure class." -STILL SINGLE/DUSTED MAGAZINE

""Love Everlasting", a drunken waltz that sounds like a humbler Jonathan Fire Eater, feeling pretty bad tomorrow morning but pretty great tonight. "Hallelujah Kid" is a finger-plucked delight, just waiting for the perfect sensitive indie-twee movie to come along and pick it up as the centerpiece of its soundtrack. Serious "driving across country to propose to her" song here." -YELLOW GREEN RED
  powered by bandcamp
Zachary Cale
Love Everlasting 7"
Mr. Cale is just back from his Europe Tour and I am happy that he stopped in the good old Ore Mountains and played a two hours long set at our small gallery.
Beside a live-set on Chicago 's WNRU radio station and this Natch improv-collaboration series free release, the label Dull Knife released the Love Everlasting 7" in a beautiful, heavy, Stumptown Printers Arigato cardboard sleeve.
Zachary Cale is basically a Singer-Songwriter in vein of Robert Zimmermann or Leonard Cohen. Fingerpicked acoustic guitar tunes on one hand and spacey Americana on the other hand.
His music is centered around his remarkable voice and guitar playing, but he always find new forms to reinvent his own style.
So this 7" starts with a beat that reminds me of something from the nineties. I just can't remember what, but it doesn't matter - this is what I did mean that Zachary Cale reinvent his self with every new release.
Relaxed and yet cheery walks the song towards the end of the first side of the 7".
Hallelujah Kid on the B-Side, starts with a pretty nice guitar picking pattern, but the band can't hold back too long to get into and so the song is completed with some proper Americana rock sound.
So the whole review is about the fact that the 7" is for free download for a limited time (sometimes it makes sense to look at Twitter)
Go get it, along with all of his other releases! As I said - they are all different, but really enjoyable. There is no need to dig through the discography of guys like Cohen, Dylan, van Zandt - or at least it's not as easy as start with Zachary's discography.
Oh and keep your ears peeled, because the next thing will be a super Space-Folk album!
Photos from Zachary Cale's Tumblr