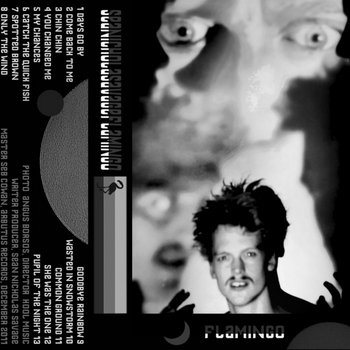 Photographer- Angus Borsos
Director - Kool Music
Writer/ Producer - Sean Nicholas Savage
Master - Seb Cowan
Arbutus Records , December, 2011
From the shangri-la of the valley of song, a classic yet current piece in the folk vein, Sean Nicholas Savage casts down his final work in a three release year (Won Ton Jaz, Trippple Midnight Karma). Flamingo plays at his calmest and most confident tempo; classic titles from a young singer-songwriter, driven to maturity by over experience. On the cassette, the old soul sings and dances (eyes closed) from his fatigued mind to yours. Opening with the reflective, tropical and topical "Days Go By", Savage is lyrically uncertain about everything but the want for his lover and her wanting him. In a world of kissing, eyes, and heart songs, "Chin Chin" celebrates the every morning electric chin kiss – perhaps for the first time in music history! In "My Chances", Savage easily compares the thrill and fear of new romance with life's fleeting opportunities – insisting that he's stealing his chances back, since they were his all along. With intimate singing, minimal drum rhythms and beautiful harmonies throughout; Flamingo is a folk album in spirit, with its relaxed, lyrically driven music. The perfect company for a thoughtful winter walk or an out the window cigarette break.
  powered by bandcamp
Sean Nicholas Savage
Flamingo
Ghost PopArbutus Records
One year ago I discovered
Sean Nicholas Savage
masterpiece "
Movin up in Society
" and since then he released more records/tapes but in a more electronic fashion. And I dig through his earlier stuff and found tons of pearls too.
I don't know how one can write so much classy songs with great hooklines (to be honest, at this high output, there are fillers on any album, of course). Anyway - as I mentioned, his latest stuff was more electronic, early eighties disco-funk-pop reminiscence. With
Flamingo
he blends his "Orbinsonesque" sixties pop with the end seventies/eighties disco pop and the result sounds like a forgotten, totally worn-out compact cassette that you found in
your older sisters walkman
. It's wobbling and it sounds like the tape is getting eaten by this old walkman in any moment. I really love this effect and so I love this (digital)tape.
Ghostly love songs in bleached neon colors. I am sure it will reminds you on songs that you know from the radio, if you grown up in the eighties. Wham!, Donna Summer something like this...
He is really a unique and great musician to adapt these styles and sounds!
And after minutes of recalling what
Common Ground
sounds like, I found
Tina Charles - I Love to Love
. I can now go to bed.
9/10