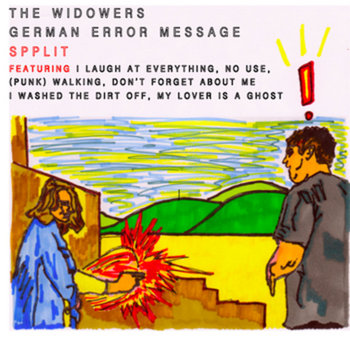 "SPPLIT"
by German Error Message and The Widowers

"Don't Forget About Me", "I Washed the Dirt Off", and "My Lover is a Ghost" performed by German Error Message

"I Laugh at Everything", "No Use", and "(Punk) Walking" performed by The Widowers

"My Lover is a Ghost" written by The Widowers. "Walking" written by German Error Message.

cover art by Matthew Sigur
mastered by Paul Kintzing
  powered by bandcamp
German Error Message / The Widowers
2011 - SPPLIT
Genre: Indie Folk/Pop, Indie Rock/Punks
Label: self
German Error Message was part of my Top 2010 list
. He writes really great songs and has a good sense for instrumentation, harmonies and enough authentic tape hiss. He is currently recording a new album and I am really excited about that. In the meantime you should grab his SPPLIT EP with the befriended band The Widowers. Each covers a song from the other and fill it with own songs too.
So you have the Indie Folk by German Error Message. Again great songs and rich in sound and arrangements. Great use of Oboe and other brass instruments. At all it has the feel of good old playful Microphones stuff.
The Widowers are more Indie Rock/Punk. On
No Use
they take a short detour to Post Punk. Dark voice and light
babababa
melodies. Great tune! I really like them, as well as their other stuff, to find on their bandcamp site linked below.
Grab this release as long it is free on bandcamp. You know if an artist hit the 200 downloads per month it's only available as paid download till the next month with 200 downloads.
Download free at bandcamp
More Music by
The Widowers
and
German Error Message
10/10