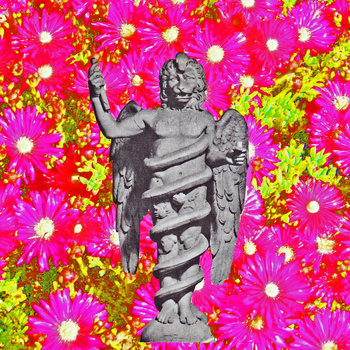 BUNKER WOLF: VOCALS
E.XAVIER: DRUM MACHINE, GUITAR, BASS, SYNTH, CASIO, ORGAN, TAPES
CATHOLIC PAT: DRUMS
CLAY RUBY: KEYBOARDS & TEXTURES (TRACKS 4 & 7)

CONTACT HORRID RED: YOUTHSOUVENIR@HOTMAIL.COM
3 SONG 7" VINYL VERSION & 7 TRACK CASSETTE ARE BOTH OUT-OF-PRINT
WWW.SOFTABUSE.COM
  powered by bandcamp
Horrid Red
2011 - Pink Flowers EP
Genre: Post-Punk
Label: Softabuse / FWY!
Well, finding Horrid Red was like stir up a hornets' nest. Why? I thought I know the most about the Jewelled Antlers collective. The Collective which brought psychedelic folk/experimental bands like Thuja, The Skygreen Leopards, Mirza, Hala Strana and more to us. Glenn Donaldson is one of the key figures - recorded under a handful of names like Birdtree, Ivytree, Giant Skyflowerband etc. and this year he released The Art Museums album on Woodsist with a new direction. Eighties lofi-post-pop-punk tunes. OK. And today I found Horrid Red - but there was no hint to Glenn. I googled for Teenage Panzerkorps (DER TPK) and then I found out, he is Edmund Xavier and is responsible for a load of lofi/punk recordings
here
. He explore now Punk, ok - so far so good - with DER TPK he teamed up with some german people and so the whole
DER TPK stuff sounds like a rawer version of early german Post-Punk band (the german Joy Division) Geisterfahrer
. It's quite nice, but I listen to so much german underground punk over the years - I am a bit jaded by this sound, but just a bit.
Anyway - Horrid Red is a new project and this EP is a bit softer, less Punk, more Wave I suppose. Joy Division, The Cure and Punk attitude. Good!
This is not for free but give it a try! The lyrics are in german, as far as I understand.
Horrid Red - Pink Flowers EP on Bandcamp
MySpace
Bonus: FWY! - NOWHERE​/​SOMEWHERE EP
A nice droning organ chord as start and some lofi dance beats later. Reminds me on mid nineties house electronica...
9/10