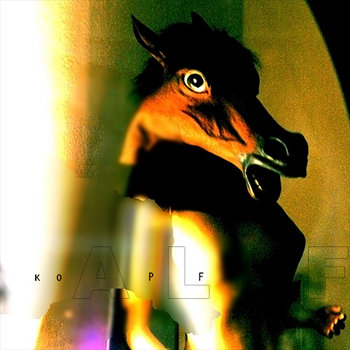 **No Download Because of EU VAT Confusion!**

What's your exclamation mark about?

Back from the dead with a grave-robbed guitar of Johnny Flash and the thunder-flute of Guybrush Threepwood!

Sounding like a wooden box full of moths wrapped around a tree in Turkey - now with the voice of lurid lechers! And the lyrics of precocious parrots!

After leaving with the monkey in 2006 with #36, now "Swine wash in the mire, and barnyard fowls in dust" is the rule, you know. Coming in your house to calm down broken hearts, or just to break healthy ones, with some lovely songs and sounds from the center of Twin Peaks' woods.
  powered by bandcamp
[NEW!] DFBM presents: Aalfang mit Pferdekopf & Least Carpet
first labeloutput
Genre:
Psych Folk, Ambient
Label:
Dying For Bad Music
With some little delay we started our label and present you two really great releases.
The first is
Aalfang mit Pferdekopf
, a german experimental project dedicated to the surreal athmosphere of Nurse With Wound. It's a mixture of calm ambienttextures and simple and catchy folksongs. This comes in a full colored 4 page folder on pro-cdr. To have an idea whats going on, listen some tracks here:
Order the release for 8,00 EUR + p&p at the Labelsite
The next one were
featured here on this blog
, last month. It's
Least Carpet
, a great Psych Folk project in vein of Hala Strana/Steven R. Smith. First released as free 5 track ep by the artist himself, and now labeled under Dying For Bad Music, with 3 more songs. Still a free downloadrelease, but due the greatness of Bandcamp available as high quality uncompressed Flac or 320kbps mp3.
Anyway - it's really great music and on the labelsite you will find more information as well as an additional movie (or two) to give you some pictures to the music of Least Carpet. It's an old bulgarian movie called "Koziyat Rog" in full lenght.
We made a really small cdr edition in an awesome origamipackage, for radiostations and review. So, we have a few pieces left and if you are reviewing music in a blog or if you are a radiomaker left a comment or better -
Order the Aalfang mit Pferdekopf release and get the Least Carpet Promodisc for free (please note you Blogadress in order process)
Deal? Deal! Feel free to share all the digital goodness.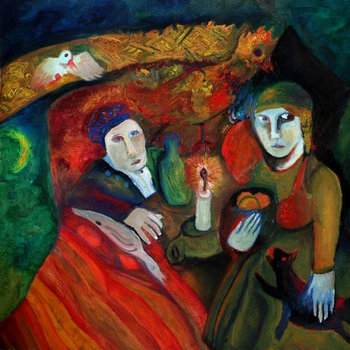 Recorded between August 2009 and February 2010.
Guitar, bouzouki, melodica, flute, drums, cymbals, jew's harp played by Least Carpet, Marko Martini.
Old Wedding Song is based on a hungarian folk song.
Painting by Christian Schoppik.
If you listen to Least Carpet the first time it will remember you of something you do already know, but it's blurry and then you get pictures. Pictures of sitting on a hill top in the fresh blooming meadow. You smell the weed and maybe yourself, you listen to the birdsongs and hear tiny bells ringing. On the left side, downhill you get a glimpse of some small village, on the right side: your sheep. You pickup your self carved flute and whistle with the birds.
A romantic notion? Yes, but what about the fact that the magic mushrooms you've found in the grass beside you, start to take effect right know?

It's obvious that the atmosphere of Least Carpet's music is influenced by these images. Images you may know from early eastern European (fairy-tale) movies.
The memories of being in the countryside, laying in the grass, overwelmed by feelings induced by some strange herbs you've smoked the first time.
Rich coloured, rough-textured and filigrane at the same time, like the paintings of Marc Chagall.

Luckily it is possible to give you a concrete reference to one of the basic ideas of Least Carpet's intention.
It's Koziyat Rog / Goat Horn - a Bulgarian movie from 1972 and you can watch it in full length on the labelwebsite.

CREDITS
Recorded between August 2009 and February 2010.
Guitar, bouzouki, melodica, flute, drums, cymbals, jew's harp played by Least Carpet, Marko Martini.
Old Wedding Song is based on a hungarian folk song.
Painting by Christian Schoppik.

http://myspace.com/leastcarpet
http://dyingforbadmusic.com
  powered by bandcamp
Visit dyingforbadmusic.com for more information+free download