Interview with D.C. Cross
Guitarist D.C. Cross answers a few question about being a musician in Australia in the time of a pandemic.
One guitar- no overdubs at all.

Tracks 2,3,6,7,10 recorded and engineered by Tim Kevin at Tempe River Studios.
Tracks 1,5,8,9 recorded and engineered by Darren Cross at Bernstein Studio.
Album mixed and produced by Darren Cross.
Mastered by Patrick Klem.
Art and design Darren Cross.
Cover photos by Jessica Cassar.

Thankyou Jessica, friends and family and supporters.
A special thankyou if you have bought a copy.
Released independently independent by No Drums Records.

D.C Cross' "Hot-wire the Lay-low (Australian escapist pieces for guitar)" is the new album for Darren Cross (Gerling / Jep and Dep).

The third album/instalment in D.C Cross' adventure into solo instrumental acoustic guitar, this time bringing wild antipodean fingerpicking and introspective guitar escapism, Cross set out to create an Australian take on the solo guitar genre.

Staying in cheap motels in Regional N.S.W and other reputable establishments as far as Cowra and Molong, Cross concentrated on capturing some vibe-centric ideas inspired by this journey then return home to complete the compositions.

"Covid is still messing everything up for musicians in regards to touring and playing shows but it is a great time for some to hone in on their crafts and compose music. I chose to keep on writing escapist compositions on the guitar… if I like I can go stay in $35 a night motels in Lithgow N.S.W, armed with only a guitar and some free instant coffee, look out the window at the mountains, dreary rain and snow and write music inspired by the moment and environment, tuning in to old histories and vibrations, literally escaping".

Written in June 2021, Recorded in December 2021 by Tim Kevin (The Apartments, Youth Group) and on three tracks Cross recorded himself, the record was then mastered by Patrick Klem (Daniel Bachman, Steve Gunn, Jack Rose).


Release Date: 9th February 2022
www.Darrencross.bandcamp.com exclusively.
FLAC/WAV/MP3 and Compact Disc.

  powered by bandcamp
So Darren, did you survive, and if you did, how did you do it?
Survival during Covid? It was under control here in Sydney for most of the time. Strict lockdowns and eventually the government gave money to people who needed it (thankyou). Recently with omicron, it's gone nuts here but most people vaccinated, and not too many fatalities. Personally, I just keep clean and careful and sit at home mainly playing guitar lol.
Survival in general? Live within your means.
I read that the Spanish flu was not as documented in arts and history as other world events[1], but it seems the struggle for musicians and artists was the same back then as today. Do you see great art coming out of this disaster?
Hmmm not sure. Gives people more time to practice their instrument/craft. The sad thing is it is stealing our lives, time, and experiences so that really sucks.
But yeah giving people time to do their art might make all art forms stronger. On the other hand, anxiety is terrible and it is putting an invisible cloak of anxiety on all of us. everyone is different so it's hard to tell.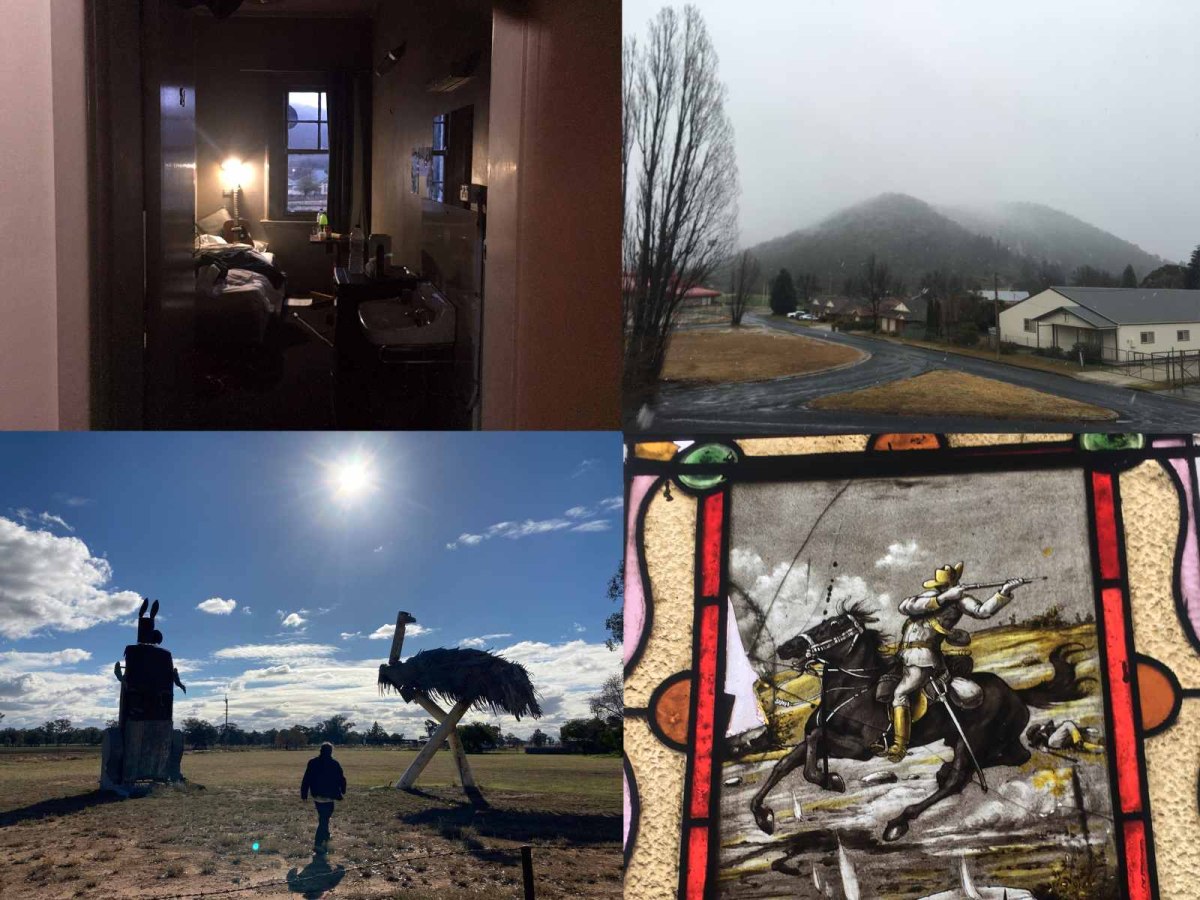 While your album is inspired by American solo guitar, what's bringing your Aussi heritage to the table?
I think the geography of Australia is very influential on me. The mountains, ocean, and intense heat, typical dirty city, then the next day snow and rain - it's very weird sometimes. AC/DC and the Dirty Three are also my favorite bands and they both are Australian. I live mainly in the city which is gentrifying at an extreme rate but even that, Sydney is surrounded by the ocean- it's very beautiful even if all the rich own everything nice lol. Tasmania is also very beautiful, an island at the bottom of the mainland of Australia. You can drive 2 hours away from Sydney city and be in the mountains.
I purposely went and stayed out 4 hours West of Sydney to write my latest record "Hot-wire the Lay-low (Australian escapist pieces for guitar) as I wanted to get away from the city and the crowds and soak up the experience out that way- which has a lot of history of outlaws, bushrangers, Bikies, drugs, poverty, folk music- so it was differently exciting and really cheap. It snowed a few days I was there which was a bit uncommon in New South Wales, so even that was inspiring. I stayed in the cheapest Motel I could find, didn't have a lock on the Motel front door but it was warm and safe. Here I just tried to capture as many ideas as I could. Escaping the city, escaping everything, just concentrating on the guitar. Write music inspired by the moment and environment, tuning in to old histories and vibrations, literally escaping.
How much does it cost to order a record from Australia and why is it so expensive?
Damn - since covid the prices have gone so high it's almost impossible. It's so unregulated as well -every post office shop is a different price, it's like the Las Vegas Hilton. With vinyl, the cheapest you can send it is around $30 and now we have found out they send everything to and from Australia by ship! Two records my partner has bought from Germany and New Zealand arrived so bent and destroyed- they were even wet! And this sent with the expensive option! Really disappointing - not to mention getting vinyl manufactured overseas, by the time it arrives and you pay import taxes and all the crap - you then have to resend it to customers then the postman bends the fuck out of it - it's too stressful. My latest albums are on CDs but even that- the postage is mad expensive - you can risk it and just send it cheaper (if you like) but sometimes it goes missing. It really needs to be fixed up! Why it is $$$o much? I have no idea. I understand it's a tough time but doesn't change the fact! Hopefully, it gets better- SOON!
Is there even a future for a physical release of niche music that's meant for an international audience, when you can't play gigs to sell records and nobody orders a single record because the postage is so high?
Yeah, I think Bandcamp or artists' own streaming sites/ point of sale is as good as it gets and the future - you can buy FLACS and WAVS and then make your own CDs. CDs are making a comeback as they are easy to post and sound great compared to nothing. I love vinyl - I have thousands of vinyl records but it's not viable to get them made for my music at the moment- especially when I am very D.I.Y with my own label and everything. Also, I use the John Fahey method of selling the records from the back of my car after show when I tour so if I can't play shows it's difficult to sell records right! I'm just going to keep writing and releasing and hopefully, it all sorts itself out. I can't wait to travel again and tour overseas. Maybe someone will release my new album on vinyl - I'm not sure.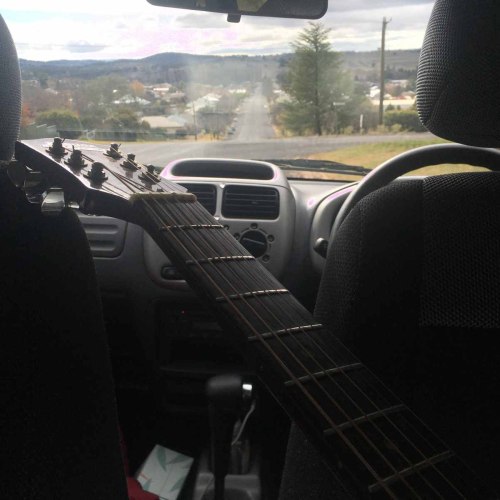 Where do you see your playing in a few years? Still, mastering solo guitar nostalgia or moving on and finding inspiration in electronic music, field recordings, and complex picking patterns?
Yeah the D.C Cross project is only Guitar. I will keep on developing that for as long as I can. It kind of controls itself. I am constantly trying to work towards finding my own sound within the genre and being more Australian somehow- in-between British and American- also the Irish Celtic foundation is strong here due to the convicts building Australia - so yeah - I'm always trying to naturally make more of my own identity within the genre. This is now my third solo D.C Cross guitar album. The first D.C Cross album "Ecstatic Racquet" was written mainly when I was touring Berlin and Paris (Sleeping on floors, drinking beer a lot). The second album "Terabithian" was written during the first lockdown and this album D.C Cross - Hot-wire the Lay-low (Australian escapist pieces for guitar) written last year around June, recorded in Dec 2021, and mastered by Patrick Klem (Jack Rose, Steve Gunn, Daniel Bachman) early Jan 2022. Its all brand new. All are available here https://darrencross.bandcamp.com (I say no to Spotify).
I also put out music under Darren Cross and that is electronic/weirdo/folktronica/lofi / whatever I like. Check out the albums Darren Cross "_Xantastic', "PEACER", "Keeping Up?" and "DISTORDER" all on Bandcamp and trippy clips on YouTube. My previous band https://en.wikipedia.org/wiki/Gerling was doing all sorts of genres -we did songs with Kool Keith, Kylie Minogue- played shows with Tortoise, Pavement, Will Oldham, Beck, etc so my main focus for the last few years has been the acoustic guitar. About 12 years ago I was sick of the computer controlling my compositions so I flipped to just another folk guitar project which then flipped into solo acoustic guitar. Making music without electricity is my idea of fun. Jep And Dep was another project I did - folk noir country goth songs. I also make music videos and do glitch video art - so many genres - not enough time lol
Is there something, like art, a book, tv show, music, or philosophical concept that inspired you or turned your previous beliefs upside down?
I think seeing Ween live in a town where I grew up in Sydney, when was I was just out of high school blew my head open. They were touring around 1993. They were really young and just had that hit single out Push The Lil Daisys- they were drunk and high and playing along to a karaoke machine. I was like- fucking hell- what is this punk rock! In a town in the middle of nowhere- it was punk rock but within the context of the times- it wasn't someone being cliched 1970's punk (Rancid lol) - great songs also- like Beefheart meets trippy Bowie. Hearing Sonic Youth open tunings (Daydream Nation, Goo, Dirty) when I was a kid also was a gateway to Fahey and Nick Drake..it all made sense. More recently Adam Curtis; documentaries are amazing.
My new album D.C Cross - Hot-wire the Lay-low (Australian escapist pieces for guitar) is out on pre-order now. Bandcamp exclusively.