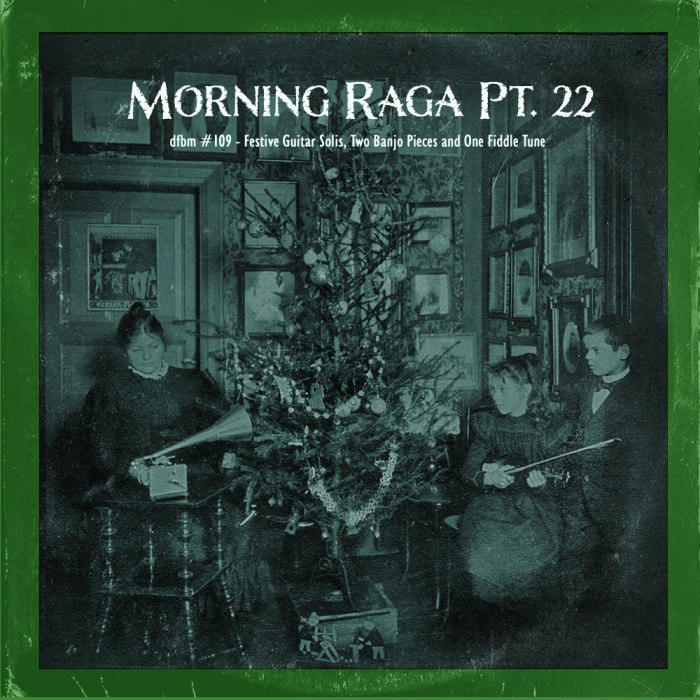 Mixtape
dfbm #109 - Christmas Morning Raga Pt. 22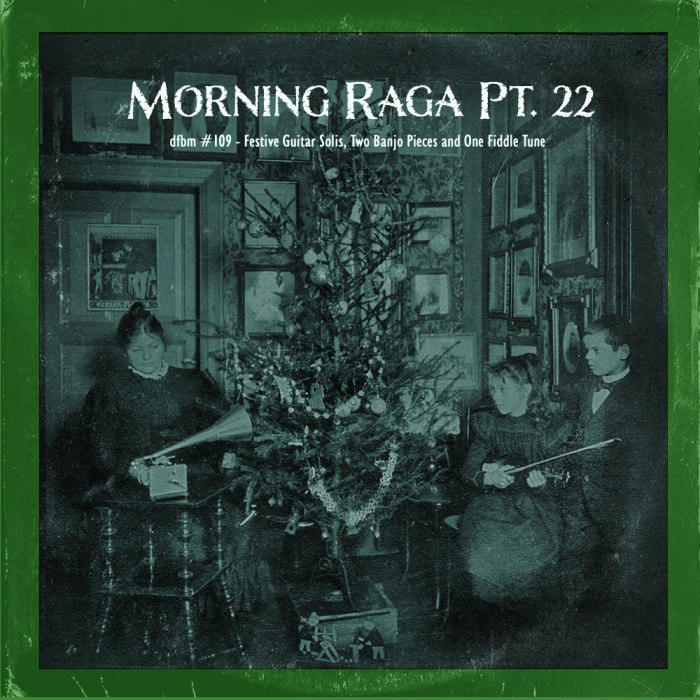 Welcome to the Christmas season with festive guitar solis, two banjo pieces and one fiddle tune.
There is quite a gap between the last mixes and reviews here on this site and this fresh new holiday mix. I would love to talk about what happened, but it's just as half as important compared to what many other people experienced, like loss of income or loved ones.
I could bemoan that Christmas here where I live is always white and this year it's just a bit frost in the morning and during the day sunshine and bright blue sky or it's just gray.
Anyways - for 1,5 hours you can dive into a steel-string solo-guitarscape that includes the obligatory Fahey Christmas tunes, an imaginary tour through Winter Wonderland and cozy solo guitar, home-alone at Christmas-Eve extravaganza (more like intravaganza).
And just shortly after I finished up this mix, Italian blues scholar and steel string guitarist Roberto Menabò sent me a rendition of "Silent Night" - so here it is:
I hope you enjoy this mix and I hope you still like the format (zip, mixcloud stream), because I'm not going to deal with that one big streaming service. Buy your music on bandcamp write an email to artists and argue with people that getting the vaccine when possible and wearing that mask when needed is kind of important, so we can go to concerts again and doing all that stuff that is missing right now.
As always, you can support DFBM by buying a t-shirt and share the mixes. Thank you for listening.

---
Tracklist
Sean Smith

Christmas Morning (Improvisation I)

Lukas Read

Deep Winter Rag

C Joynes

Christmas Medley: I Saw Three Ships Come Sailing In / In The Bleak Midwinter / The Holly And The Ivy

Josh Kimbrough

Good King Wencelas

Wall Matthews

Carol of the Bells

Mariano Rodriguez

El turrón de Alicante y el clima subtropical

Sam Moss

I'll Be Home For Christmas

Glenn Jones

A Different Kind Of Christmas Carol

Anthony Pasquarosa

Have Yourself a Merry Little Christmas

Gratton

Winter's Wisp

Clive Palmer

Christmas Carol

Robbie Basho

Hindu Christmas Carol

Cody Lee George

God Rest You Merry, Gentlemen

Bill Orcutt

Christmas On Earth

John Fahey

Go I Will Send Thee

Ragtime Ralph

White Christmas

Richard Osborn

Winter Moon In The Oak Tree

Kerem Atalay

Winter 2

John Fahey/Terry Robb

Winter Wonderland

Sean Siegfried

Apples In Winter

Mariano Rodriguez

El hijo del carpintero

George Stavis

Winter Doldrums

The Black Twig Pickers

Old Christmas Morning

Maurizio Angeletti

Last Winter's Sigh

Mark McGuire

Carol of the Bells

Sean Smith

Christmas Eve (Improvisation II)