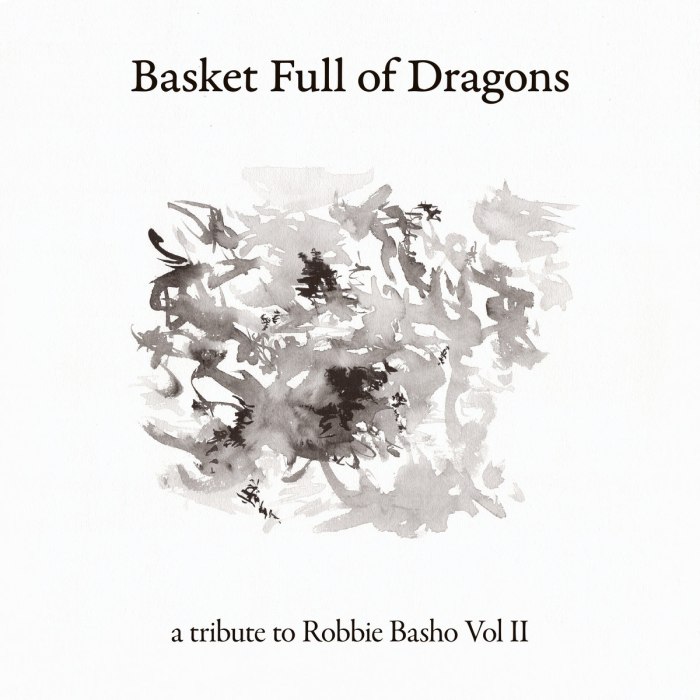 Basket Full of Dragons: a Tribute to Robbie Basho Vol. 2
curated and produced by Buck Curran
cover painting and album design by Buck Curran
© & ℗ 2016 Obsolete Recordings
mastered by Harris Newman, Grey Market Mastering

Dusted Review -
http://dustedmagazine.tumblr.com/post/153526280044/various-artistsbasket-full-of-dragons-a-tribute
  powered by bandcamp
V.A. - Basket Full of Dragons: A Tribute to Robbie Basho Vol II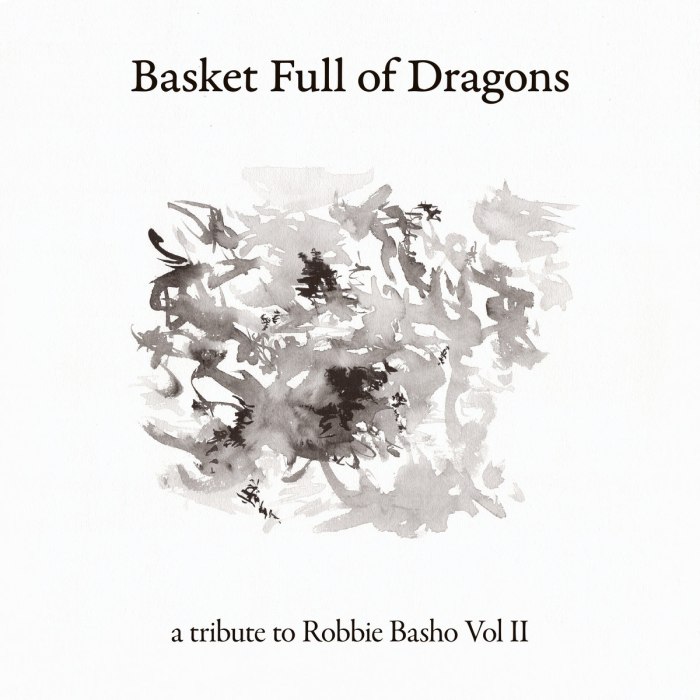 Till today, the 1986 deceased guitarist Robbie Basho is an enigma. He died by an accident after he was getting worked on by his chiropractor. Basho left a large catalogue of music and a mystery around his person. For a long time he was forgotten. Only a few people kept his legacy alive. One of them is Glenn Jones who was friend with Basho and organized his last West-Coast tour and the German Steffen Basho-Junghans who did a lot of research about Basho in pre-Internet times and maintains the Basho Archive.
A few years ago, the interest in Basho was reignited by a new generation of music lovers and musicians who reached out to reissue Basho's music, to research his life and keep his legacy alive. Thanks to the internet and networking in general a lot of great things happened. A documentary was made (which is as enigmatic as Basho's life - because only a few people have seen it), demos tapes were published, Basho's 12-string guitar reappeared and cover versions and tribute albums were recorded.
Buck Curran, a luthier and guitarist himself, is heavily influenced by Basho's mystic, etheral side. So far, Curran curated two tribute compilations. Vol. I We Are All One, in the Sun: A Tribute to Robbie Basho was released in 2011 and Vol. II just this summer.
For the second installment he got contributions by artists like Chuck Johnson, Glenn Jones, Steffen Basho-Junghans, Yair Yona or Richard Osborn who are directly influenced by Basho in their work of acoustic solo guitar. But he also reached out to folk musicians who represent Basho's interest in folk music from around the world.
Portrait of Basho as a Young Dragon – Glenn Jones & Matthew Azevedo (USA)
Fog upon the Moon – Tammam Saeed & April Centrone(Syria & USA)
Manifestations of the Sun – Adele H & Buck Curran (Italy & USA)
Walk in Beauty: A Healing Way Song – Richard Osborn (USA)
Salangadou – Eva Sheppard and Jesse Sheppard (USA)
Pasha – Paolo Laboule Novellino (Italy)
Kahlil Gibran – Yair Yona Music (Israel)
Golden Rose at Dawn – Chuck Johnson (USA)
California Raga – Twelve Hides (UK)
The Rediscovery of the Basho Cathedral – Steffen Basho-Junghans (Germany)
Enigmatic Eagle – Michael Gulezian and Henry Kaiser (USA)
The Chameleon and the Crow – Mike Tamburo (USA)
Wine Song of Love – Mariano Rodriguez, Jonah Schwartz, Karina Vismara (Argentina & UK)
Curran's affection for heavenly voices is like a trademark of his own solo work (and his former project Arborea) and also of these two compilations.
I think it's a wonderful way to pay tribute to Robbie Basho's exceptional style of singing, but as for Basho's singing, this is a matter of taste. You either fall in love with it or you have to listen to it many times until it clicks.
The title Basket Full of Dragons is lend from the 1967 album Basho Sings, that I haven't heard until a few months ago, for exact that reason, his singing. There are songs that I just love, like Wine Song or Movin Up A Way others are making me skip the title. But Basho Sings is pretty nice, ranging between blues and folk.
The performances on the tribute compilation are all really good, although I prefer the instrumentals more. (I probably listened too much Dead can Dance when i was a goth kiddie).
Beside trying to document Robbie Basho's life, it's important to show the impact he has on today's musicians and the many ways he inspired them. This tribut compilation accomplished that very well.
Order Basket Full of Dragons: A Tribute to Robbie Basho Vol II 
Together with Basket Full of Dragons: A Tribute to Robbie Basho Vol II, Obsolete Recordings, the label behind this compilation, also released the solo album of Buck Curran. It accompanies the tribute album quite well with its other-worldly, mystic vibes. Psych folk with lot of reverb and a darker atmosphere.
composed, produced, recorded, and mixed by Buck Curran

Buck Curran - Vocals, Acoustic and Electric Guitars, Harmonium, Banjo, Flute
Shanti Deschaine - Backing Vocals on New Moontide and Bad Moon Rising. Lead Vocal and Harmonium on track 8 'Immortal Light'

mastered by Harris Newman/Grey Market Mastering, Montreal, Canada
cover photo of Pluto courtesy of NASA

dedicated to Liam Curran, Adele Pappalardo, Shylah Curran, and Peter Green

'Immortal Light', the debut solo album by Buck Curran (of Arborea)
ESP-Disk' 5014/OR 002
CD 12 July 2016/Vinyl 28 October 2016

"Curran's first album under his own name invokes swarming natural forces, looking for the borderline between the real and the sublime and, maybe, the supernatural."
~ Jesse Jarnow/Relix Magazine

"Guitar tones linger and reverberate with a mystical translucence"
Buck Curran's Immortal Light ~ Dusted Mag

"Psych folk masterpiece shines bright" ~ Sid Smith/PROG Magazine

"With Immortal Light Curran has successfully tapped into that natural beauty and created a slice of alt-folk that is as engrossing as anything you're likely to hear." ~ Folk Radio UK

Immortal Light the wonderful new Buck Curran LP on Esp Disk', as gorgeous a psychedelic folk record as can be in 2016.
~ Jeff Conklin, host of The Avant Ghetto WFMU

  powered by bandcamp