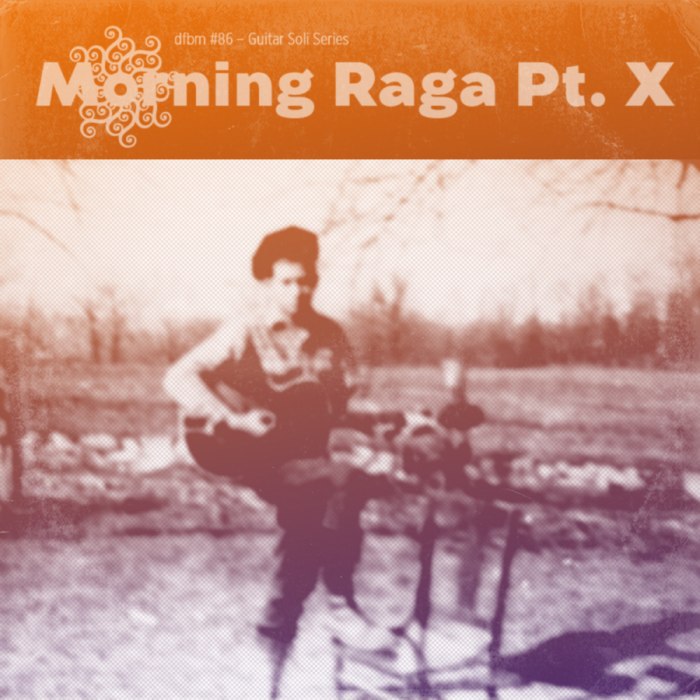 dfbm #86
Morning Raga Pt. X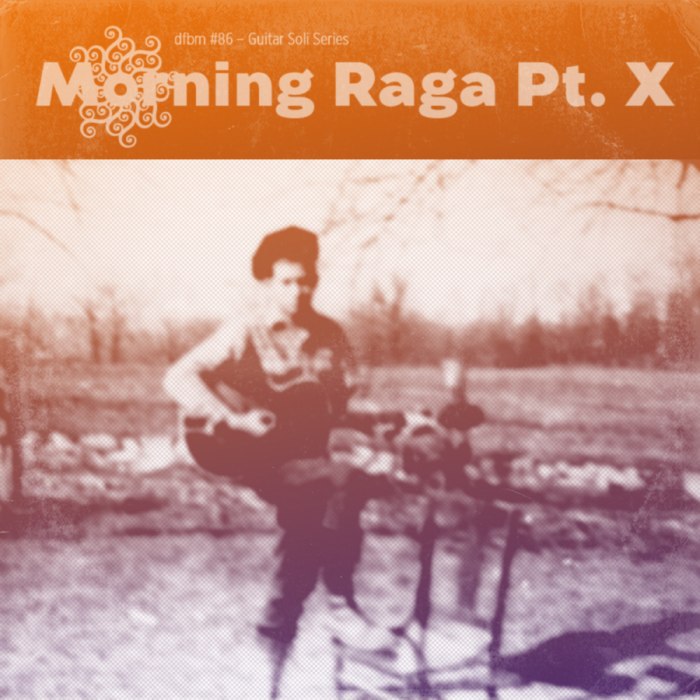 Before I hit the pause button for some summer holidays, I want to leave this new Morning Raga Mix here.
As always, it's a fine blend of old and new solo guitar music. Traditional tunes, contemporary pieces, more acoustic than electronic guitar, more six than twelve string. And so on.
Matt Baldwins rendition of NEU!'s Weissensee is approved by Julian Cope, so there you go.
Texan Carl Erdman plays sitar on Abner Burnett's "Hindu Pickin' Cowboy". Nice far out track. Both are from some obscure private press albums. The Erdman one is a little bit more interesting in my point of view.
Other gone and forgotten private press releases are the ones by Gary Salzman, Jim Kennedy, Rob Carr & Bill Kahl and Jim Ohlschmidt.
Guitar legend Harry Taussig has a new album on Tompkins Square. Great player with an unique style - don't miss this one!
What else? I included some tracks from the four new DFBM releases that are coming in August/September. Till then is a lot of work todo, but it's going to be great! I am really excited. Subscribe to the newsletter to stay up to date.
Tracklist
Charles Rumback & Ryley Walker

Middle Atlas

Voice Of The Seven Woods

Track 002

Lukas Read

Further Interpretations of the Coocoo

Gratton

Sky Song

Jacob Sunderlin

You'll Never See Another Shore

Abner Burnett

Hindu Pickin' Cowboy

Abraham Chapman

Bully's Rag

Dr. Ragtime

Buckdancer's Choice (Sam Mcgee)

Matt Lajoie

Blues for R. Franklin

Anthony Pasquarosa

Excerpt From The Symbol Of All Things

Rob Carr & Bill Kahl

The Great Wall Of China

Blackie Cool

Grandfather's Clock

Jonathan Nankof

O' the Moon

Harry Taussig

And All, Being So, Was So

Nicole Ruggiero and the Spookfish

Improvisation 1

M.S. Dagley

Mystery Of The Guitar

Borealis

El viento frío

Pullman

Bobby Solid (Bonus Track)

Carl Erdmann

Majesty

C.Strøm

Seaside Stories

Jim Ohlschmidt, Paul Kowalski

Raga

Jim Kennedy

Theme No. 7

Gary Salzman

The Secret Forces Of Nature - Part One

William Tyler

Kingdom of Jones

Matt Baldwin

Weissensee

Isasa

Danza de los habitantes de La Faena II

Stein Urheim

Oh So Nice