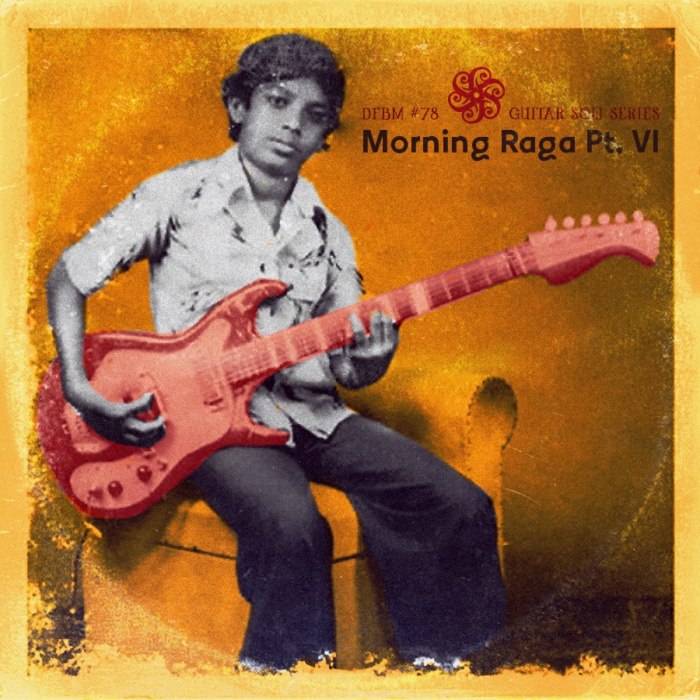 dfbm #78
Morning Raga Pt. VI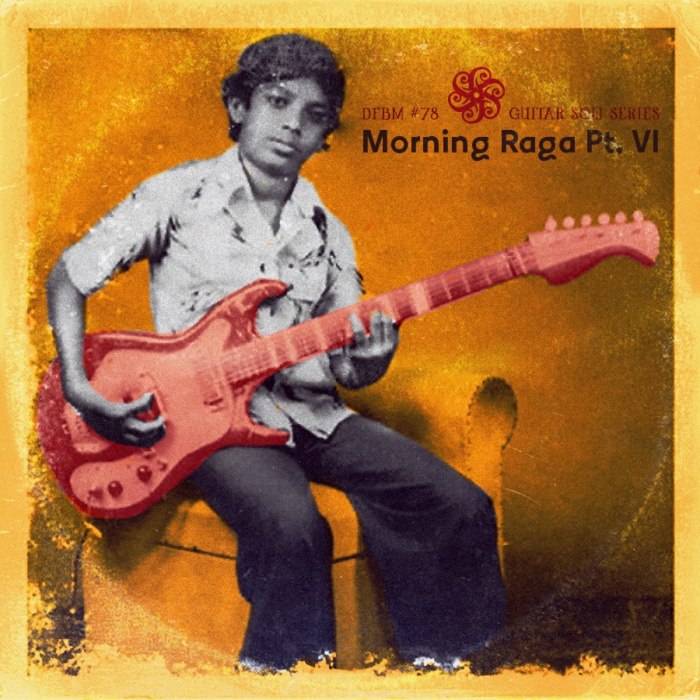 ​
After some silence, welcome back to two hours of pastoral guitar excursions and cosmique freeform exercises. Old and new guitarists from Italy, Belgium, France, the United Kingdom, Turkey, Japan, Argentina and from the United States.
Some of the artists got already posted here on the blog or waiting to be posted, so check them out. One of the most mindbending discoveries this year was the album Guitares Dérive from 1976 by the French duo Vincent Le Masne and Bertrand Porquet (thanks to Steve Palmer for hipping me to them). Informed by minimal music, classical guitar music and jazz, the young duo created an outstanding album.
Introspect and centered is the reissue of Anthony Pasquarosa's cassette "Morning Meditation" on the fine label Vine Du Select Qualitite. The very intimate and personal sounding album is the result of Pasquarosa, flirting with ideas of mental healing, and trying to let the guitar play itself. Read the very long and all over the place interview here on the DFBM blog. Highly recommended album and VDSQ is going to release another jewel very soon: Sarah Louise!
Another wonderful and unique release is the collaboration of two Chicago guitarists: Bill MacKay and Ryley Walker. After improvising every Friday night over a month long residency at a Chicago music venue, the live album "Land of Plenty" was released and right now they are playing live every now and then.
Almost all music is available over bandcamp. The records of Italian guitarist Maurizio Angeletti, a friend of Basho's and Fahey back in the eighties, are going to be reissued on Grass-Tops Recordings, as far as I am informed. And will the mysteries around Wilburn Burchette's work ever be resolved? Numero Group recently released his last work in their exclusive Project 12 series and they know things nobody else knows. Robbie Basho is like the Voynich manuscript, an enigma, probably never completely solved. Burchette, still alive, keeps his past blurry and refuses to interpret his work further than what was releases back in the seveties - just like the Codex Seraphinianus by still  active Luigi Serafini.
I hope you'll enjoy this program. If you want, leave a comment or share it.
As always you can use mixcloud or 8 tracks to stream the mix or just grab the old school zip file.
Download Stream @ 8tracks Stream @ Mixcloud
Playlist
Wyrdstone

Thelema

Jim Ghedi

Saint Gilles

Yadayn

Spiegel

Andrew Bowsher

Uke Joint

Haberman

Variaciones sobre William Tyler - partes 1, 2 & 3

Nick Dellar

Land Sold by the Gallon

Scott Urquhart

Hurry Hurry Has No Blessings

Gregory Sagar

Harp of Rain

Richard Osborn

Going To The Beachhouse

Asbestos, Inc.

I Wish I Hadn't Sinned So Much

Yousei Suzuki

Tuji Mukou2

Alex Archibald

From a Faerie's Funeral

Anthony Pasquarosa

An Inward Gaze

Maurizio Angeletti

Out Of The Game

Nick Dellar

Ballinskelligs, Iveragh Theme Reprise and Finish

Tyler Nicholson

Forefathers

Wilburn Burchette

The Lords Small Fight

Bill MacKay & Ryley Walker

Blues For Arthur

Dean McPhee

Star Burial

Michael Chapman

Stockport Monday (for Tom Rush)

John Hulburt

All Night Waitress

Mark Fosson

Simpleton

Tashi Dorji

Dorji Gyap

Vincent Le Masne et Bertrand Porquet

Rafales

Rob Noyes

Drag

Magnus Dewi

Camic

Tyler Nicholson

Nachiketa

Marcus Eads

Isanti