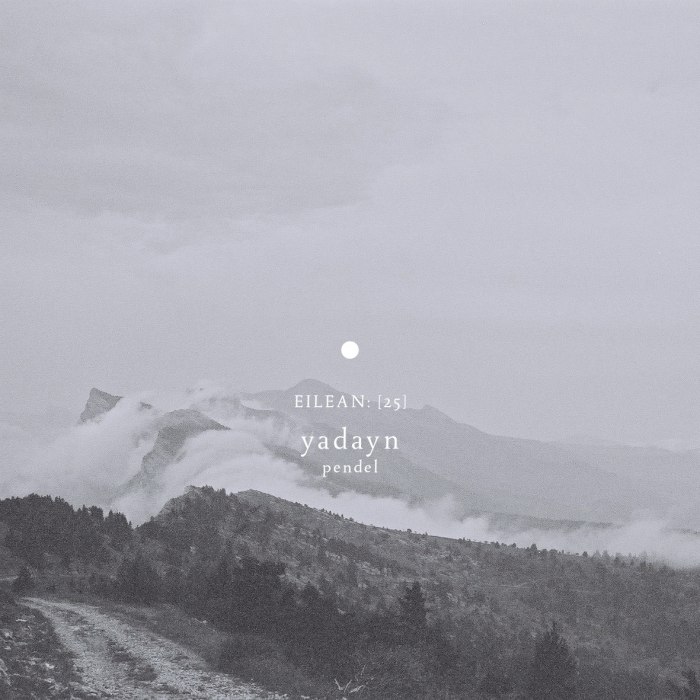 Released on CD-r by Eilean Records.

Pendel was composed, improvised, sampled and recorded by yadayn (Gowaart Van Den Bossche) at home between summer 2014 and spring 2015. yadayn played : guitars, ukulele, keyboards, melodica, clarinet, samples.

Mixed by Jonathan Baltussen & Gowaart Van Den Bossche
Mastered by Mathias Van Eecloo
Artwork Photography by Gowaart Van Den Bossche
Inside Photography by Mathias Van Eecloo
Design by Rémi Verdier

Thanks to: Karolien Denayer, Jonathan Baltussen, Bára Sigfúsdóttir, Mathias Van Eecloo, Rémi Verdier, you.
6th best album of 2015 at Irregular Crates
http://irregularcrates.com/2015/12/12/best-albums-of-2015-2/

"Pendel is a fully matured album."
http://www.fluid-radio.co.uk/2015/09/yadayn/

"Pendel is another triumph for Yadayn, and Eilean Rec."
https://criticalmassesmedia1.wordpress.com/2015/09/21/crate-digging-yadayn-pendel/

"Absolutely tender at times, the songs are downright gorgeous in their understated beauty. […] Without saying a single word Yadayn creates a series of beautiful portraits on the expressive "Pendel". These are songs that are full of hope and joy for life."
http://beachsloth.blogspot.be/2015/11/yadayn-pendel.html

---------

Pendel is the result of chaos, of trying out different recording, producing and composing methods, and of then sculpting sense from the recorded material. Unlike yadayn's debut Vloed, which was a carefully planned monolyth of sound, a flooding of notes working towards the catharsis of its title track, Pendel is a comparatively eclectic collection of tracks, unified in their originating from the same artistic vision but diversified in their differing circumstances. Some tracks ("Spiegel", "Pendel", "Uit") were composed specifically for the album, some are older compositions ("Raam", "Veld", Rust", "Kerk"), while all of the shorter segues are based on samples taken from old yadayn (demo) recordings, twisted and flexed into new contexts. The eclectic methods blend the composed approach of previous yadayn work and the sampled, electronic approach of his casual work with Gluem. "Pendel" is Dutch for "pendulum" and symbolizes the mood swings found throughout the album and throughout its recording period.

"Veld" is an interpretation of Modest Mussorgsky's "Bydło" (part of his Pictures at an Exhibition) and features the voice of Icelandic Nobel prize laureate Halldór Kiljan Laxness reading his poem "Bráðum kemur betri tíð". The voice sample in "Kerk" originates from a dubbed cassette tape found on a flea market in Cairo.

Detailed liner notes here: http://tweehanden.tumblr.com/post/126172012588/pendel-8815-eilean-rec-liner-notes

A video of a live recording of Kerk here:
https://vimeo.com/126110420
  powered by bandcamp
Yadayn
Pendel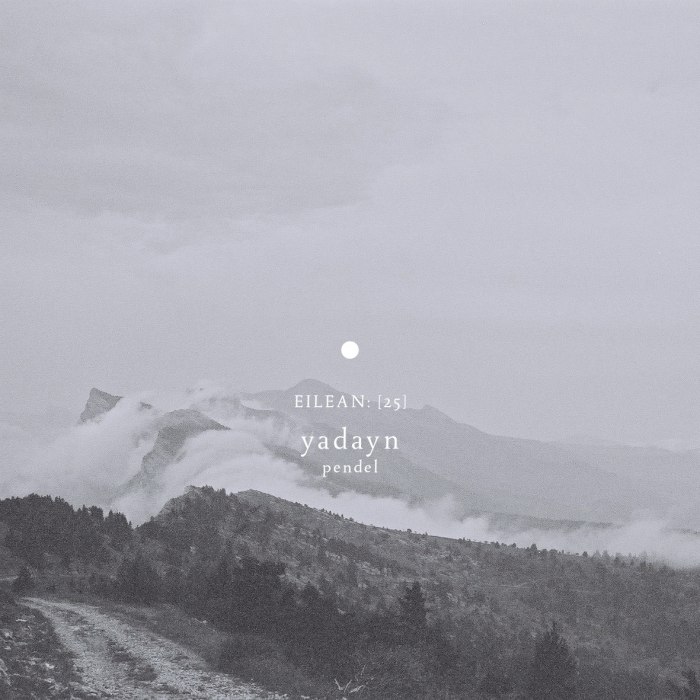 Yadayn is a musician from Belgium with the noble name Gowaart Van Den Bossche. He released the concept album Vloed in 2014, which was the an amalgamation of fingerstyle guitar and ambient textures.
Unlike Vloed, Pendel is more a collection of ideas, but follows the same musical paths as on his debut. Van Den Bossche's music is centered around fingerstyle guitar pieces, sometimes arranged with loops and effects or additional instruments like clarinet and melodica. His playing is clearly informed by classical music and that's what he refers to in his extensive liner notes to Pendel, which is an really interesting read that gives a lot of context to the used samples and his general approach to created this album.
Yadayn's music reminds me on a acoustic version of a GYBE or Mogwai record. It's the soundtrack for lonely walks through a misty park on a late fall day. The guitar is the cold air, perforating your lung and the drones like a hot cup of coffee in your hand. Highly recommended!
If you like to explore more guitar music from Belgium/France, check out the phantastic album by Vincent le Masne & Bertrand Porquet from 1976.
Raam is my favorite: