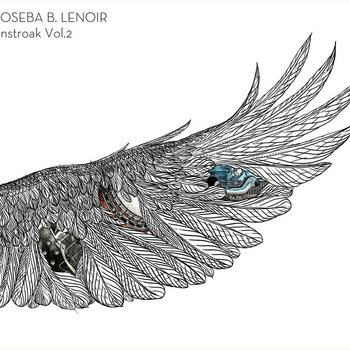 Joseba B. Lenoir: electric and acoustic guitars, banjo, keyboards and percussion.
Felix Buff: drums and percussion.
Raúl García: musical saw on "Penac fin dic sarri"

http://josebalenoir.com
info@josebalenoir.com
Recorded at Gakobeltz Mobile Studio, Barcelona (2013)
Drums recorded at Iñigo Irazoki's studio, Sara, EH (2013)
Mastered at Mamia Mastering Studio, Jonan Ordorika.
  powered by bandcamp
Joseba B. Lenoir
Instroak Vol. 2
Joseba B. Lenoir is a guitar player from Barcelona, Spain. As I found out, the titles are in Euskara the language of the Basque people in Spain. I have honestly nearly zero knowledge about the political background there. But anyway.
Joseba is a brilliant musician, able to arrange complex cinematic tracks. So Instroak Vol. 2 is an instrumental album centered around acoustic and electric guitar.
He mixed in Ennio Morricone like western soundtracks (Gakobeltzen hegaldia) and psych freak outs like the great Ihesaldia.
Friscora bidean is another highlight with its slide guitar parts, banjo and drums.
The mix sounds very warm and intimate, like they are playing at your home.
This album keeps you excited over the full length and so I can highly recommend it to people who enjoy e.g. the last William Tyler album.
Purchase Instroak Vol. 2 over the label page or download the album. Instroak Vol. 1 is still free available on his bandcamp page.
Enjoy!