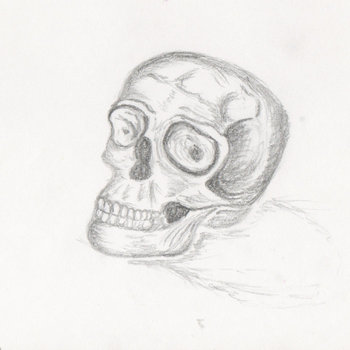 Nick Castell - Appalachian dulcimer, banjo, bow, cumbus saz, electronics, guitar, piano, percussion, tenor recorder, trumpet.

SOYLIBRE09 - Soy Libre
Available as a free (name your price) download or as a numbered limited edition CD-R in cardboard wallet with hand printed linocut.

All music written and performed by Nick Castell.

Skull drawing by EL. Linocut by Nick Castell.
  powered by bandcamp
Hiss Hog Porkestra
Skull
A new album by the young, prolific composer and musican Nick Castell under his moniker Hiss Hog Porkestra. Skull seems to be a concept album about death and dying. The music is, as on his previous recordings, sometimes plain and quiet piano composition (in the vein of Eric Satie and other composers that I don't know), sometimes sparse instrumented ethno folk. I can't clearly say something about the roots of a track like Dancing the Paddington Frisk. Is the origin really english folk music (referring to the title)? I mean the title is an idiom for being hanged 1) but the music sounds a bit like eastern, iberian rooted folk music.
But I am not a pro in music history, Nick Castell is - I am sure he could shed some light on the tracks on this album. And he should really do, like adding some liner notes or kind of a pdf booklet.
Generally speaking I think artists shouldn't only post tracks on bandcamp and then use a crappy digicamphoto as cover (I am not referring to Nick's release here!) - they should treat a digital release like a physical release. Putting some experience to the music, tell a story, create references to keep it all exciting and not only be noise in the digital void. I would love to get some points to start, connecting things that an artist created, with my own knowledge to build new connections.
Please enjoy!