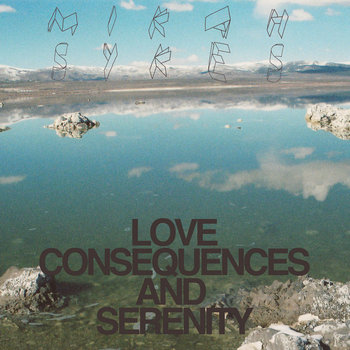 Emily Kokal: vox, guitar, organ
Jacob Wilson: guitar, percussion, vocals
Johannes Nilsson: vox, guitar, electronics
John Moen: bass, drums
Frankie Palmer: pedal steel
Bob Schwenkler: drums
Nate Lumbard: clarinet
Susan Reilly: cello
Paloma Udovic: violin
Justin Higgins: percussion, whistling

Produced and engineered by John Frusciante, Bob Schwenkler, Grant Fairbrother, Dave Pulliam, Johannes Nilsson, Jacob Arnold, Justin Higgins, and Jacob Wilson

Special thanks: Jacob, Drummer, and Adam from Kickball https://kickball.bandcamp.com

"Arctic Explorer" is by Swimming
https://swimming.bandcamp.com
Recorded at John Frusciante's home studio in Los Angeles, Dub Narcotic & Evergreen State College in Olympia, Old Standard Sound in Portland, the Electro-Bus when it was parked outside the Nightmare Collective in Forest Grove, Oregon.
.
  powered by bandcamp
Mikah Sykes
Love Consequences and Serenity
36 tracks on an album is a bit overwhelming - isn't it? But in case of Mikah Sykes digital album it is totally ok. His songs range from simple folk tunes over excellent sound experiments/ambient  to nice electronic pop so you never get distracted from listen to this album. And to drop some names, it was partly recorded in John Frusciante's home studio in Los Angeles or K Records/Dub Narcotic Studio in Olympia, Washington.
For A Love My Grace is such a wonderful and lovely piece of Chamber Pop. The clarinet, the bass, the fingerpicking and the light jazzy drums makes it just perfect.
Mikah Sykes - For A Love My Grace
Other noteable songs are the ballade U Broke My Heart N 2, the electronic pop of A Shadow in the Valley (featuring Badsector) or the beautiful forward/backward experimental folktronic piece 3/2.
So get this album for $1 minimum and it will bring you joy for hours, which is priceless.