​Least Carpet / Baldruin
Split Tape
Genre: Psych Folk/ExperimentalLabel: sicsic Tapes
Something new from our beloved
Least Carpet
project, here on a split tape with
Baldruin
. Both artist are related to the
Phantom Limbo crew
, who are very prolific event manager, musicans, radio maker and music consuments.
Least Carpets
part is a live set from last year and the fact that this was his second live concert, the recording is really really good. It's a perfect liveset, consists of his Eastern European influenced folk tunes and loops. Especially
Part II
is pure magic, with the driving beat. Part III reminds me right now on Neil Youngs guitar work, but it's less annoying.
Baldruin
on the other side is dedicated to more cinematic experimental chamber music. Imagine a surreal black/white movie, this is the soundtrack!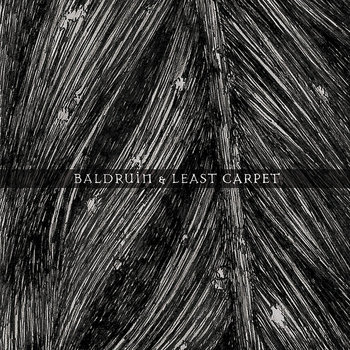 Baldruin is Johannes Schebler
Least Carpet is Marko Martini

http://leastcarpet.bandcamp.com/
https://sicsic.bandcamp.com/
Crawling from deep underneath!

Baldruin is both haunted and haunting, blending ritualistic psychedelic folk jams with vast, shimmering ambient soundscapes to create a deeply cavernous sound. For fans of Starving Weirdos and RV Paintings.

Words by Daniel Voig, SicSic

"Over on the other side of the tape lie waiting Baldruin - seven slices of - shall we settle for - shimmer toned chamber sonic reverence and I say that because amid these frost sculptured ether echoes which aside being beguiling and bewitching there's a sense of unworldly stillness for these oft parched heavenly opines stir ominously with an appeal to admirers of Bronnt and lesser so to the musique concrete mosaics found deep in the Radiophonic vaults, our favourite moment the hauntingly oppressive b-movie mutated sci-fi stew that is 'gravitation' as it shares psychotropic mind altering space with EAR and highlights Baldruin's acuteness for the eerie and atmospheric at times sounding not unlike dreams of tall buildings. Yet amid the hums, the dronal cycles and the chilled bowed chime effects ('Ausklang' being one of those check behind the sofa moments) while centrepiece of the set 'geistertadt' is sparsely caressed with a becoming hushed balletic majesty that solemnly genuflects gracefully murmuring to a dialect informed by the sound collage pioneers Schaeffer and Henry."

Mark Barton, losingtoday.com

--

Released as a tape (CS70) on sicsic as sicsic005 in an edition of 50.
  powered by bandcamp
Great stuff from "new weird germanica".
10/10