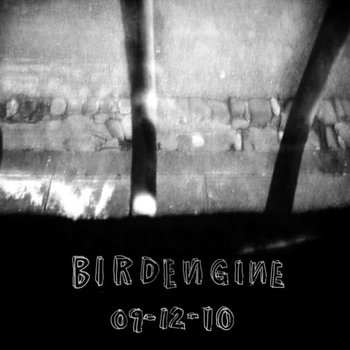 Written and Performed by Birdengine
Copyright © 2010 L.J Tilbury

www.birdengine.com
http://www.facebook.com/birdengine
http://birdengine.tumblr.com/

email: info@birdengine.com
Free five track session recorded for folk radio uk
(frukie #5)

Recorded on 9th December 2010 in an apartment in Toulouse, France by Lawry Joseph Tilbury

www.folkradio.co.uk
  powered by bandcamp
Birdengine
2011 - Session for Folk Radio UK 09​-​12​-​10
Genre: Dark, Surreal Folk
Label: self
Birdengines music is unique. We recently featured his album
The Crooked Mile
- a surreal masterpiece. If you hear Birdengine the first time, it will stuck in your head. Tilbury voice and style of singing ranging from high to low pitch, is very memorable as well as his dark music that sounds like a visit of a oldtime, surreal funfair.
He recently recorded a session for the great
Folk Radio U.K.
and put it free on Bandcamp. Great move and for you the chance to get this recording for free. I like the version of No Arms and No Friends - on the album a full band backed song in this live version with drumcomputer which gives the song a nice demo feel.
Download free at bandcamp
10/10