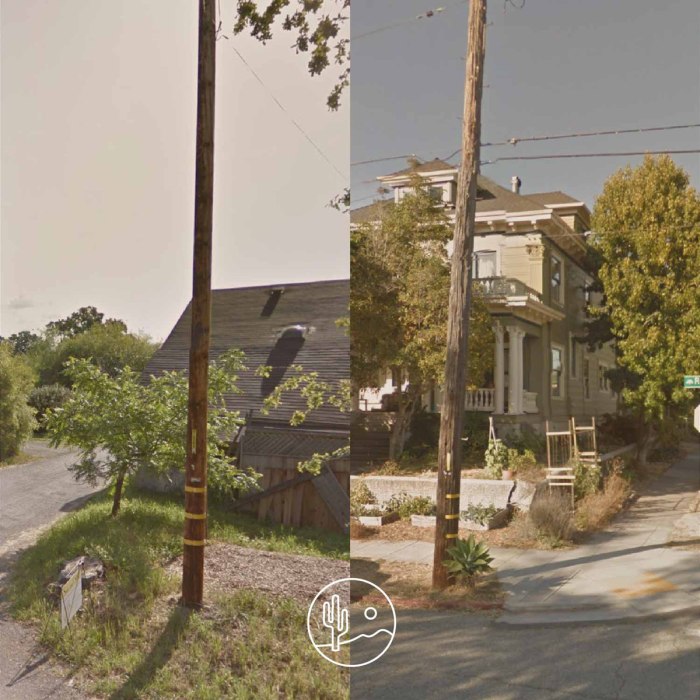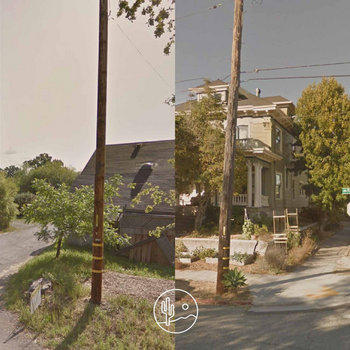 Dibson T. Hoffweiler - guitar and compositions

Sarah Stanley - flute
Andrew Weathers - synthesizer

"Walking from MacArthur" improvised by DTH and SS

All Sebastopol tracks recorded at Laguna Farm by DTH.
All Oakland tracks recorded at the Ridgeway House and Second Dream, Oakland, CA by DTW and AW

Mixed and Mastered by AW
Artwork by Gretchen Korsmo

Thank you, AW and SS.

Dedicated to:
the friends I live with at Laguna Farm and the friends I lived with at the Ridgeway House, whom I hope to live with once again.

FS043
Dibson T. Hoffweiler is a man on the move. Before his stint in the Bay Area, Dibson was a fixture in the New York Anti-Folk scene of the turn of the century. His recent move to Sebastopol, a small rural town in Northern California, prompted this new album, which we are proud to feature as the latest installment for our Editions Littlefield sub-label.

As the careful reader might guess from the title, one half of Oakland to Sebastopol was recorded in Oakland, the other half in Sebastopol, each side front-loaded with an upper-harmonic-exploring "Enneagram Study." Occasionally, rural soundscapes or roommates rummaging through the kitchen will weave their way through Hoffweiler's pastoral finger-picking. Oakland to Sebastopol is emotionally charged and sentimental without giving in to overwrought saccharinity.

Hoffweiler's guitar playing is agile and considered, his straight-forward song structures emphasize his technical skills without being overpowered by them. First the time on his solo guitar material, he is joined on select pieces by instrumentalists Sarah Stanley and Andrew Weathers providing simple adornment to the already lush sound.

On Oakland to Sebastopol, Hoffweiler captures the fleeting, intimate moments that give meaning to our rote, daily activities with a delicate touch and sensitivity not quite equalled among the current crop of young American Primitive revivalists.
  powered by bandcamp
Dibson T. Hoffweiler
Oakland to Sebastopol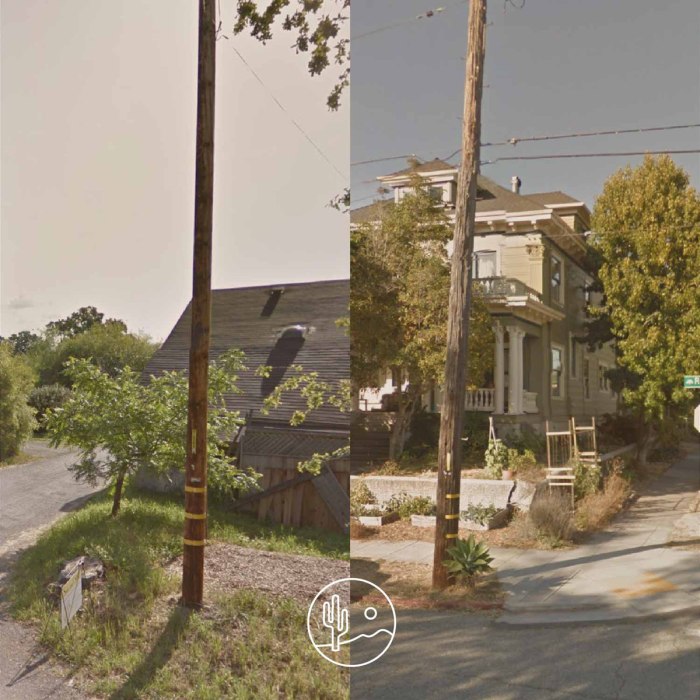 Andrew Weather's Full Spectrum Records oscillates between electronica and acoustic guitar music as he does himself on his many releases. With Dibson T. Hoffweiler's album "Oakland to Sebastopol" he released a beautiful document of places, people and moods.
Places, because Hoffweiler recorded parts of the album in Oakland, CA and the other half in the rural town Sebastopol, CA. Places also because he allowed the environmental sounds to leak into the recording, which makes it almost a diary entry of the moment. (Although I think the fauna doesn't change much between the two places, but probably the urban sounds?)
Hoffweiler gets accompanied on a few tracks by Andrew Weathers on synthesizer and Sarah Stanley on flute. Weathers contribution is really subtle and Stanleys flut illustrates the pastoral imagery perfectly. That's about the people and leads me to the mood.
The album is peaceful and sunny as one would imagine it is in California. Always sunny!
"Oakland to Sebastopol" closes with the beautiful and kind of romantic "Walking from MacArthur" which is an improvised piece by Hoffweiler and Stanley. Guitar and flute are like a loving couple that inspires each other.