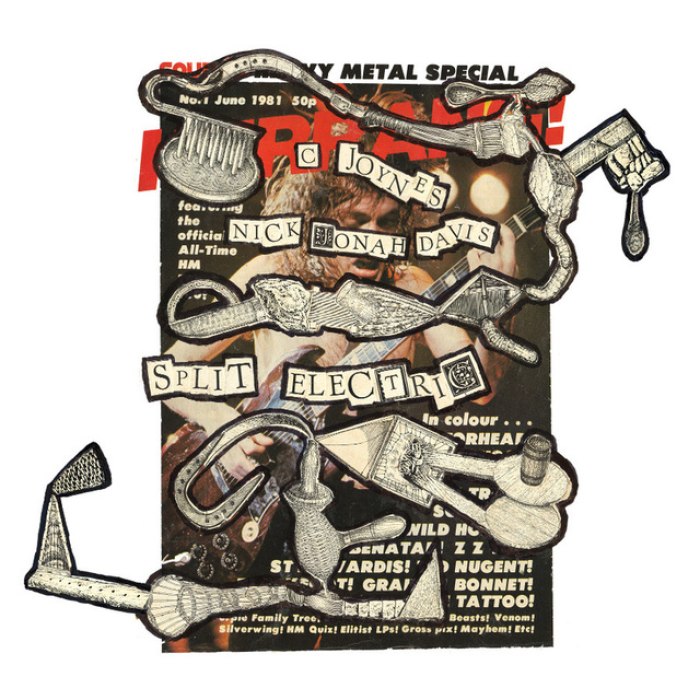 C Joynes / Nick Jonah Davis
Split Electric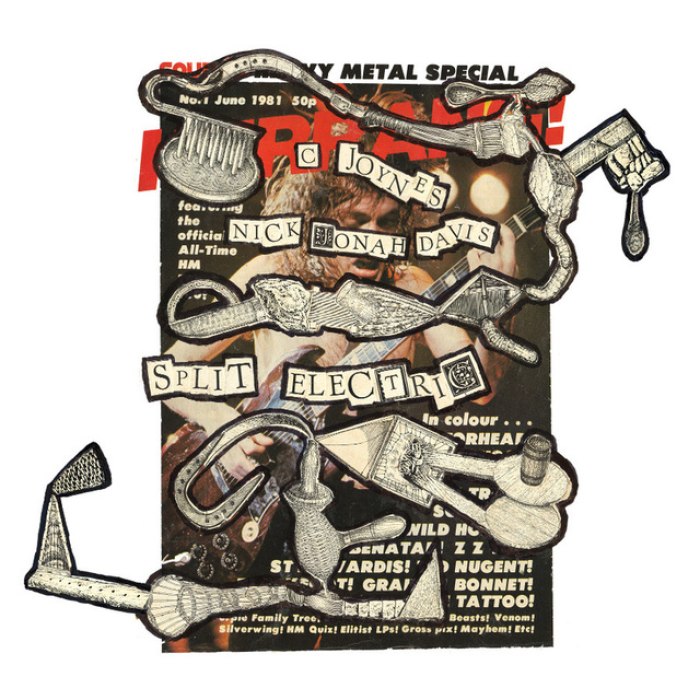 For Split Electric, the two U.K. guitarists C Joynes and Nick Jonah Davis routed their guitars through a set of stomp boxes and pedals and into amps, to explore the universe, electricity has to offer. Even if recorded at different times and locations, both musicians complement each other and manage to maintain the style they are known for from their solo acoustic guitar records.
Dying for Bad Music is hosting the complete A-Side of the album exlusively. Along with the beautiful music, the artists provided some insight into the process of making the album. Richard Dawson made the artwork and Thread Recordings is responsible for bringing the album to life and the artists on the road. For tour dates and how to purchase the record see below.
C Joynes writes
My contributions to this album were recorded in the depths of winter in a near-derelict dental clinic in East London, a building defined in terms of cold water, broken windows, bare floorboards, falling plasterwork, structural damage, holes in the ceiling that allow you to look up or down into the rooms above or below.
Myself and Cam Deas moved in for a two-day recording session in the middle of winter, both of us huddling through the day in thermal underwear, hats, scarfs, gloves, overcoats.
I was playing guitar in the kitchen on the second floor, with Cam and his sound-desk set up in the stairway, and the amplifier, a 1962 Watkins Westminster valve 10w borrowed from scholarly DIY loner, The Doozer, sitting on a chair on its own in the dark in the middle in the front room. Along with the tea-candles scattered about the place, the amplifier was the only source of heat for the whole building.
From where I was sat, the sound was distant, murky, a sound I associated with the cold, the brick dust, the steam on our breaths and the slight burning smell from the overheating valve tubes inside the amplifier. As each day progressed, despite stepping out to buy food and coffee and warm up in the weak winter sunshine falling on the pavement outside the bakery across the street, the body became colder and slower, hunched over, sealing off to retain warmth.
We came away from the two days with various takes of about fifteen tunes. I had not gone into this session with any particular project in mind: I had just been interested in recording using electric guitar, and what got played out were a selection of either new unrecorded pieces, versions of traditional tunes I'd often played live, old acoustic tunes that I was revisiting in an electric setting, or spontaneous improvised throw-downs resulting from the battle against the cold. Over the course of time, the recordings got mixed down and allocated for various releases: some for an EP that came out in 2015 on alt.vinyl, others put aside for a future solo album.
Those that remained were an odd misshapen collection: I didn't want to throw them away, but was unsure what to do with them, how they might fit together. On their own, they were too crude and imbalanced to make sense of. It wasn't until they encountered Nick's tunes that things began to move into some kind of form. With their heavy reverb and meditative pace, Nick's tracks have a nocturnal, haunted quality. Against this, my own tunes seem hand-made, ramshackle, rough-surfaced, uneven, ill-fitting – like the strange angles and crannies inside a derelict house. How this album fits together appears now as a partial reflection of the surroundings and the situation it was recorded in: not 'atmospheric' or ambient, and certainly not desolate, but something definitely taking its form and its feel from the shapes and angles of the physical surroundings. In essence, this album is a garage-punk version of a regular guitar soli record: while the same musical themes and reference points apply, both how the recordings were made and the tools that were used have heavily influenced the output. These results have turned it into a very different beast altogether.
---
Nick Jonah Davis writes
I made the music for this album alone in my cellar, where I keep my instruments and an infuriatingly erratic computer recording system, constantly battling against humidity, cold and my kids' curious fingers to try and keep everything alive. A couple of tunes were underway before Chris got in touch about doing something, and a couple were written and recorded especially for the LP. I was trying to find a way to complement what I heard when he finally sent me his own tunes.
Chris had gone for a single session approach, with a thematic and sonic unity, so I decided to go the other way. I'd do a tune one night, maybe have another go the next day, making changes, noodling about with pedals, reversing sounds, enjoying the freedom to mess around and just chuck things out if I wanted to. I think what interests me most about electric guitars is the way you can use amps and effects to alter the texture of the sound, in a way that actually changes how it feels to play the instrument. It's the opposite of the fixed system an acoustic guitar presents you with. It can be a rabbit hole, but it's fun all the way down.
Poa Kichizi is probably my favourite piece on here, recorded on a neglected 70s Starway electric which I'd swapped for a pedal at some point. Struggling with its dreadful action, I whacked a capo on the 7th fret. Immediately this tune appeared, singing out of the weird pickups and clunky neck like it had been waiting in there all along. Ten minutes later it was recorded and ready to go, rough edges and all. Some of my music takes years to be ready. Maybe sometimes I can over think things; sometimes the rabbit hole isn't so deep.
Purchase "Split Electric" on vinyl and get an immediate download of the album. Check out www.threadrecordings.com for more information and upcoming live shows of both artists.
31/01/16 - Glasgow (UK) @ The Glad Cafe
12/02/16 - Bristol (UK) @ Cafe Kino
13/02/16 - Bishops Castle, Shropshire (UK) @ The Six Bells
16/03/16 - Benicarló (ES) @ Plug In The Gear
17/03/16 - Barcelona (ES) @ Secret concert (presented by Formes Diverses de Vida)
18/03/16 - Madrid (ES) @ La Faena II
19/03/16 - Don Benito, Badajoz (ES) @ The Rincón Pío Sound
20/03/16 - Almendralejo, Badajoz (ES) @ Salón de Teatres
21/03/16 - Available
22/03/16 - Pontevedra (ES) @ Liceo Mutante
23/03/16 - Available