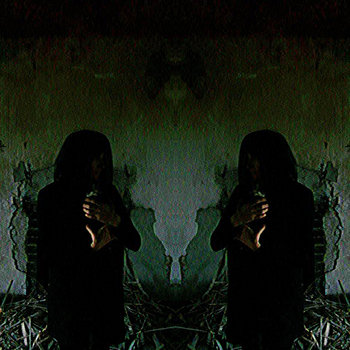 All tracks written and recorded by David Colohan, Natalia Beylis & William Stewart.

Recorded under canal bridges, through the woods & in churches (both dedicated & deconsecrated) of Leitrim & South Longford.

Featuring Bram Peters on Viola on "A Match to the Grate," "Go Be With Your Bones," and "Do As the Ghost Bide Ye."

Featuring Matt on trombone and Krishek on Dúdaire Dubh on "Along the Ridge of the Old Huts."
Canal bridge. Stones falling in water. Birdsong and quiet.

'Rising out of the misty hills and bog-lands of South Longford, I present to you Divil A' Bit, whose membership boasts of contributors from such strong projects as Woven Skull, Raising Holy Sparks, and United Bible Studies. Their moniker roughly means something like 'nothing at all'. A declaration of negligent disregard for themselves, they belittle themselves starting with their name: an old-fashioned shyness that is reflected in their music and which commands the focus of the listener. No attention is drawn to their identities nor their faces, but only their music.

As soon as the cassette begins with the first song and title-track 'In Deference to the Squeamish', it sounds like this music isn't necessarily here to be enjoyed with their electronic devices; endowed with its own life, it materializes out of forests, abandoned churches, and canal bridges. In their own words, these were the very places chosen for recording. Clearly this isn't the first time in history for such a thing to happen, but it is a choice that still excites interest when the final outcomes are as good as they are here.

Strange as they are, Divil A' Bit's label is probably even stranger. What would one expect from Feathered Coyote Records, after all? The name elicits visions of a peyote-driven label with its headquarters in some obscure corner of rural America, but is this view ever wrong. This bizarre coyote in fact hails from Wien, Austria, which perhaps shouldn't be all that surprising as the increasingly psychedelic Albin Julius of Der Blutharsch and the Infinite Church of the Leading Hand also resides within the city. Indeed, their love for 'experimental, improvisational and psychedelic music … (including) a wide variety of genres, ranging from country, folk and Americana to psy-trance, ambient and spoken-word' is unmistakable.

Divil a' Bit of course fall into more than just one of these categories, although the prevalent genre they play is psych folk. This is not your average folk project though; it has nothing in common with what's commonly identified as Irish popular music, and equally nothing to share with the nearly homonymous band, Divil the Bit. They strip their folk down to the bones, and, from what remains, they mould it back to life in their own interpretation after it has been corrected with a huge dose of psychedelia and dark ambiance. Although not enthralling, it's not like their music meets the definition of minimalistic; it is intensely layered, structured, and rich, albeit not in an organized way.

Nearly no emphasis at all is put on vocal contribution: it takes four tracks and more than ten minutes to make first contact with a human voice, and then is heard no more. 'Along the Ridge of the Old Huts' builds slowly around a minimalist structure of synths accompanied by blood-freezing bell tolls, marking the slow-pacing procession.

Whereas there are some almost jolly tracks here and there, they eventually are made somber by the diffuse macabre atmosphere. The fiddling banjo in the third track stands out in open contrast with the song's title, 'Braiding the Hanging Rope'. 'Go Be with Your Bones' is the closest thing to a romantic ballad that you'll find on In Deference to the Squeamish, and 'Even the Graves Are Empty' is a ghostly march that lacks any remote form of grace or harmony. Then again, while it conveys an overwhelmingly sad atmosphere, at the same time it raises a half-smile.

This is the central point of my analysis: they look damn serious with their ritualistic album cover and their murdered-out cassette, carrying no indication of track list or artist name.

It's not like Divil A' Bit aren't taking their music seriously; moreover, there aren't any clues denoting an ironic or even self-ironic attitude. Instead, they subtly add an unspoken veil of black humor to their art. They recite their part in the same manner that popular music has always done with the darkest side of humanity: popular ballads making fun of or praising criminals, tales narrating crimes with a taste for indulging in bloody details, sinister nursery rhymes, and the list could go on and on. This, in my opinion, is the soul of this record.

As a hiker, I normally wouldn't advise you to add weight to your backpack with futile objects when heading out into the wilderness, but considering that a tape player is hardly heavy enough to be a burden on your back, you may do yourselves a favor by bringing along In Deference to the Squeamish and having it as soundtrack while roasting marshmallows. That is, if you're not afraid of turning your night out into a cut-off scene from The Blair Witch Project.'

Heathen Harvest.

'...In Deference to the Squeamish' is your darkly spell crafted slab of witching hour unfun emerging from an thick impenetrable fog, horror phonic recitals, medieval incantations and the kind of dark half folk drone manifestations you'd rightly expect to find lurking the outer grooves of a Reverb Worship collection, pagan ceremonials and archaic mayday hi-jinxing metered out in a storm impending choking claustrophobic tension at least that's what 'along the ridge of the old huts' summons up, something I suspect not for the faint of heart.'

http://marklosingtoday.wordpress.com

Originally released on cassette by Feathered Coyote Records.
  powered by bandcamp
Divil A' Bit ~ In Deference to the Squeamish

Divil A' Bit are inviting to a really mysterious and ritualistic sounding trip to bewitched places on the green island. Psych folk in the best sense. Drones scratched out of violins (or other stringed instruments), Didgeridoo, flutes and banjo, field recordings and chants.
Divil A' Bit is a new project from the bogs and woods of Ireland, consisting of members of Woven Skull, Raising Holy Sparks and United Bible Studies. 
This album of haunted folk and acoustic drone was largely recorded under canal bridges, through the woods & in churches (both dedicated & deconsecrated) of Leitrim & South Longford. 
That's what the credits say and there is almost nothing to add.
It got released on Feathered Coyote but it is sold out now. Download it from the their bandcamp.