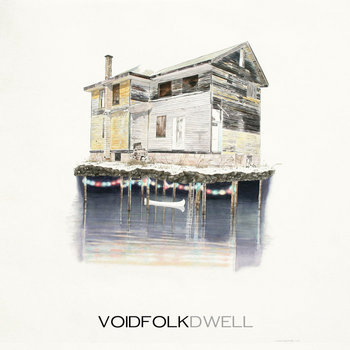 Recorded by James Anderson @ 6 Nassau Studio.

Vinyl edition available on Inyrdisk Records. (www.inyrdisk.com)


Cover painting by Tristram Lansdowne.
(www.tristramlansdowne.com)

Voidfolk can also be found at:

facebook.com/voidfolk
voidfolk.tumblr.com
twitter.com/voidfolk
  powered by bandcamp
Voidfolk – Dwell

As a teenager in the mid nineties, I grew up with Monster Magnet and what later was called Stoner Rock. My friends listened to this a lot. For me, this whole Stoner scene was just a bunch of stoned Heavy Metal fans with beer bellies. I listened to the Sisters of Mercy and Post Punk and stuff. Years later I still prefer any stoned jams over the slow pace macho Stoner Rock with Hard Rock riffs.
So what has this to do with the Canadian Voidfolks? Well, I would say they are on the intersection of the slow paced Stoner Rock and the darkness of the Death Rock without all the stereotypes. It's like hot tar, sticky and black and thick.
The singers voice is always at the max and reminds me a bit on Babes in Toyland and she's also playing a fat organ. Organs always win here at the DFBM's office stereo.
Through the Sick Hot Valley is maybe the most intense song on the album. The sick organ motif and the singers voice almost collapsing, announcing the advent of an unknown horror.
But everything else is awesome on this record. Especially that Prog Rock organ (without getting too Prog Rock fancy). I love it and I dwell in it.
This was released on vinyl by the Inyr Disc label (never heard about them) and it's downloadable on their bandcamp (for whatever you want to give them)!
Something that I thought is related...