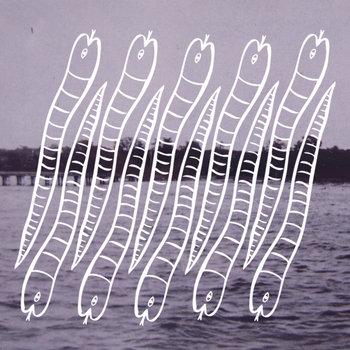 Jason ~ Singing, Whistling, Guitar, Electric Guitar, Guitar as Bass, Bowed Guitar, Banjo, Mandolin, Bass Stick, Casio Keyboards, Electric Organ, Chord Organ, Piano, Melodica, Bells, Singing Saw, Drums, Percussion, Gatorade Drums, Pedals

'Ocean' was inspired by and borrows lyrics from Woodman Spare That Tree! written by George Pope Morris in 1837.
The follow-up to 2009's "As Is the Sun", recorded in the basement between early-2010 and mid-2011. More spontaneous than the narrative of "As Is the Sun", "Snakes" started as (mostly) a series of disconnected, stream-of-conscious ideas that are not necessarily a means to an end, but ends in themselves. That's not to say this is a collection of islands, but more a chain of roads with no particular destination. Plainly, it's twelve songs that sound good in succession.

"It builds on As Is The Sun in sound, atmosphere, colors... a dense, soulful music that stands for itself... (9/10)" - Dying For Bad Music

"This is a must-have!" - Tons More Cowbell
  powered by bandcamp
Jason the Swamp
Snakes
Genre: Bedroom Folk, PopLabel: self
After his great and epic
As Is The Sun
album back in 2009, it was a bit quiet about Jason Aud aka Jason the Swamp. But he spend a year recording this new album and writing music for the movie
Desolation Wilderness
(what happen to this movie? Is it abandoned?). So here it is.
It builds on
As Is The Sun
in sound, atmosphere, colors and his approach of playing all instruments by his self. Most remarkable is the rhythm section, which brings a lot of drive into his music and his layered voice which build up to humming clouds. It's very similar to early Microphones stuff. But Jason got his own style and is able to create a dense, soulful music that stands for itself.
[mp3] Jason the Swamp - Century Egg
[mp3] Jason the Swamp - Ocean
Download for a few $ at bandcamp
Jason the Swamp website
9/10