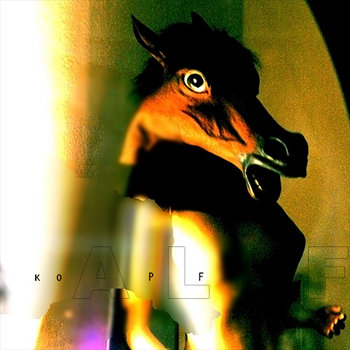 **No Download Because of EU VAT Confusion!**

What's your exclamation mark about?

Back from the dead with a grave-robbed guitar of Johnny Flash and the thunder-flute of Guybrush Threepwood!

Sounding like a wooden box full of moths wrapped around a tree in Turkey - now with the voice of lurid lechers! And the lyrics of precocious parrots!

After leaving with the monkey in 2006 with #36, now "Swine wash in the mire, and barnyard fowls in dust" is the rule, you know. Coming in your house to calm down broken hearts, or just to break healthy ones, with some lovely songs and sounds from the center of Twin Peaks' woods.
  powered by bandcamp
Aalfang mit Pferdekopf
2010 - Is it possible...
Genre: Surreal Folk, Ambient
Label: Dying For Bad Music
A year ago we started this label with this great album by german Aalfang mit Pferdekopf. It's hard for small labels these days. No one will order a single album by lesser known artists from overseas or from somewhere. Sometimes the postage is more expensive than the physical album. Anyway - this music is worth to be heard - because it's funny, surreal and great - the opener is a rag rug of campfirefolk on speed, ambient on downers and drunken digital glitches and it shows what could happen, if you keep listening. Up and down, sitting in front of your laptop in dark woods, meet Steve Stapelton disguised as Johnny Cash and Brian Eno disguised as Douglas Pearce.
You can
download this 10 track album for a short time on Name your Price base
- means zero till
n
EUR.
We are thankful from the bottom of our tiny black hearts, if you fill in a digit greater than NULL or
better order the album as physical disc here
(and get a free prize inside your package). This will help us to keep this Blog going on, as well as the Label, because some great bad music waits to be released.
Website
-
INFO & ORDER!!!
10/10 (sure!)