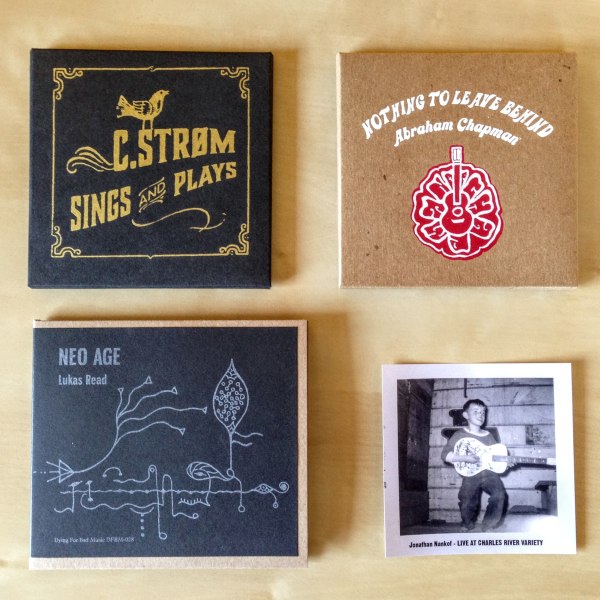 New Releases 2016
All new releases are available for order.
I am so happy this is finally out. I was working on this for almost two years. The last months were the most intense, because everything came finally together.
Big thanks to the artists who were willing to work with me and let me plan and create the packaging around their phantastic music. Big thanks to the people who support small labels like this and who support artists who are flying under the radar with little or no press and recognition.
This is a collection of recordings by Norwegian Singer-Songwriter and traditionalist Christian Strøm. It consists of early and current original pieces and his renditions of mainly American Folk songs.
Limited to 72 cds in a silver or gold printed Stumptown Arigato Pak. Comes with booklet and inserts.
Cosmic American Guitar Soli
Pastoral fingerstyle guitar and cosmic soundscapes. Limited, hand-numbered release of 100 CDs, featuring three versions of original artwork (white on black risograph prints).
Reissue of found guitar instrumentals by a guy name Abraham Chapman. Strong references to country blues classics and own material, played on 6 and 12-string acoustic guitar and recorded on reel-to-reel tapes.
Limited to 82 in 2/c screen printed Stumptown Arigato Pack with booklet.
Haunting outsider folk from Boston, MA - it's like Jandek playing Nick Drake songs.
Unlimited free download with low-res album art. Unmastered from a questionable source.
You can order via bandcamp and get an immediate download or checkout right here on the DFBM page and get a little discount (since there are no extra fees like at bandcamp)