I Have Heard of a Land
by C. Strøm
Outsider folk from Norway. Charming and heartwarming Americana in best lo-fi fashion.
Imagine The Carter Family and Daniel Johnston are emigrating to Europe, taking with them only their instruments, their songs, and an old tape recorder. They end up in Northern Norway. That's how you have to imagine C. Strøm's music: American Folk in low-fidelity! 
C-40 with recycled tour guide maps of North America, limited to 50
Tracklist
SIDE A
Farewell Jamaica Medley (I.Burgie)
You Are My Sunshine (J.Davis/ C.Mitchell)
Europa - A Variation of B. (Beethoven)
Just Like a Gypsy (Simons / N.Bayes)
Johnny Todd (traditional)
SIDE B
I Have Heard of a Land (James Moore)
Fair Maidens Medley (traditional)
The Storms May Rule (traditional)
Fare Thee Well Tune (traditional)
When We Go A-Hunting (C. Strøm)
How I Love My Medley (traditional)
The Minstrel Boy to the War Has Gone (T. Moore)
All songs performed and recorded by C. Strøm in a cottage by the sea on Ellingsøy, Norway, 2014
Artwork by Marcus Øbst
Thanks to Jeffrey Davison, Marcus Øbst and my family
---
About the album
I first heard C. Strøm on Jeffrey Davison's WFMU show Shrunken Planet, and I was fascinated by the rawness and the enthusiasm with which he played his songs. I wanted more, and to my annoyance, there was almost nothing on the worldwide interweb. Only a "Phoning It In Session", and that was almost no-fi. Davison was so kind as to connect Christian and me, and here we are with a release of his music on Dying For Bad Music. The release is on cassette tape – the only medium, beside wax cylinders and 78's – where his music belongs.
The title track I Have Heard of a Land, written by James Moore in 1914 and recorded by Smith's Sacred Singers from northern Georgia in the 1920s, is said to be the first ever "country gospel" record.
To accompany the Strøm's recording of the song, I culled through hours of vintage video footage on archive.org. There I found the digital reels of Ivan Besse's home movies of his hometown Britton, South Dakota from around 1938. The film material is as raw and honest as Strøm when he strums and sings those songs. The resulting juxtaposition of images and music is a homage to simplicity and honesty of folk music and every day life.
-- Marcus Obst
About C. Strøm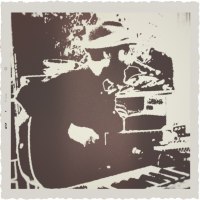 Little is known about Christian Strøm from Ålesund, Norway. He's maybe showing up at a local Open-Mic session in his hometown. His favorite place is at home, where he learns old folk songs in his own way and plays his pumporgan. Sometimes he records them in one take onto his Craig portable tape-recorder from late sixites. Strøm is influenced by John A. Lomax, The Carter Family, Pre-War-Blues, traditional folk songs and everything else that got pressed onto 78s back in the days. On roughtly tuned instruments, Strøm stomps, strums and sings himself through an extensive cataloge of titles that also include own songs ("Letters from Earth"). He is passioned about learning and playing these songs and in best folk traditions he's all self taught.
Feedback
…a mysterious and lo-fi message from norway.
it reminds me of the novel 'amerika' by franz kafka, which he wrote after looking at a postcard with a picture of america, having himself never left prague. i don't know the extent of c. strom's travels but 'i have heard of a land' sounds like the american folk tradition filtered through distance and dusty re-discovered documents. lonely, lofi recordings, with that upright church vibe you get from the carter family, and dark, scandanavia meets appalachia explorations on the autoharp. complete with the sound of the tape machine being turned off.
The Modern Folk Music of America
…His new album, I Have Heard of a Land, has recently been released by Dying For Bad Music, and is a wonderful little collection of slightly weird, lo-fi old-timey americana. Only one of the tracks is original. The others follow the age-old folk tradition of reworking the classics, with C.Strøm offering his interpretation of various traditional songs. You will just have to take my word for it that it was recorded in Scandanavia rather than a wooden shack in the foothills of the Appalachians.
— Wake the Deaf